BLUEFOCUS COMMUNICATION wins p
restigious Forbes award

After recently being named one of the
"
Best Under A Billion
"
firms by Forbes Asia, the continent
'
s top PR firm, BlueFocus Communication Group (SZA: 300058), has another major feather to put in its cap.

On Tuesday, October 29, during the
Forbes Asia "Best Under A Billion" Award Ceremony held in Singapore, BlueFocus was also honored as the
"
Highest Growth Potential Company,
"
becoming the first
PRC-based nominee to receive the distinction.




The dual honors come after the Beijing-based public relation firm
'
s CEO Mr. Oscar Zhao appeared earlier this year on the
"
2013 Forbes China Best CEOs List."

"Over the next decade, BlueFocus' core strategy is focused on further digitalization and globalization, and we aim to realize another ten-fold growth within 10 years," said Mr. Zhao, speaking at the awards ceremony in Singapore this week.


The Shenzhen-listed firm has enjoyed the highest average sales growth -- nearly 40% -- over the past few years among the world's leading 20 PR firms, and has retained its leading market position in the fast-growing Asia Pacific PR sector over the past several years.


Mr. Zhao is very bullish on his firm's growth prospects going forward.
"With the high-speed growth of the Chinese economy, the standing and influence of Chinese companies in the world are also growing and the PRC now has its own multinationals and quasi-international brands.

"More and more Chinese companies have made the Fortune 500 list, but unfortunately, we are still far away from world-class players in terms of professional services including advertising, PR and market research," he said recently when BlueFocus made
Forbes Asia's "Best Under A Billion" list.



About Mr. Oscar Zhao:

BlueFocus Communication Group Chairman & CEO Mr. Oscar Zhao Wenquan was born in 1970 and graduated from the Department of Political Science and Public Administration, Peking University, with a BA degree. Prior to BlueFocus, he had served as senior manager at Sida Advertising, general manager at Lucun (a local PR consulting firm) and COO at Yabuy.com (an on-line auction company). Mr. Zhao acted as CEO of BlueFocus Public Relations Consulting from 1996 to 1999 and from 2002 to 2007 respectively. He is currently the Chairman and CEO of BlueFocus Communication Group, and also acts as executive member of China International Public Relations Association (CIPRA) and trustee of Communication University of China (CUC). Mr. Zhao has 20-years of experience in public relations practice and management, and he founded BlueFocus in 1996 which is the largest local professional public relations firm in mainland China.



About BlueFocus: BlueFocus PR Consulting Co Ltd provides public relations services by using media and on-site activities in China. Its services include planning specialties, publicity, event planning, media relations, crisis management, government relations, investor relations, training, public affairs management, enterprise image management, and public relations strategy services. The company serves information technology, automobile, finance, healthcare, home appliance, consumer products, telecommunications, government, and non-profit agencies. BlueFocus PR Consulting Co. Ltd. was founded in 1996 and is based in Beijing, China. It has additional offices in Beijing, Shanghai, and Guangzhou in China. BlueFocus PR Consulting Co. Ltd. operates as a subsidiary of BlueFocus Communication Group Co. Ltd.
---

HK-LISTED RETAIL stocks 'Market Perform'

Bocom International has a "Market Perform" rating on Hong Kong-listed retail stocks but believes slower-than-expected retail sales growth for three consecutive months strikes some concern.

Hong Kong's retail sales growth (in value) in September saw a further moderation to 5.1% from 8.1% in August, coming in below the consensus of 8.1%, and for January-September, the average retail sales growth was 13%.

"In our view, the September retail sales growth was disappointing given that the September Chinese arrival growth saw a notable pickup to 19% from 13% in August," Bocom said.

The research house added that the slowdown was mainly due to the jewelry & watches segment, with growth decelerating considerably to 6% from 20% in August, much lower than its expectations notwithstanding the anticipated normalization of the sales trend after the gold rush boom in 2Q.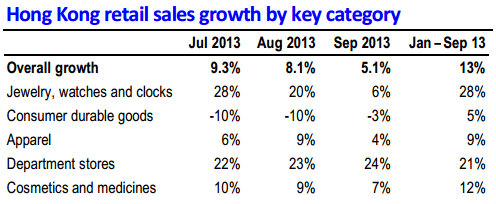 Jewelry and watches took a recent hit on lower luxury spending by PRC shoppers in Hong Kong. Source: Bocom, HKSAR Statistics

Another segment that showed a noticeable slowdown was apparel (+4% vs. +9% in Aug).

On the contrary, cosmetic and medicines were less affected (+7% vs. +9% in Aug) and department stores even saw a moderate improvement (+24% vs. +23% in Aug).

"While we believe the sustained solid Chinese tourist arrival growth (Jan-Sept: +19%) should help to provide support, the slower-than-expected growth trend for three consecutive months since July prompts us to turn more cautious on the retail sales growth outlook.

"The change in spending pattern of the Chinese tourists with an increasing trend of buying more lower-priced products is worth close monitoring, as it may start to post an adverse impact on the near-term sector growth," the research house added.

This is evident from the increasingly easing sales trend of higher-priced products, such as electric goods sales which saw a 6% decline in January-September.

"In light of the disappointing results, we believe Hong Kong retail stocks are likely to see some near-term pressure."

In its Hong Kong retail coverage universe, Bocom maintains "Buy" calls on Sa Sa (HK:178), Lifestyle (HK: 1212) and Luk Fook (HK: 590); and a "Neutral" recommendation on Chow Tai Fook (HK: 1929).


---

See also:

BLUEFOCUS: Asia's Top PR Firm Only Just Getting Started

BESUNYEN & CCTV Brew TV Show Tieup; JU TENG Buys 145 Mln Hkd Plot