Bocom: 'Buy' call on ANXIN-CHINA

Bocom International said it is keeping its "Buy" call on Anxin-China (HK: 1149) with a target price of 5.8 hkd.

"Revenue of its ISS

(Intelligent Safety Systems)

business is expected to expand from approximately 10 million yuan in 1H13 to 100 million in 2H13, and Anxin-China is expected to double its earnings every year over the next three years," Bocom said.



ISS revenue is primarily derived from sales of software, hardware and equipment, primary hardware and equipment, such as surveillance cameras, CCTV products and sensors to enterprises/governments for the purpose of ensuring industrial/public safety.



Anxin-China's long term target is to achieve a 20% market share in China's industrial counties, representing a 10x growth based on Bocom's estimates

In September 2012, China's State Administration of Work Safety for the first time required multiple industries to conduct multi-network monitoring, thus offering a brand new market for the sector.



"Since Anxin-China currently monopolizes the industry, we expect the company, leveraging on its advantages in product, brand and capital, to enjoy the blue ocean over the next three years," Bocom said.

It added that the rapid expansion of Anxin-China's monitoring centers reflects that the company is working on its target.

"Anxin-China is the only mature Internet-of-Things company listed in Hong Kong and could enjoy tremendous growth brought by the new markets of multi-network monitoring.

"It will also benefit from China's promotion of 'Smart Cities' and urbanization," Bocom said.


---

JIANGNAN wins 364 million yuan orders in Sept

Jiangnan Group Ltd (HK:1366), a manufacturer of wires and cables for power transmission, distribution systems and electrical equipment, won export tenders from three markets worth 364 million yuan in the first week of September alone, which equals 17% of the total top line for the January-June half.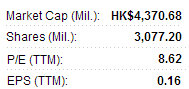 Jiangnan recently 1.46 hkd with a 52-week range of 1.05-1.63.The tenders include the supply of power cable to Power Works Pte of Singapore, aluminum conductor steel-reinforced cable to National Power Transmission Corp under Vietnam Electricity and all aluminum alloy conductors to Ethiopian Electric Power.

The order spurt comes as good news for Jiangnan Group after its interim revenue sank 10.6% year-on-year to 2.15 billion yuan while first half net profit declined 6% to 150 million.

The interim dividend stood at 1.4 HK cents.


---

See also:

ANXIN-CHINA Interim Profit Surges 42%