GOLDPOLY adds 23.8 MW

Goldpoly New Energy Hldgs Ltd (HK: 686), whose largest shareholder is China Merchants New Energy (CMNE), said a wholly-owned subsidiary along with Huabei Expressway Co Ltd acquired a 23.8 MW on-grid solar power plant project in Jiangsu Province from Zhong Fu Investment.

Each party invested 225 million yuan for a 50% stake.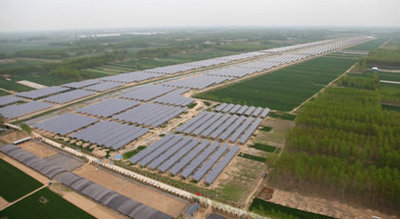 Goldpoly's recently acquired 23.8 MW on-grid solar power plant project in Eastern China's Jiangsu Province. Photo: Goldpoly"The 23.8 MW ecological agriculture PV power generation project facilitates the application of new energy in developing large-scale agriculture.

"It therefore maximizes the benefits achieved from land resources management and strategically promotes sustainable economic development," said Goldpoly Executive Director and CEO Mr. Alan Li.

The 23.8 MW solar power plant covers an area of 600,000 square meters and accommodates 5,822 agricultural greenhouses.

"Both Huabei Expressway and Goldpoly are responding positively to the policies issued by the State Council on promoting the healthy development of the PV industry.

"Our landmark cooperation will surely drive a low-carbon economy which integrates green environmental practices with new energy," Mr. Li added.

The facility is currently the world's largest project for on-grid ecological agriculture PV power generation.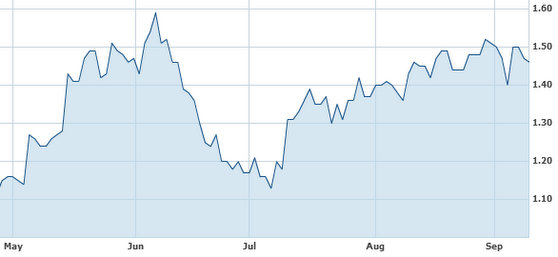 Goldpoly's Hong Kong shares have a 52-week range of 1.00-1.83 hkd. Source: Yahoo Finance

The solar power plant was connected to the grid in 2011 and generated approximately 28 million kWh per year. If 335 grams of coal are required to produce one kWh of electricity, it means the project helps save 9,380 tons of standard coal every year.

Goldpoly will be ensured electricity tariffs -- 2.4 yuan per kWh as expected – which constitute the standard on-grid power tariff offered by the State and the subsidies offered by the Jiangsu provincial government.

Goldpoly New Energy is engaged in the investment, development and operation of solar power stations in the PRC, and has a polysilicon solar cell factory in Quanzhou, Fujian Province. Goldpoly is listed on the main board in Hong Kong (stock code: 686). On 10 June 2013, the Goldpoly completed the acquisition of China Merchants New Energy Hldgs Ltd, a company focused on the investment, development and operation of solar power stations. Following the acquisition, China Merchants New Energy became a wholly-owned subsidiary of Goldpoly. Goldpoly turned a new page of development since then, and commenced to fully integrate its solar power stations business to create a leading global operations platform for photovoltaic power stations.

---

Sunwah has a 'Buy' call on Singyes Solar. Photo: SingyesSunwah hikes SINGYES SOLAR target

Sunwah Kingsway said it is adjusting upward its target price on China Singyes Solar (HK: 750) by 1% to 10.15 hkd while maintaining its "Buy" call on the new energy play.

"We believe the new subsidy scheme for the solar PV (photovoltaic) sector announced last week will bring new opportunities for China Singyes Solar.

"Its strong solar EPC project pipeline of ~150MW for 2H13 and the proposed sell of its 100MW solar projects will help the company generate a robust 2H13," Sunwah said.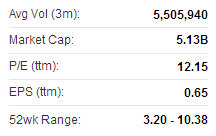 Singyes recently 7.88 hkdThe research house expects Singyes to record a net profit of 336 million yuan in the second half of this year and at least 507 million for full year 2013.

"In the future, the company may sell its self-developed solar PV projects, especially to blue chip SOEs who are interested in developing solar IPP business.

"Currently, the company has 2.1 billion yuan of orders on hand and we believe the company will have a chance to achieve our full-year net profit expectation of 559 million."

Singyes recently entered into a framework agreement to sell ~100MW of root-top solar projects to Goldpoly New Energy (HK: 686).

---
Guotai maintains 'Accumulate' call on COMTEC SOLAR
Guotai Junan
said it is keeping its "Accumulate" recommendation on Comtec Solar (HK: 712) with a target price of 1.90 hkd.


Second half
wafer
shipment
s are
expected to rebound to 260MW
and the c
urrent actual annual N-type wafer production capacity is around 550MW and
should
reach 700MW by 1Q14.


Comtec's c
urrent wafer processing cost is 0.15
usd
/W and
m
anag
e
ment target
s
to reduce it to 0.12-0.13
usd
/W by this year.


"
We still believe the industry fundamentals will improve in coming two years and Comtec is expected to benefit from
its
concentration on
the
N
-
type wafer business and its health
y
financial position
," Guotai said.

The research house's
target price
on Comtec
corresponds to 19.6x FY14 PER or 1.1x FY14 PBR.


---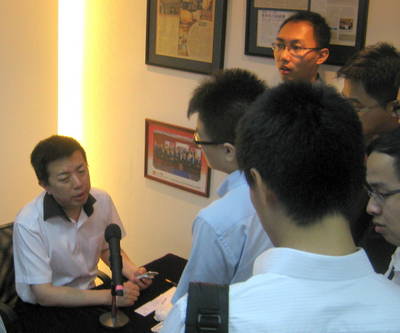 Comtec Chairman Mr. John Zhang (left) meets with investors in Hong Kong last month. NextInsight file photoSunwah cuts COMTEC SOLAR target

Sunwah Kingsway said it is reducing its target price on Comtec Solar (HK: 712) by 11% to 1.20 hkd while downgrading its call on the solar wafer and ingot play to "Sell" from "Hold."

Its share price recently plunged by ~18% after disappointing the market with a core net loss in 2Q13.

"Although the company plans to expand its market share, we believe its near-term growth would soon be limited by its capacity constraint," Sunwah said.

The research house said it believes Comtec's current capacity of 600MW is far from enough to cater the needs for multiple customers, which may lead to customer concentration risk before the completion of its expansion plan that is expected sometime in 2014.

"We believe the decision to expand is a correct one but there is the risk of a delay.

"For the broad market, the solar wafer maker still does not see any 'V-shape rebound' in the industry and they don't believe polysilicon prices will increase significantly."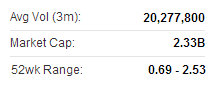 Comtec recently 1.78 hkdWith the first half GPM disappointment, Sunwah is cutting Comtec's core profit forecast by 55/44/48% for FY13/14/15 to ~16/27/24 million yuan, respectively, on the back of lower ASP and GPM estimates.

"Rolling forward our valuation to FY14, the new target price implies a 0.76x 2014 PB, which is a valuation that is much more reasonable."


---

See also:

GOLDPOLY Top Line Up 32%

COMTEC SOLAR Sees Sunnier Prospects With Near Break-Even Half