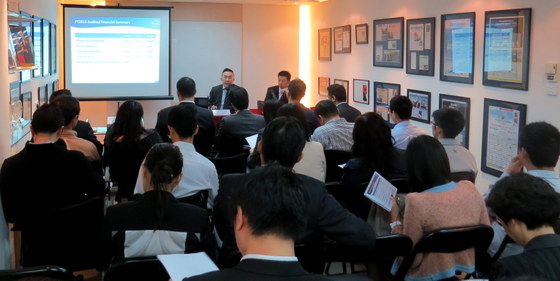 Comtec Solar executives tell a room full of investors how the Hong Kong-listed firm nearly swung to profitability in the first half in a tough solar power market. Photo: Aries Consulting

COMTEC SOLAR Systems Group Ltd (HK: 712), a major Chinese producer of monocrystalline wafers and ingots, saw a significant improvement in its interim bottom line, with the net loss shinking to 12.1 million yuan versus a loss of 121.1 million a year ago.

Shipment increases of 104% to over 443 MW had alot to do with the firm nearly swinging to the black.

Comtec Solar executives told investors in Hong Kong they saw sunnier skies ahead.

Comtec's January-June revenue improved to 471.0 million yuan versus 456.2 million in the year-earlier period.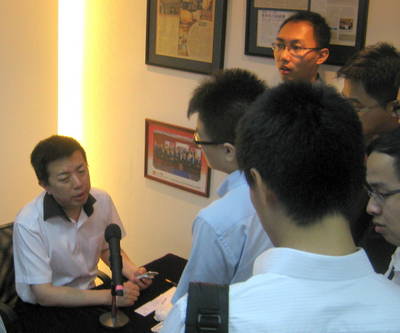 Comtec Chairman Mr. John Zhang (left) responds to investor queries in Hong Kong. Photo: Andrew VanburenThe interim net loss was mainly due to non-cash accounting losses on fair value changes for the new tranche of warrants issued on March 14, 2012 of approximately 24.8 million yuan and foreign exchange losses of approximately 3.5 million yuan.

The most striking set of interim data for Comtec was on the shipment side, more than doubling year-on-year to 443.3 MW including 179.6 MW of wafers and 263.7 MW of polysilicons and ingots.

"Our unwavering commitment to providing customers with high performance and fairly priced solar wafers differentiates us from other competitors in the market.

"In the first half we achieved notable shipment growth and we continued to shift our focus to 'Super Mono Wafers' which only have limited suppliers qualified by the major international customers in the market," said Comtec Chairman Mr. John Zhang.

Interim loss per share was approximately 1.0 RMB cent compared to 10.7 RMB cents in the year-earlier period.

"Based on feedback from a major customer, the highly efficient solar cell with our 'Super Mono Wafers' can achieve an average conversion efficiency of over 23%, with the thickness of such wafers now reduced to approximately 150 microns.

"We expect specifications for 'Super Mono Wafers' to further improve in the coming few years," Mr. Zhang added.

At end-June 2013, Comtec was in a net cash position of approximately 107.1 million yuan and maintained cash and restricted cash balances of approximately 371.1 million.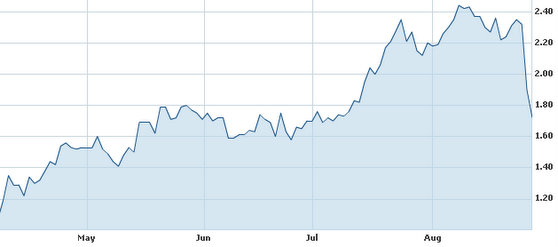 Comtec Solar's Hong Kong-listed shares enjoyed a bright mid-summer. Source: Yahoo Finance

The chairman said Comtec was continuing to distinguish itself from a very crowded field of competitors.

"With the continuous decrease in the selling price of polysilicons and modules, our customers increasingly realize the benefits of buying highly efficient solar wafers to reduce their overall production costs.

"This strengthens demand and provides further business opportunities for high efficiency solar wafers in a tough industry environment."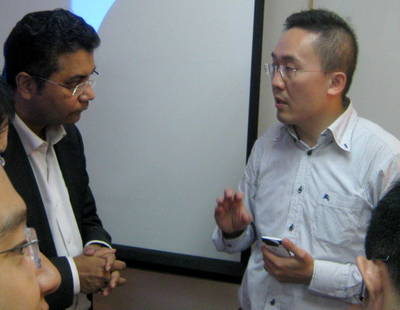 Comtec Solar CFO Mr. Keith Chau (right) said sales to Japan were a bright spot. Photo: Andrew VanburenHe said Comtec's cutting-edge production techniques were also setting it apart from its peers.

"We also continued to diversify our customer base 'Super Mono Wafers' and in the first half we completed diamond wire wafer (cutting) qualification procedures with a reputable Japan-based customer.

"We expect shipments to said client will keep increasing in 2013 and 2014, and our ability to manufacture more advanced and efficient products will further differentiate us in the market and strengthen the barrier to entry to our business."

Comtec's nearly finishing in the black for the January-June period also had alot to do with the Hong Kong-listed firm's commitment to cost cutting measures.

"We have achieved continuous cost savings from our improvements in technology, manufacturing processes and conversion efficiency of our wafers, and we expect to see further cost reductions in the coming quarters.

"We expect the thickness of 'Super Mono Wafers' will be reduced to approximately 145 microns by the end of 2013 with our target being to reduce the thickness to below 120 microns in the coming few years. Cost competitiveness driven by technical advancement will be crucial to the development of the solar industry."

Comtec's top-five customers in the first half represented around 76.4% of the total top line compared to 87.8% a year ago, which means the company's efforts to broaden its client base are bearing fruit.

Sales to Comtec's largest customer in the Philippines of high quality "Super Mono Wafers" accounted for approximately 61.1% of total interim revenue compared to 74.4% in the year-earlier period.

"During the ongoing industry consolidation process, we mainly focus on prestigious customers with sound financial positions," Mr. Zhang added.
Overall, Comtec Solar was confident that prospects were looking sunnier down the road.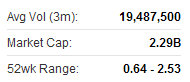 Comtec recently 1.74 hkd"Due to increasing demand for highly efficient solar products, Comtec is planning to expand production capacity in Malaysia which will enable us to lower production costs and increase operational scale.

"While we expect to see the challenging industry environment to continue in the near-term, we firmly believe that lower PV system costs will drive the adoption of solar power and longterm market growth and we expect that Japan, for example, will be an important market for us as few suppliers can meet Japanese customers' rigorous standards for product quality and reliability."

He added that going forward, Comtec expects to benefit from the trend of increasing demand for high-efficiency products.

Comtec Chief Financial Officer Mr. Keith Chau shared the Chairman's sanguine take on future solar sector prospects.

"We are upbeat on sales growth, especially to Japan going forward.

"Looking ahead to 2014, we are optimistic, most notably on ASP rises, and our Malaysia based production is paying off as it enjoys half the electricity costs of the PRC," Mr. Chau said.


---