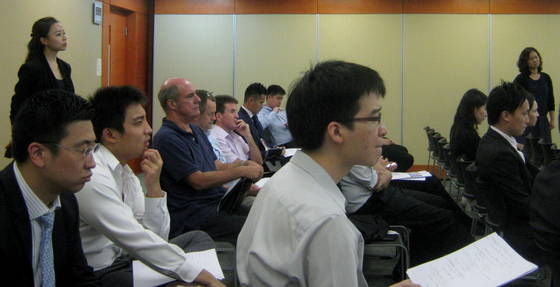 Investors hungry for information listen to information technology distributor VST Holdings' interim earnings presentation in Hong Kong.      Photo: Andrew Vanburen

VST HOLDINGS Ltd (HK: 856) boosted its H1 top line 8.1% to 19.3 billion hkd, helping produce a 7.3% net profit increase to 248 million hkd.

Strong sales in China and Southeast Asia had a lot to do with the strong half, executives told investors in Hong Kong on Thursday (Aug 22).

VST Holdings, a leading IT product distributor in the Asia Pacific, saw first half revenue from its distribution business rise 5.9% to 15.84 billion hkd, while enterprise systems sales surged 19.8% to 3.39 billion. Revenue from its IT services business rose 13% to 113 million.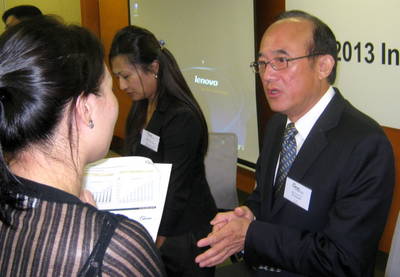 VST Chairman Mr. Tay Eng Hoe replies to an investor query while CEO Ms. Grace Chow stands to his right.
Photo: Andrew VanburenThe company pulled off another strong interim performance despite the continued decline of PC sales worldwide.

"Global shipments for desktops and notebooks fell again in the first half of the year, with the continued shift towards mobile devices such as smartphones and tablets.

"We have been executing strategies to increase market share as well as the range of products offered," said VST Chairman Mr. Tay Eng Hoe.

He said that VST's three business segments all showed steady year-on-year growth and geographically, both the PRC and Southeast Asian markets had steady interim growth of 7.7% and 9.6%, respectively.

"VST has continuously aimed to widen its product range in order to provide more choices to its customers, and our extensive and diversified products lines now include vendors such as HP, Apple, Seagate, AMD, Intel, Western Digital, Lenovo, Dell, IBM, Acer, Microsoft, Oracle, Cisco and Asus to name a few," Mr. Tay added.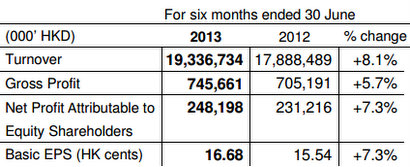 A large part of VST's success has been its highly researched and disciplined approach to market expansion.

"We always try to work with vendors who have the best understanding of the market in which they operate.

"Who knows, perhaps HP or Apple will come up with a breakout product so we just need to maintain strong relationships with all vendors in order to be out front of the market when any promising new trend appears," he said.

The gross margin during the January-June period stood at 3.86%, down slightly from the 3.94% seen in the year-earlier period.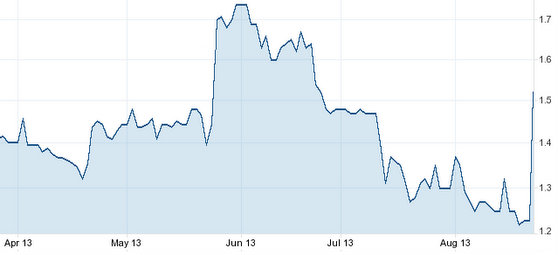 VST's Hong Kong shares surged by nearly 25% after investors learned of the firm's healthy H1.
Source: Yahoo Finance

Basic EPS amounted to 16.68 HK cents versus 15.54 HK cents in 1H2012.

Mr. Tay said that VST's efforts to broaden the diversity of its distributed products and services offered has yielded positive results, resulting in a 5.85% growth in the distribution segment despite the slowdown in demand for desktops and notebooks worldwide.

"In line with the growth trends in smartphones and tablets, VST will focus to grow its mobility business through expanding its distribution coverage and increasing its mobility product range."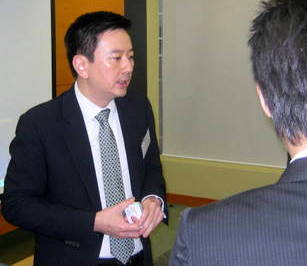 VST Executive Director and CFO Mr. William Ong (left) said the company will be more proactive in finding its own distribution and enterprise business leads.     Photo: Andrew VanburenHe added that despite it having a lower revenue contribution, VST's enterprise systems business constituted a disproportionally higher portion of the bottom line than other segments.

"VST will also focus on growing its revenue in the enterprise systems such as networking hardware, servers and enterprise storage, a sector which generally commands higher margins and grew by 19.8% in the first half.

"For PCs and mobile devices, distribution margins are usually between 3-5%, and it's difficult to move them either way. So our enterprise systems segment margins are much better."

VST Executive Director and CFO Mr. William Ong said one of the company's most important tasks was keeping a vigilant and ever-flexible outlook on market trends ahead of the competition.

"We will continue to focus on our higher-growth potential areas and we expect China and Indonesia in particular to be big drivers going forward.

"One of the biggest challenges for us is a need to invest more time and resources into finding our own leads rather than relying too much on vendors providing leads. One example is our cloud services business in which we see Malaysia as being a trial run of sorts for us," Mr. Ong said.

He added that the end-June 2013 net gearing ratio stood at 0.42 versus 0.68 a year earlier, which Mr. Ong called "quite good."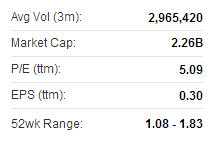 VST recently 1.52 hkdVST's directors do not recommend the payment of any interim dividend for the six months ended 30 June 2013 (2012: Nil).

VST Holdings Limited (stock code: 0856.HK) is the leading Information and Communications Technology (ICT) products and services provider in Asia Pacific, specializing in the distribution of global premier IT products and related components including desktops, notebooks, tablets, hard disks, CPUs, storage devices and other digital media products. The Group has solid and long-term partnerships with international renowned IT giants such as HP, Apple, Seagate, AMD, Intel, Western Digital, Lenovo, Dell, IBM, Acer, Microsoft, Oracle, Cisco, Asus, and many more. The Group has over 27,000 active channel partners serving a wide regional customer base and has 76 offices in six countries namely China, Thailand, Malaysia, Singapore, Indonesia, and the Philippines.
 
---

See also:

VST: Revenue Up 14% But Profit Hit By HP Slide