Lenovo is thinking smaller. Photo: cnmoDaiwa: LENOVO initiated 'Buy'

Daiwa Securities said it is beginning coverage of China's top PC play Lenovo Group Ltd (HK: 992) with a "Buy" rating and a target price of 9.00 hkd (recent share price: 7.8).

"We expect Lenovo to supplant HP as the global No.1 PC vendor in the next few quarters due mainly to Lenovo's leadership in China where the PC penetration rate remains low," Daiwa said.

The research house added it was also upbeat on Lenovo due to the IT giant's solid position in the corporate-PC segment.

"This segment is seeing much less of an impact from the use of smart devices (versus the consumer-PC segment) and could start to recover in the second half of 2013."

Daiwa anticipates good results to arise from Lenovo's M&A activity of recent years, and an increase in the company's in-house production.

---

RHB OSK: VST kept 'Buy', target hiked

RHB OSK Securities said it is maintaining its "Buy" recommendation on IT products distributor VST Holdings (HK: 856) while raising the target price to 2.67 hkd from 2.23 (recent share price: 1.65).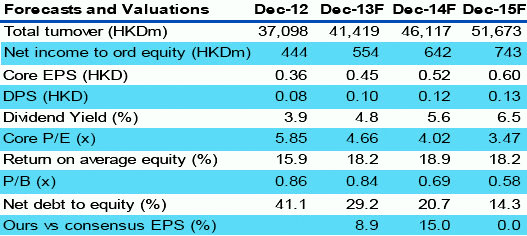 VST has enjoyed healthy revenue growth. Source: RHB OSK

VST has a 90% stake in an SGX-listed subsidiary -- IT supplier ECS Holdings (SGX: ECS).

"VST's subsidiary ECS Holdings reported a strong set of 1Q13 results, with net profit rising 34% y-o-y.

"Growth was driven by increasing demand for mobile devices such as tablets and smart phones, which offset the weakness in notebooks and desktops," RHB OSK said.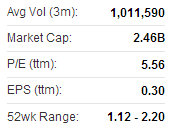 VST recently 1.65 hkdOn the back of ECS' upbeat results (accounting for an estimated 50% of VST's earnings), the research house said it is hiking VST's target price to a higher target FY13F P/E of 6x (from 5x).

ECS management noted that Lenovo (HK: 992), Apple and Samsung all saw strong vendor growth.

ECS enterprise business (24% of revenue) grew 16% y-o-y as projects in new markets such as the Philippines and Indonesia began to kick in, while IT services (1% of revenue) jumped 40% y-o-y.

"We believe ECS's latest results show a strong outlook for the VST group.

"While we believe demand for notebooks will recover going forward as better touch functionality will spur Windows 8 devices, and rising demand for tablets will be a major earnings driver for both VST and ECS going forward," RHB OSK said.

It added that it sees further penetration of VST's enterprise system business into new markets to provide some upside surprises.

---

Sunwah Kingsway: COMTEC 'Hold' amid EU trade spat

Sunwah Kingsway said it is maintaining its "Hold" recommendation on solar ingot and wafer maker Comtec Solar (HK: 712) following a ratcheting up in trade tensions with the EU over anti-dumping accusations for solar panels.

Sunway Kingsway's target price on Comtec is 1.35 hkd (recent share price: 1.6).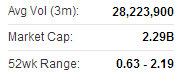 Comtec recently 1.6 hkdThe European Commission announced that it will impose an 11.8% temporary anti-dumping tariff on solar modules imported from China, starting June 6.

If China and the EU do not reach a deal before August 6, the tariff will be raised to 47.6%.

"Should the final settlement fail, the EU may impose permanent duties in December for the following five years.

"According to the Commission, the fair price for Chinese solar panels should be 88% higher," Sunway Kingsway said.

In that case, the solar energy generation cost in Europe would be uncompetitive, which the research house believes could become "a nightmare" for downstream panel users in Europe.

"Hence, in our view, the Chinese government may still be able to negotiate with the EU, which means a permanent trade war may not happen.

"However, the near-term share price of Comtec Solar and Solargiga (HK: 757) may be under pressure."

---
See also:
VST: Revenue Up 14%
COMTEC SOLAR: Swings To Q1 Net Profit
SOLARGIGA: Sunnier Prospects