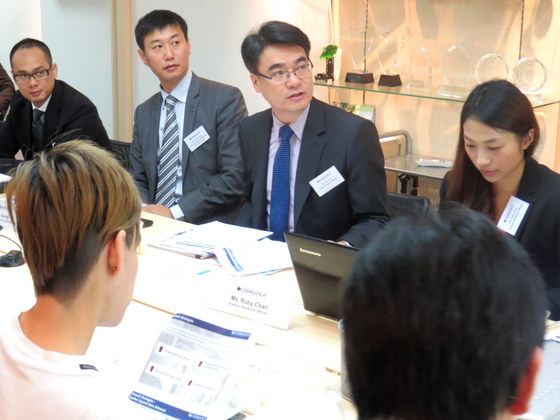 Casablanca CFO Gary Ho (second from right, glasses) replies to investor queries while other executives listen in. From left, Vice Chairman and Executive Director Ricky Cheng, CEO and Executive Director Sean Sung, and IR Officer Ruby Chan.    Photo: Aries Consulting

CASABLANCA GROUP LTD (HK: 2223) had a momentous 2012.

Not only did it go public in Hong Kong in November, but it managed to boost its revenue by nearly double digits as well as add 77 new shops in China.

Casablanca executives explained the bedding product firm's growth strategy in Hong Kong at its annual results briefing last week hosted by Aries Consulting.

The Hong Kong-based firm's revenue enjoyed continuous growth, rising 9.8% last year to 472.6 million hkd.

Net profit stood at 32.0 million hkd, and if listing expenses of 21.5 million hkd were excluded, the bottom line would be 53.5 million, up 16.6% from 2011.

Casablanca opened 88 new point of sale outlets (POS) last year, including 11 in Hong Kong and 77 in the PRC.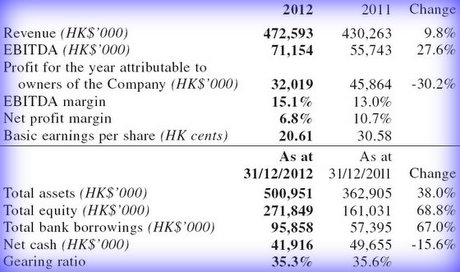 And given continued strong demand, ongoing urbanization and pro-domestic spending continuance policies by Mainland China's new government, Casablanca expects the world's largest country and its second-largest economy to continue to be the chief growth driver into the future.

"In 2013, we plan to open 72 new self-operated points of sale, consisting of 70 in the PRC and two in Hong Kong, including both concession counters and retail stores in our core markets, namely Beijing, Shanghai, Guangzhou, Shenzhen and other regionally significant cities in the PRC," said Casablanca Chairman Cheng Sze Kin.

Bedding products POS set-up costs on either side of the de facto border between Hong Kong and the PRC are not created equally.

The budgeted initial costs and working capital requirements for a self-operated retail store and concession counter, including deposits, setup costs and inventory, are expected to be approximately 0.8 million yuan and 0.3 million yuan, respectively, in the PRC and 0.6 million hkd and 0.3 million hkd in Hong Kong.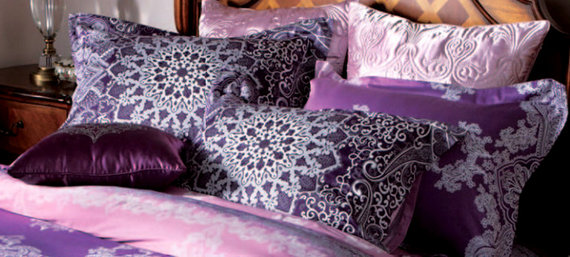 Brand New Outlook: Casablanca executives believe brand image and recognition is increasingly important, even for products which seldom leave home like bedding supplies. Photo: Casablanca

"We have adopted a multi-brand strategy to meet the needs of consumers in different market segments. In 2012 our proprietary brands -- mainly 'Casablanca' and 'Casa Calvin' -- achieved a continued rising trend," Chairman Cheng said.

Turnover for proprietary brands increased by 6.0% in 2012 to 390.3 million hkd.

"During the year 2012, we renewed the licensing agreement with 'Elle Deco' (a famous French fashion brand) for exclusive franchise rights in the PRC, Hong Kong and Macau from 2012 to 2015.

"We also reported satisfactory sales of other international brands including 'Tru Trussardi', 'Home Concept', 'Move', 'Centa Star' and youth-oriented products, with the aggregate turnover of our licensed brands up 32.9% to 82.3 million hkd in 2012," Chairman Cheng said.

Self-operated retail sales for 2012 amounted to 348.2 million hkd, accounting for 73.7% of total revenue, and representing an increase of 5.6% over 2011 levels.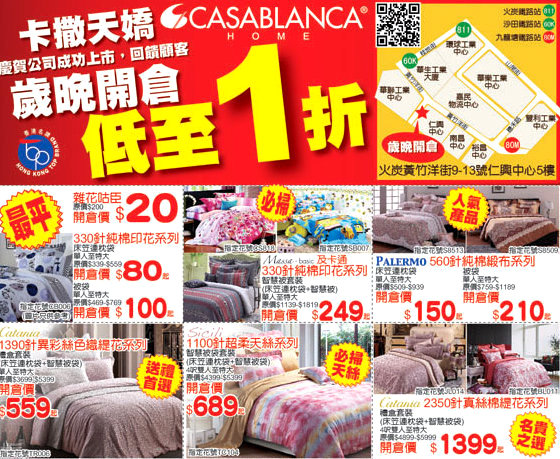 Ad-vantageous:   A Casablanca advertisement in Hong Kong media.    Source: Company

Sales to distributors for 2012 significantly increased by 69.4% to 72.9 million hkd.

"Revenue from the PRC achieved continuous growth in 2012 as a result of the expansion of our sales network in the PRC. Revenue from other markets decreased in 2012 due to the decrease in export sales to overseas markets as a result of the downturn of the global economy," Chairman Cheng added.

To cope with the needs of growing sales, last year Casablanca acquired an 87,000 square meter parcel of industrial land within the Dongjiang High Tech Park in Guangdong Province's Huizhou City.



The construction of Phase I of the Huizhou Plant of approximately 42,000 sq m of new production space was completed by end-2012, and is expected to increase Casablanca's existing production capacity by 30%.

"We expect that the new production base will be put into operation in the first half of 2013, with total investment budget for the Huizhou Plant at around 170 million hkd. This project was fully financed by our internal resources and bank borrowings," Chairman Cheng said.

Looking ahead, Casablanca was very sanguine on its business prospects for a variety of reasons.
 
"A better performance of the overall economy of the PRC is expected in 2013 as compared to 2012. The PRC government has announced a goal of doubling the 2010 GDP and per capita income for both urban and rural residents by 2020, primarily relying on the expansion of domestic consumption for driving economic development and continuing to promote the process of urbanization."



Casablanca's HK-listed shares have been on a steady ascent since listing in November 2012.

Therefore, Casablanca felt its consumer goods, by some measures indispensible household staples, will ride along with the healthy expected growth of the PRC domestic bedding products market.

"We will continue to expand our network and improve the operational efficiency in our core market.

"Hong Kong will remain as the most important market for the firm and we expect to achieve a steady growth in this area, and we plan to continue expanding our sales network in the PRC at a pragmatic pace," Chairman Cheng added.

He said that in addition to traditional retail channels, Casablanca would proactively explore new sales channels including e-commerce and developing the commercial users market.

"We believe that brand awareness and customer loyalty are critical to the establishment of a successful retail brand. We will strengthen advertising campaign so as to increase brand awareness of our proprietary brands and their market influence, especially in the PRC."



Chairman Cheng's brother, Casablanca Vice Chairman and Executive Director Ricky Cheng, was equally upbeat on prospects for the newly-listed bedding product brand's prospects in the region.

"We are very encouraged by our first financial results post-listing. We decided to list in part in order to accelerate our expansion into the Mainland China market," said Vice Chairman Cheng.

Cotton price volatility over the past few years was not a worry because the commodity only made up a small part of Casablanca's overall costs.

"We are also able to pass along upstream cost increases into downstream ASP rises," he said.

He said that although bedding products' brands required less aggressive consumer marketing campaigns than clothing and apparel names, the market was changing.

"As the PRC's economy expands, urbanization continues and the middle class grows, consumers are becoming more demanding in terms of choosing bedding supplies and want to match decors, enhance comfort and seek out maximum quality. Therefore, our brand promotion campaigns are becoming more important and our A&P budget (5%) as a percentage of total costs is higher than average for our peers," Vice Chairman Cheng said.

This meant that brand recognition was increasingly important to Casablanca.

"We are considering hiring celebrity brand spokespersons to promote the Casablanca name," said CEO and Executive Director Mr. Sean Sung.

"We are also planning to boost our R&D into product development to meet stronger expected demand going forward."

---