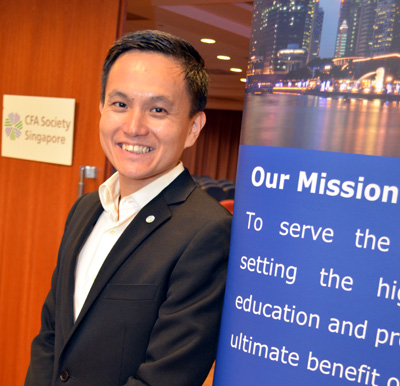 Tan Chin Hwee, CFA, CPA. Photo by Sim KihAT JUST 42 years of age, Tan Chin Hwee, CFA, CPA, is one Who's who to watch in the Asian hedge fund industry.
The founding partner in Asia for Apollo Global Management recently shared his views on career success with the cream of the crop among local finance graduates.

He was speaking in his capacity as President of the CFA Singapore at the society's inaugural mentoring session on 16 August for former student team captains of the CFA University Investment Research Competition.

The following is Mr Tan's address which is published in the latest issue of The CFA Singapore Quarterly produced by NextInsight.

I GOT INTO BUY SIDE EVEN THOUGH…
"I was a Keppel scholar with an undergraduate degree in accountancy. I am very grateful to its CEO, Mr Choo Chiau Beng, and the board of the Chua Chor Teck Memorial Scholarship for giving the scholarship to me instead of an engineering student even though I did not have straight As for my A-levels.
"Even though I was academically trained in accounting, I wanted to manage the company's Treasury instead of work in the accounting department. I was young, full of energy, full of brass, and I had nothing to lose. The first week I was at Keppel, I went to its CFO, Mr Teo Soon Hoe, and asked to be allowed to manage the company's Treasury monies."
'You have guts. What makes you think you can manage money?' asked the CFO.
"When I was in NTU, I took a student loan from a bank to trade options. I had no idea what Black-Scholes was, and I nearly went bankrupt," replied Chin Hwee, who went on to share what he has learnt as a result.
The CFO gave Chin Hwee the job he wanted on the spot. Thus, he began his career on the buy side as a Treasury analyst.
"If I didn't open my mouth to ask, I would still be an accountant today."
ASK FOR WHAT YOU WANT
"You should ask for more jobs because that is the only way your portfolio manager will get to know you. Having said that, you should not try to avoid mundane tasks. Some analysts do not like making presentations but that is part of their job.

"My first language is Mandarin and I think in Mandarin. When I first joined Amaranth Advisors, I was expecting to be fired, because I could barely understand the colloquial American English they used and many of them could not understand my Singapore accent. I told my wife: If I get fired, I'll ask DBS Bank to take me back.
"I was friendly, but did not deliberately change to become like one of them. I was a 31-year old ethnic Chinese kid. I was among the first Asian hires in one of the top ten hedge funds in Greenwich, Connecticut. I was hired to be an analyst supporting portfolio managers, rather than giving investment ideas.
"But on my first day there, I went up to its founder, the infamous Nicholas Maounis, and said: 'I have an investment idea for you with a 20% investment return. Give me US$20 million cash and fly me to Indonesia.' "
During the Asian financial crisis in the late 1990s, Indonesia was one of the worst hit countries and the restructured group of government banks wanted to help its citizens. Back in 2003, Bank Mandiri was selling two different classes of shares: Non-citizens had to pay 1.1x book value while citizens received a 20% discount.
"You must be crazy. Give you US$20 million and fly you to Indonesia? This is the first day I've met you," came the reply.
"He didn't act on the idea but remembered me for it, because it was a good idea. I was fortunate enough to be given a profit and loss account to manage later, and that helped me to be promoted quickly over my 4 years there."
Chin Hwee started Amaranth's Asia office in 2005 and was managing director by the time he left the firm.
RIGHT PLACE RIGHT TIME
"Historically since the 1500s, China and India have accounted for the larger part of the world's GDP. However, China missed the industrial revolution in Britain during 1700 to 1850, an evolution leading to the modern world we know today. The rise of China and India that we see today is merely a reversion to mean.
"I give 4 lectures a year at Shanghai Jiaotong University's Masters program, which the best and the brightest of your age in China compete to enrol in. The students take the trouble to make prior checks on the profile of guest speakers at their school and approach the speaker to network when the lesson ends.
"A PRC national who was my Masters student at NTU had 4 years of experience in a private equity firm in China. She wanted to work for Apollo Singapore but understood her chances were dim because we only hire a handful out of thousands of applicants. So, she wrote me a long email offering to perform menial secretarial tasks, such as making coffee, in the hope of getting an analyst position in Apollo.
"Neither at NTU nor SMU do I see a similar eagerness in my Singapore students."
"Shanghai is determined to be the world's financial center. And Indians are very eloquent - they speak and think like Anglo-Saxons. So this is the competition you need to think about.
"As Singaporeans, we are born in the right place at the right time. Being in the right place at the right time is one of the key success factors in life. We have the ability to communicate with both the east and the west. Not just mastery of the English and Chinese language, but also the understanding of how businesses are done. We have the advantage of being able to transcend across cultures."
THE HIGH IN IQ WORK FOR THE HIGH IN EQ
"Unfortunately, Singaporeans tend to stay the respectful distance when it comes to networking. You may want to be more pro-active.
"In an American firm like Apollo, for example, you need to think on your feet and be vocal. People do not like to be questioned but they appreciate it if they are challenged and you turn out to be correct. Your portfolio manager will appreciate your vocal ability if it saves his career."
"In our line, it's your profit and loss statement that counts at the end of the day, and not your CFA or MBA qualification.
"Network with people of your age group when you are still young. By the time you reach 40, your peers will be on their guard against each other because they would be in a position of authority where people are trying to sell to them. Yet, many big decisions at that time are based on trust. So, take the time to make real friends whilst young, before marriage and children take up all your time. Do not do it because you think someone is going to turn out to be a black horse, but do it out of sincerity to make real friends.
STAY IN THE GAME
"The financial markets have seen 11 crises since 1982, or an average of a crisis in every 3 years. Every crisis wipes out many careers. I personally know many who were unable to return to the finance industry after a crisis like in 1997 and 2010.
"I am very grateful to former DBS CEO Jackson Tai and the Treasury leadership team under Frank Wong for giving me the DBS sponsorship for a Masters degree at Yale. When I left DBS for Yale, my former boss, Mr David Lau, had this valuable advice:
"If you think the financial industry is for you, stay in the game. Keep re-inventing yourself in the fast changing financial world. By the law of attrition in evolutionary competition among the best and the brightest, if you are still around in your 40s, you should be among the top in your game."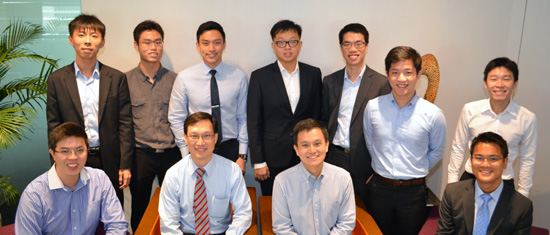 Chin Hwee with former University Research Challenge student captains and interns who were at the mentoring session. Front row, L-R: Terence Lim (2009, NTU), Th'ng Beng Hooi, CFA (Society Secretariat Director), Tan Chin Hwee, CFA, CPA (Society President), Alvin Lim (2012, NUS). Photo by Sim Kih
1. Career and personal plans must be flexible with general direction set. Goals should be revisited periodically as they will keep changing.
2. Goals must be personalized and internalized. It is not your bosses, parents or someone else's goals.
3. Goal setting should focus more on one's strengths, not on one's weakness. You can have many different mentors at different stages of your career/life to guide you along.
The Society's mentoring platform currently comprises of its board members. Other than the President, they include veterans who hold top posts in the financial services industry.


Biography

Tan Chin Hwee, CFA, CPA, is the founding partner in Asia for Apollo Global Management, a leading global alternative investor, among the top three largest in the world. He has been voted by The Hedge Fund Journal as one of the top 40 emerging absolute return investors globally and has also been given credit for managing the Best Asia Credit Hedge Fund by The Asset.

Mr Tan has been honored as a World Economic Forum Young Global Leader and is the winner of the 2013 Distinguished Financial Industry Certified Professional (FICP) Award from the Singapore government. He is a member of the Resource Panel for Government Parliamentary Committee for Finance and Trade and Industry for Singapore government and sits on the panel on Private Equity for Monetary Authority of Singapore. He is active in serving the community and sits on various for profit and not for- profit boards of directors. He is currently the elected President of CFA Singapore and is the NRC Chair for Keppel REIT, Singapore's largest listed office REIT with assets under management of SGD 7 billion. He is also Adjunct Professor at several universities. Mr Tan enjoys spending time with his three young children.