THERE HAS been a string of significant corporate developments in steel production company Sapphire Corporation, starting with Singapore private equity firm ACH Investments becoming a substantial shareholder on 16 Aug this year.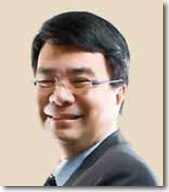 Christopher Chong, a managing partner of ACH. Photo: InternetSapphire stock has risen 18.3% since ACH bought 185.4 m shares (equivalent to a 22.87% stake in Sapphire) for $21.6 million, or 11.65 cents apiece.

The vendors in the married deals were Chinese nationals Wang Jin (129.2 m shares) and Wang Yufeng (56.2 m shares).

Notably, Wang Jin is the chairman and president of privately-held Sichuan Chuanwei, a conglomerate founded in 1929 which has businesses in steel and cement production, coal and iron ore mining, and real estate.

Following his share sale, Wang Jin still has a deemed interest in 35 million Sapphire shares (4.3% stake) held by Wang Yufeng, his associate.


With the change in controlling shareholding, board renewal was inevitable.

On 1 Oct, Sapphire announced the appointment of two new Independent Directors -- Tao Yeoh Chi and Steven Lim Jun Xiong Steven, the CEO of SG Trust (Asia) Ltd, a subsidiary of Societe Generale Private Banking.

Concurrently, three board members resigned: Tan Eng Liang resigned as an Independent Director and non-Executive Chairman, Roger Chan Kum Onn as an Independent Director, and Dai Bin as a Non-Executive Director.
New CEO
Yesterday evening (Oct 3), Sapphire announced several other management changes, principally the appointment of a new CEO -- Teh Wing Kwan, 41, who has just stepped down as CFO of Koda Ltd, a furniture manufacturer listed on SGX.
(Christopher Chong, a managing partner of ACH, is an independent director of Koda)

Sapphire's press release said Mr Teh brings with him a wealth of experience especially in the areas of corporate finance, strategic planning & execution, strategic alliances, mergers & acquisitions, operational restructuring and divestiture evaluation.

He holds directorships in and has been advising the Board of several public companies listed in Hong Kong, Singapore and Australia.

Having been a professional in the finance industry for the past 17 years, Mr. Teh is also a sophisticated investor. He is a Director of BMI Capital Partners Limited (Hong Kong) advising its investment strategies.
Sapphire veterans Teo Cheng Kwee and Roger Foo have been re-designated as Non-Executive Directors from their previous jobs as CEO/Executive Director and Executive Director, respectively.

What's likely to be next is the new management and board articulating new business paths to improve on the company's dismal performance. In its core business, Sapphire is up against challenges such as low steel prices, low demand and excess production capacity in the industry.

However, given the prospects of M&A and other corporate actions that the new Sapphire leadership might take, investors have decided to raise their hopes: Sapphire's shares firmed up yesterday by 7.58%, closing at 14.2 cents. It's still at a discount to the net asset value of 23.77 cents a share.
Sapphire Corporation Limited is principally engaged in the production of steel and vanadium products, mainly vanadium pentoxide ("V2O5") flakes, rebars and hot rolled coils, and trading of minerals as well as investments in mining and resource-related businesses.

The Group's operations are undertaken by its core subsidiary, Neijiang Chuanwei Special Steel Co. Ltd which is located in Sichuan, China.

Sapphire has been listed on the Singapore Exchange since 1999. Based in Singapore, the Group has subsidiaries in China, Hong Kong and Malaysia.
---

Previous stories: