This report has been uploaded this morning to the SGX website by Samko Timber.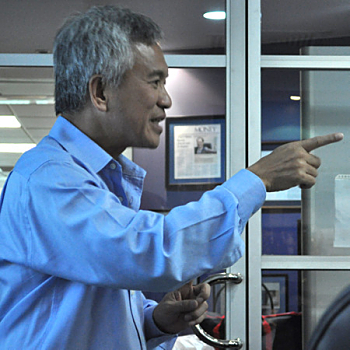 Aris Sunarko, CEO of Samko Timber, said he grew up and studied in Singapore until he left for overseas studies at 18. He held the audience well with his passionate discussion of the business and his command of the details.
Photos by Sim Kih

LAST SATURDAY, just a day after Geo Energy, an Indonesian coal mine operator, made a sterling debut on SGX, we attended a presentation on another Indonesian play.

Samko Timber made a rare appearance in a meeting with a packed roomful of investors (24 to be exact) who wanted to hear its growth story.

Listed on the SGX, Samko Timber is one of the largest plywood manufacturers in Indonesia.

It commands about 40% of the market, and even has a brand 'Palem' for its plywood, which is one of the most recognised plywood brands in the country.

It has been quietly developing new products and introducing them to the market, as well as expanding upstream and downstream (More details iater in this article).

Aris Sunarko, the CEO, held the audience well with his passionate discussion of the business and his command of the details.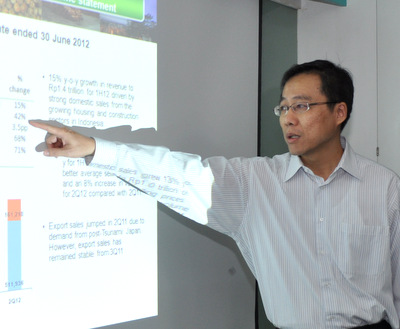 The CFO of Samko Timber, Johan Yanto, discussed the 2Q results.
CFO Johan Yanto recapped the 2Q results while Ho Chee Mun, the personal assistant of Mr Sunarko, gave an overview of the company's history and management.

The event organised by NextInsight and Financial PR stretched from 10 am to 12.50 pm -- until we had to break in and ask everyone to eat.

(Lunch came courtesy of Samko Timber, and was catered from Neo Group).

Here are key takeaways from Mr Sunarko's presentation and the Q&A session:
1. From smallest to biggest: Samko Timber, started by Mr Sunarko's father in 1978, has grown from being the smallest player in its industry to being the largest.

"It's not that we are very smart but we are very focused," said Mr Sunarko, adding that from over 100 plywood factories, Indonesia now has only 20 plus.

It is not an easy business as the industry is heavily regulated, and faces environmental and NGO issues.

Samko Timber is unique in that it has never directly owned a forest concession. It buys logs from the open market -- specifically, 85% of its logs are from plantations of farmers in Java, rather than the giant primary forests of Kalimantan and Sumatra.

Samko Timber principally processes logs into plywood and related products.

It has achieved cost leadership -- it is profitable while similar factories of many other listed timber companies have been reporting losses and need to be supported financially by their logging business.

One of the reasons, said Mr Sunarko, is Samko Timber's production process is one of the most energy-efficient around, using machinery that it had designed. In addition, by strategically locating its processing plants and satellite plants, it saves significant transport costs.

2. Next stage of growth: Beyond cost leadership in production, Samko Timber is executing its growth strategy in 4 ways:

a) Moving upstream: In June 2012, Samko completed its acquisition for S$7.4 million of 100% of Bioforest via a share issue at 13.62 cents per Samko share to Temasek Life Sciences Ventures. Bioforest has the technology to produce saplings which are genetically similar to selected elite trees.

Samko Timber will plant the saplings which take 5-7 years to be ready for harvesting for logs.

b) Moving downstream: Samko Timber has started its own chain of retail stores (32 now and growing) for better profit margins, in addition to itts traditional reliance on distributors.

The retail stores are located where Samko Timber does not have a strong market share. The stores are already profitable just from selling plywood, said Mr Sunarko. Profit margins per store are expected to be boosted when the stores expand their product range to include doors, roof trusses and building materials.
c) Proprietary wood decking: Branded as "Heveatech", it has been tested in countries such as Japan, Germany and the US.
In particular, Heveatech, which is wood from old rubber trees (80%) impregnated with resin (20%), is warrantied to be free from termites for a lifetime.

Initial shipments have gone out to 12 countries, including Singapore where it is available at Wood Doctor.

d) Pre-fab housing: Samko Timber has developed low-cost pre-fab housing to address a big demand for housing in Indonesia, which needs a million new low-cost homes a year.

Samko Timber's 500 sq ft pre-fab house (excluding land) sells for the equivalent of S$10,000 (yes, just S$20 psf, excluding land, civil and M&E works).

The house can be assembled in 15 man days -- and would be of interest also to mining companies, palm oil companies, etc. as the houses can be dismantled and set up again in another location.

3. Marketing, marketing: So, after a few years of product development, Samko Timber has started to roll them out. What must happen next is effective marketing in order to reap the rewards, as Mr Sunarko said.

Q: You have 600 buyers to source for logs from the farmers? Do you have annual contracts with the farmers? Do you pay spot prices?

Sunarko: Our philosophy is, we don't destroy nature, so in the last 10 years, we have been giving free seedlings to farmers in Java. We have a strong relationship with them, and don't have purchase contracts with them. We buy on a spot basis. But we have contracts with state companies in Java and they account for 10-15% of our supply.

Q: How do you manage the supply? Do the farmers own the land?

Sunarko: Yes, and they own the trees. In Java, a lot of farmers plant trees. Some plant a few hundred trees, some a few thousand.

Q: So you don't have any plantation currently?

Sunarko: We have started planting a few thousand hectares with some saplings from Bioforest. Every year, our bio assets will grow.

We process 1.5 million cubic metres of plantation wood a year equivalent 10,000 hectares of plantation forest (HTI). Based on 6 – 7 years rotations, we need 60,000 – 70,000 hectares to cater to our needs 100%.

Our plantation is the most strategic investment as it would result in internal savings, cutting our cost of wood by about 40%.

Q: Who are your major customers? Do you supply to other countries?

Sunarko: About 75% of our sales are domestic, with our own 'green stores' buying 20%.
In Japan, our big and reputable customers are buying our eco-floor plywood, eco-truck body -- we have a majority market share in Japan. We are also the OEM for pianos parts.
In addition to our export to Japan, we also supply to Korea, Malaysia, Singapore, USA, Europe (Sweden & Netherland) and Middle East.
---

>> Please read our recent story for more information: SAMKO TIMBER: Another chapter of its growth story is unfolding....

>> The invitation to the above event was published as SAMKO TIMBER: 'Come meet our management, learn about our business....and have lunch'