LIAN BENG's 1Q2013 revenue (May to Aug) was lower 16.5% year-on-year at S$113.4 million as its 55%-owned industrial project M Space will be recognized only upon receipt of Temporary Occupation Permit (TOP) in FY2014.

All units of M-Space have been sold.

Progressive cash collections from M-Space sales in 1Q2013 are reflected in a doubling of 'Development Properties' in the company's balance sheet to S$184.5 million (up 90.8%).

A BCA Grade A1 construction group, Lian Beng last week reported a 44.9% decrease in profit to shareholders to S$10.5 million in 1Q2013.

Earnings were dampened upon adoption of the revised financial reporting standard INT FRS 115 under which revenue from industry property development can only be recognized upon receiving the TOP.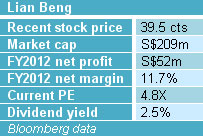 Another cause of the earnings fall was a one-off gain of S$7.9 million on the sale of an investment property in 1Q2012, which resulted in a higher base for comparison.

Lian Beng's financial position as at 31 Aug:

* Cash reserves S$184.3 million.

* Construction order book: S$650 million (to be fulfilled through FY2015).

* Total borrowings: Up to $209.1 million as at 31 August 2012 from $111.1 million a year ago, mainly to finance the development projects at Spottiswoode Suites and Hougang Plaza.

Lian Beng's property development segment is going to be busy. It plans to launch its 50%-owned Spottiswoode Suites and 50%-owned Hougang Plaza in FY2013.

It has entered into several joint ventures which has acquired sites for redevelopment. Some of these projects include:

* Workers' dormitory at Mandai Estate
* M-Space at Mandai Estate
* Hougang Plaza
* King Albert Park
* Seletar Garden
* Hong Leong Garden Shopping Center
* Spottiswoode Suites


Lian Beng executive director Ong Lay Koon provided analysts with an update in a teleconference on Thursday. Below is a summary of the questions raised and Ms Ong's replies.

Q: What is your leverage for land purchases?

We borrowed 70%.

Q: How much cash do you need for the construction work at the Mandai Estate and Hougang Plaza sites?

Construction is self-financing. We collect within one month.

A large part of our cash was used for property development. For example, we need cash outlay when buying land. We also need to buy construction materials. (1Q2013 net operating cash outflow was S$70.3 m).

To manage risk, we usually invest 10% to 25% in projects with other property players and pay our portion where cash outlay is required. One advantage of going into property development JVs is we get the construction contracts for these projects.

Q: Can you take bigger stakes for property development JVs?

We prefer not to pay a huge cash outlay when buying land.

We also try to improve the bottom line by investing in high yield assets. On our P&L, we have interest income from corporate bonds with a yield of 4-5% and fixed deposits. 1Q2013 "other income" including interest income jumped more than 3-fold to S$1.2 million.

We also invested in tugboats as they can be rented out and used when we procure sand for manufacturing ready-mixed concrete.
Q: What bonds give a yield of 4% to 5%?

We bought Guocoland, Genting and Hyflux.

Q: Can you provide segment breakdown?

The percentage contributions of our business segments fluctuate across different quarters' results. About 85% of revenue is from construction. About 10% is from ready-mixed concrete. About 5% or less is from property development.

Q: What is the outlook for construction projects?

We have not been seeing any drop in projects available for tender. There are many projects available for tender but we will not tender at lower prices because the cost of operating is going up. We expect the cost of labor to rise due to an increase in workers' levy. We expect material prices to remain stable


Related story: LIAN BENG, AUSGROUP: What Analysts Now Say...