THE EARNINGS of rigging & mooring solutions provider, Teho, is likely receive a shot in the arm following its acquisition of an equipment supplier to the heating and ventilation, and air conditioning (HVAC) sector.

This acquisition adds significantly to Teho's Group earnings, considering that the HVAC business generates more than half the earnings of its rigging and mooring business. Audited profit after tax for the financial year ended 31 December 2011 for the newly acquired entity was about S$1.3 million, compared to Teho's S$2.3 million for the financial year ended 30 June 2012.

This is Teho's first M&A since its listing in June 2009. On 10 May 2012, it completed the S$6.4 million acquisition of Finessco, a HVAC equipment and systems solutions provider serving offshore players.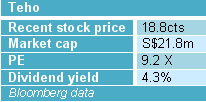 There is minimal dilution to shareholders as about 90% of the purchase consideration was paid for in cash.

Only 3.9 million shares (3.36%) in Teho valued at S$600,000 were issued to co-founder and vendor, Mr Philip Tan.

Finessco has since been renamed Teho Engineering.

"In the past, our mooring and rigging business had mainly served marine clients. With the HVAC business, we have a wider product range and more exposure to the offshore sector," said executive chairman Lim See Hoe during an exclusive interview with NextInsight this week.

Its rigging and mooring equipment comprise mainly of steel wire and synthetic ropes for lifting and docking. These are fitted on vessels at ports and shipyards.

Marine clients accounted for 75% of Teho's sales in FY2011. These include port operators in Singapore, ship chandlers, ship owners, shipyards, and ship management companies.
Tapping into robust offshore sector

In contrast, most of Teho Engineering's revenue comes from offshore players like Keppel Corp, Sembcorp Marine and Viking Offshore.

With oil prices holding at US$100 per barrel or higher and discoveries of deepwater oilfields scaling record numbers, established offshore rig builders like Keppel Corp and Sembcorp Marine are expected to secure more orders for oilrigs, FPSOs, fixed platforms, OSVs, accommodation units, and other production units.

Offshore contracts inevitably flow down to subcontractors.

It also helps that Teho Engineering has a strong market position. There are only about 10 HVAC manufacturers globally in the offshore space and Teho Engineering is one of three major HVAC equipment distributors in Singapore.

The acquisition is part of Teho's strategy to expand its core business into complementary business segments in order to enhance its capability in the offshore oil and gas industry so as to present its customers with an enlarged value proposition.

It will also expand the client base of the Teho Group and offer opportunities for growth through cross selling of solutions within the enlarged entity.
'We wanted to buy an asset-light growth company. Unlike our rigging and mooring business, the HVAC business does not require warehousing of inventory as the equipment for each project is highly customized and procured only when a contract is clinched,' said Group CFO Phua Sian Chin.

"We intend to increase our range of products by tying up with more manufacturers, and cross sell to the same customers," added Mr Tan, who is now the managing director of Teho Engineering.

So what does Teho Engineering's business involve?

Teho Engineering specializes in supplying, servicing and trading of the following equipment to the marine and offshore oil and gas industries:-

(i) Electric heating and associated control systems and accessories in Singapore;

(ii) Marine and offshore oil and gas fire/shut off dampers, storm louvers and galley hoods in Singapore;

(iii) Marine water heaters in Singapore, Malaysia, Indonesia, Vietnam and China;

It is also an exclusive distributor for certain third party brands for the supply of mechanical products and systems mainly to the offshore oil & gas industry in Singapore and the South East Asian region.


Related story: AUSGROUP, TEHO, CJ FERTILIZER: Latest Happenings...