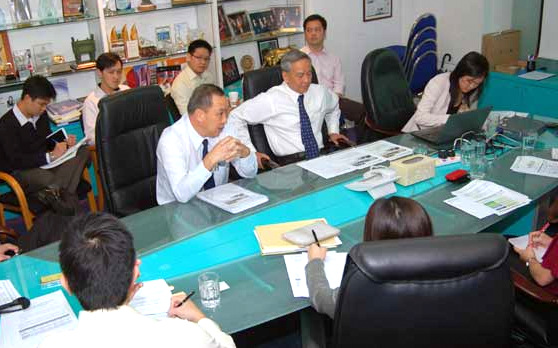 Sheng Siong, which had a year-on-year earnings contraction for 9M2011, attracted a good turnout from analysts at its briefing on Friday. Photo by Sim Kih

HEARTLAND SUPERMARKET retail chain, Sheng Siong, posted a 3Q2011 earnings decline due to a high base of gains from investment in the preceding year and the loss of some shop space.

Revenue slipped 8.5% year-on-year to S$439.6 million for 9M2011, due to the closure of two outlets – Ten Mile Junction in November 2010 and Tanjong Katong in September 2011.

Both outlets were closed as the buildings they occupied were sold for re-development.

Sheng Siong opened two new, but smaller, outlets – Elias Mall in January 2011 and Teck Whye in May 2011. The group plans to open another two in Woodlands Industrial Park and Thomson Imperial Court by the end of the year.
"We foresee e-commerce as the way to go," said CEO Lim Hock Chee at the group's analyst briefing on Friday.

"We are likely to implement this by the next election, because we believe the government will install lifts on each level of HDB flats by then. Logistics becomes overly ponderous if there are no lifts on the landing of the delivery destination," he explained.

"E-commerce is our grand plan, but our immediate focus is to first double our retail network to 40 outlets," said Mr Wong Soong Kit, the group's finance director, who was also present at the briefing.

By the end of 2011, the group will have 25 outlets with a total retail space of approximately 348,000 sq ft, up from 22 at the end of 2010.

Gross profit margin improved to 23.0%, from 21.2% for 9MFY2010, due to better sales mix, lower purchasing costs and more bulk purchasing rebates.

The group improved its sales mix by shifting to more higher-margin fresh produce. It also utilized the newly-completed Mandai Link Distribution Centre to engage in direct sourcing and bulk purchasing of goods.
Other income declined 83.4% yoy to S$2.4 million, primarily due to an absence of investment gains amounting to S$9.4 million for 9M2010.

It had divested its entire holdings of quoted investments last year ahead of its initial public offering in Aug 2011.

Net earnings fell 33.6% to S$23.5 million. The group maintained a strong balance with net cash of S$121.4 million as at 30 Sep.
Below is a summary of questions raised at the analyst briefing and the replies by Mr Lim and Mr Wong.
Q: Please provide an update on your store expansion plan.

We have signed a lease for 16,000 sq ft in Jalan Besar but this is subject to the landlord being able to deliver a vacant unit to us.
We are also working with IE Singapore to expand overseas. In Malaysia, the law requires us to have a Bumiputera partner holding 30%. We do not intend to be overly aggressive. We intend to open one supermarket outlet in Johor Bahru for a start, rather than hypermarkets as the later is saturated.
Q: What challenges did you face after listing?
Same store sales fell after we listed due to aggressive promotions from competitors such as Shop-and-Save. We will run more promotions to increase sales volume.
Q: Will you be acquiring any competitors?

We would like to acquire, but no one is selling.

Q: Since there are other tenants willing to bid as high as S$11 psf, would you bid likewise for a small shop in Jurong East?

The shop cannot be overly small. If it is 7,000 sq ft or above and we have shelf space to carry 'Fresh' produce, then it is something we can consider.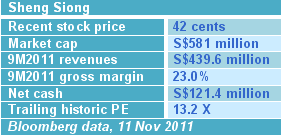 Q: Do you think it is possible to further expand margins?
After we moved to our new warehouse in Jul, we are able to bypass bulk handlers and procure fresh agricultural produce directly from overseas. With a wider product range from direct purchasing, our margins are more likely to be enhanced. For the coming Chinese New Year, we intend promote our housebrand products, for festive food. For example, the house brand will have delicacies such as abalone. Sales of house brand products will also help expand group margins as there are no advertising costs or middlemen fees.

We now have 300 stock keeping units for house brands, and they make up 5% of group revenues. We intend to triple this in 1.5 years. Our long-term plan is to source for only 80% of our products from third-party merchants.
Q: What is the margin differential for house brands?

House brands gross margins are about 5% higher than group margins.
Q: Do you intend to open stores in suburban shopping malls like Jurong Point?

Landlords have approached us, but we found that they use our tenancy bid as a lever to get higher counter- bids from other potential tenants. So we refuse to bid for space and end up in a stalemate, which prevents the tenancy deal from being closed.
Related story: SHENG SIONG: 12-Month Target Price Is 61 Cents, Says IIFL