HONGWEI TECHNOLOGIES Ltd (SGX: HONG) had a strong 2Q with 37% revenue growth to 85.5 million yuan and net profit increase of 29% to 21.4 million yuan.

The 2Q performance extended the strong rebound seen in 1Q when revenue grew 24% and net profit increased 39%.

Nevertheless, the Fujian province-based producer of synthetic cotton (SC) and polyester fibers has seen its share price trade within a very narrow range for several months, with a current P/E of just 4.2 times.

To help jumpstart its valuation, Hongwei's chairman may be ready to reduce his 65% stake, NextInsight recently learned in an interview in Xiamen.

"We had a robust first three months and business is great, but our share price simply won't go up. One of the biggest hurdles is that just 20% of our listed shares are available to the general public so our daily trading turnover is far too low.

"As our Executive Chairman Mr. Lin Jimiao currently holds 65%, another party has 5% and DBS holds around 3%, Chairman Lin is considering selling some shares, part of his holdings, because 65% is too high. But he won't go below 51%," Hongwei's Chief Operating Officer (COO) and Executive Director Mr. Wu Guoxin told NextInsight in an interview.

Other than a possible thaw in the rather rigid shareholding structure of the firm, Mr. Wu explained that there were several other strengths to Hongwei that potential investors should be aware of.

Synthetic Cotton Power

Since 2005, Hongwei has been heavily reliant on its chief product -- synthetic cotton (SC) -- a common substitute for natural cotton in sofas, auto upholstery and other everyday items.

And the Singapore-listed firm has no plans to change this product emphasis anytime soon, thus providing a strong platform for stable growth to its shareholders.

"SC is still our fastest growth segment, as it has a wide range of market applications including car cushions and upholstery, and we have seen stronger orders, in particular from a Korean manufacturer here of late. In fact, our SC products segment enjoys 30% profit margins and contributes 60% to our total revenue," Mr. Wu said.

Hongwei was also riding higher on the wave of money Beijing has allotted in its current economic stimulus package, a massive boost worth some 4.5 trln yuan that is meant to cushion the blow to China's economy from the global financial crisis.

"The stimulus package certainly helps us. One way is via highway development, a major destination for the stimulus money. The more highways there are, the more car ownership is spurred, and the more cushion and upholstery material orders we will see."

Product Diversification

However, not all of Hongwei's eggs were being put into the SC basket for textiles and upholstery.

Although China still officially adheres to the "One Child Policy," it is being relaxed in cities like Shanghai.

And even without a relaxation, a 1.3 bln-strong population will still be able to produce a lot of toddlers.

"We are planning to begin supplying absorbent fabric to Hengan International going forward. We will need to adjust our assembly lines to meet these anticipated orders and full implementation will take six months start to finish, but it will not be a big cost burden.

"We are still fundamentally focused on product development to meet our clients' needs. For example, we currently have many new synthetic cotton products in the pipeline," Mr. Wu said.

Hengan International Group Co Ltd (HK: 1044) is the largest producer of baby diapers and sanitary napkins in China, with its main plant in Jinjiang, Fujian province – in other words, a very short drive from Hongwei's Xiamen facilities.

"In fact, most of our clients are within a 200 kilometer radius," he added.

Hongwei has also been 'refining' its client list recently to maximize profitability and payment follow through.

"During the 2008-2009 global financial crisis we reorganized our clientele, only keeping strong clients. Our over 600-strong client list is now full of bigger clients with bigger orders and better credit. We have no unpaid orders on the books," Mr. Wu said.

Another product segment was looking increasingly promising, given Beijing's increasing emphasis on sustainable development and "green" technologies and products.

"We also make recyclable bags, the ones sold in supermarkets. We sell the material to bag producers who then produce bags for sale to supermarkets. We can get higher and higher prices from bag makers because of the growing 'green revolution' in the country and the increased demand it brings in its wake."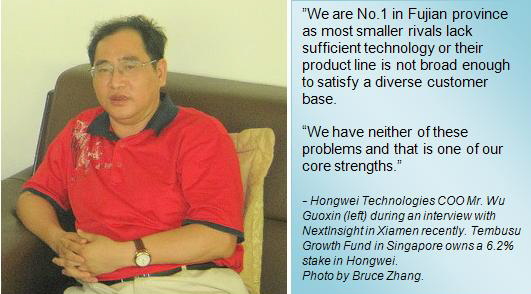 Hongwei also derived some revenue – and a great deal of industry attention and respect – by engaging in professional services.

Around 2% of its revenue comes from product testing services. This also helps boost its R&D cooperation with foreign and domestic technical institutions and industry organizations.

Hongwei's biggest rivals are also its neighbors.

"Our top competitors are in Fujian and (neighboring) Zhejiang provinces. Fujian has several small players so we can find some synergy, especially on supply and distribution. We are No.1 in Fujian province as most smaller rivals lack sufficient technology or their product line is not broad enough to satisfy a diverse customer base. We have neither of these problems and that is one of our core strengths," Mr. Wu said.

Also, the company has seen no major impact from the gradually strengthening yuan currency because 100% of its output was sold to domestic downstream producers.

"The global recession has caused some slowdown for us, but there is a lag time because we are not at the downstream end of the industry chain and we have also taken steps to minimize any negative impact including constant product development and client reorganization," he said.

Where did Hongwei stand on what to do with earnings: was it re-investment oriented or dividend-happy?

"We have cash on hand so we faithfully pay out dividends each quarter. Investors are quite satisfied with our payout rate."

In the most recent quarter, Hongwei paid out 0.01 yuan per share in dividends.

The company was also considering more aggressive cash-raising exercises to raise capacity when necessary.

"We also have considered listing in Hong Kong or the secondary market, but we wouldn't delist in Singapore. So if necessary, we would float shares if the timing was right and it was in the best long-term interests of our shareholders."

And was Hongwei looking to continue growing organically?

"Since 2004, we have only relied on organic growth with no noteworthy acquisitions. However, we will certainly consider M&A activities if the target suits us. Ideally, they should have good brand development and also benefit us technically. So we are open to buying smaller companies or even being bought."

Overall, he held a sanguine outlook on the industry.

"I am quite upbeat on growth going forward. China is such a big market and is growing steadily. And it's good to know that we all need things like clothes, beds, chairs, sofas and cars. That's where we can help," Mr. Wu said.


Read about Hongwei's share structure: CEO's wife on last-minute 510K sgd shopping of shares