THE SMALL CAPS have trumped the blue chips this year.

While The Straits Times Index rose a modest 8% this year and closed at 3,138 on Wednesday, about 30 stocks achieved year-to-date return exceeding 100%, including dividends (for the cream of the crop, see table on the right).

Two-thirds of the 30 multi-baggers were small-caps of less than S$200 m in market cap.


What moved the top multi-baggers Sim Siang Choon, Combine Will, Bright World and Sunvic?


#1 SIM SIANG CHOON skyrockets after Ezra's Lionel Lee injects oil & gas business
The stock price of Sim Siang Choon went on a blazing trail this year, thanks to the injection by Ezra's Lionel Lee of his personal investments in a Bombay-listed oil and gas exploration and production company.

The Catalist-listed household sanitary accessories distributor's stock price had been languishing around 12 cents ever since the 2008 global financial crisis but started a rapid climb weeks before its Apr 2010 announcement to issue shares for a 47.9% stake in Interlink Petroleum.

It closed at 45.5 cents on 23 Dec 2010, up almost fourfold over the year.

Interlink operates and owns two small onshore oil and gas assets in the Indian state of Gujarat. It reversed its FY09 loss of Rs 18.9 million (S$547,000) to net Rs 764,000 (S$22,000) in profits for the year ended Mar 2010.

After the M&A, Mr Lionel Lee holds 35.2% in Sim Siang Choon, while founder Sim Siang Choon retains 34.3%. Interlink's managing director, Mr Kenneth Gerard Pereira, holds 13.9%.

There was a mandate to acquire Sim Siang Choon shares from minority shareholders, but this did not go through as the offer price of 11 cents was dismal compared to the stock's price which had sky rocketed above 40 cents.

Sim Siang Choon has a leading position as a specialist retailer and distributor of bathroom, kitchen and home improvement products in Singapore. It posted net profits of S$1.3 million for the financial year ended Jun 2010.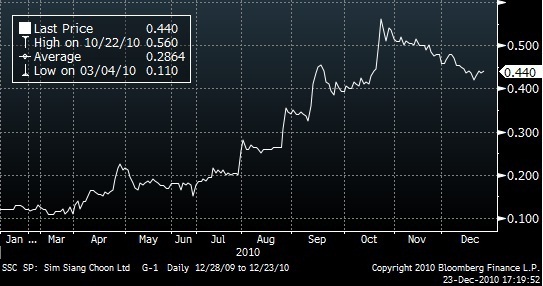 ---


#2 COMBINE WILL boosted by new business and impending Korea dual-listing


Combine Will started the year at 10 cents and, propelled by a strong earnings recovery and an impending dual listing in Korea, ended recently at 33 cents.

Combine Will's net profit for January‐September surged almost 152% YoY to HK$68.9m on the back of a 62% YoY growth in revenue.

The 1H revenue and profit were boosted significantly by Combine Will starting manufacturing of a household product that took 2.5 years of co-development with a global healthcare company.

The product is an auto liquid soap dispenser whose annual production is tens of millions of units. The product dispenses liquid soap when its sensor detects hand motion under the nozzle.

2011 is set to be another good year as the company will ramp-up production of high-value toys for a customer which has placed a significant order for delivery from early next year, according to the company.

In addition, Combine Will is seeking a dual-listing in South Korea which is expected to lead to an upward re-rating of its shares in Singapore as the valuation in Korea is generally higher.

Recent story: COMBINE WILL, ECS: What analysts now say....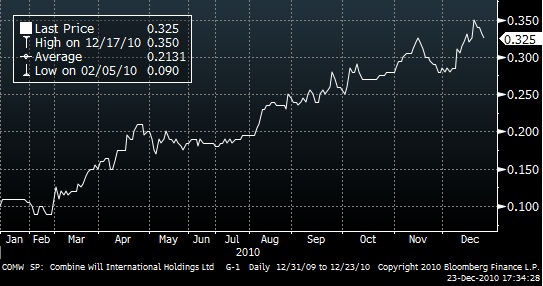 ---
#3 BRIGHT WORLD Rides on Capital Goods Demand in China

The stock price of Bright World was only 19.5 cents when its announced its dividend of Rmb 0.15 on 1 Mar, translating to a whopping dividend yield of 15%.

Since then, the stock has surged more than twofold and closed at 49 cents on Wed.

The PRC-based maker of stamping machines was able to pay out the hefty dividend thanks to its strong earnings growth: it more than doubled net earnings year-on-year for the first nine months of 2010 to Rmb 98.2 million and widened net margins by 2.5 percentage points.

Its management is very optimistic about the demand outlook for the capital goods that its makes, citing strong data for the Chinese manufacturing sector.

China's official purchasing managers' index rose to 55.2 in November, up the fourth consecutive month, according to figures released by the China Federation of Logistics and Purchasing on 1 Dec.

The index has stayed above 50 for the 21th consecutive month since March 2009, when the index rebounded to 52.4.

A reading of above 50 suggests expansion, while one below 50 indicates contraction. The PMI consists of 5 sub indices that measure economic performance: production index, new order index, raw material inventory index, employment index and supplier delivery index.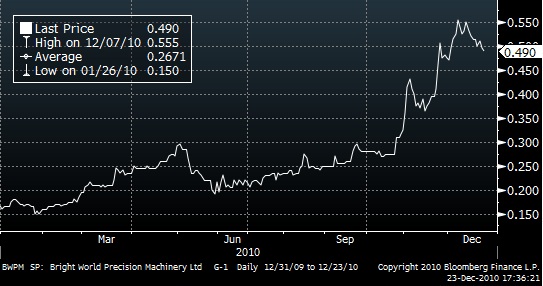 Related story: BRIGHT WORLD PRECISION: Why hefty surprise dividend?


---


#4 SUNVIC CHEMICAL charged ahead on earnings recovery but stock price has weakened in recent times


Sunvic Chemical, whose profit collapsed an astounding 97% in 2009, sent out strong signals about its business recovery this year when it aggressively bought back shares throughout the first half of 2010, totaling 22.4 million shares.

The stock started the year at 17 cents and touched a high of 70 cents by November - but it has since trended down to close at 54 cents recently.

The business has been excellent, with net profit soaring 1,498% year on year from RMB21.8 m to RMB 347.9 m in the first nine months of this year.

The results were underpinned by strong demand for Sunvic's key products, AA & AE, as well as high average selling prices, resulting in gross profit margins of 24.8% in 9M2010, up from 9.0% previously.

AA & AE are chemicals used in the production of many industrial, consumer and agricultural products such as coatings, adhesives, diapers, textiles, detergents, water treatment materials and herbicide.


Strong demand is driven by the urbanization and industrialization of China.

Lee Kok Joo, an analyst at Phillip Securities Research, has a target price of 95 cents for the stock based on 6x FY10E earnings.

Note, however, there has been some selling of the shares by directors of Sunvic. And the stock price has reversed trend (see chart below) likely on profit-taking as well as market speculation of an impending share placement.

The latter, however, does not look likely if you consider the strong operating cash flow of Sunvic (RMB579 m in 2010 and RMB 670 m in 2011 going by Phillip Securities' forecasts) and the current-year PE of about 3.3X is too cheap for the company to sell shares at.


Recent story: INSIDER BUYING: Teckwah, Sunvic, LMA, Frencken, China Env, etc