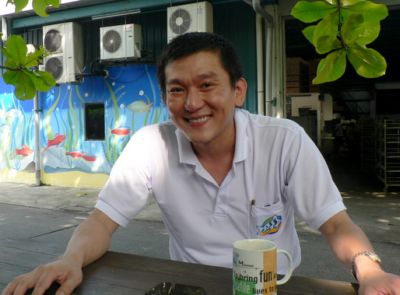 Kenny Yap enjoying his morning coffee with his staff.
Photo by Leong Chan TeikDEMAND FOR ornamental fish is rising in China, Vietnam and even India as people there become more affluent - a trend that will benefit Qian Hu Corporation.

In a recent fish trade show in India which Qian Hu took part, the crowd which turned out was so huge, the organisers had to temporarily close the doors, said Kenny Yap, the company's executive chairman.

In an interview with NextInsight this week, he said that aside from selling to new markets such as India, Qian Hu - whose shares are listed on the Singapore Exchange - may be interested in setting up joint ventures with Indian distributors to export local fish.

"There are no major ornamental fish exporters in India currently," said Kenny, who is eyeing the nascent market in the world's second most populous nation.

Local distributors can benefit from Qian Hu's marketing reach. It has extended its sales far and wide to over 80 countries, making it the only ornamental fish company which is among the top 3 exporters not only in Singapore but also Malaysia and Thailand where it has subsidiaries.


More than two thirds of Qian Hu's sales in the first nine months of this year came from exports of over 500 species of fish and accessories.

Singapore is the world's largest ornamental fish exporter, with 30% of the global market share.

In its results released this Monday, Qian Hu said it grew its 9M08 sales 4.6 per cent year-on-year to S$70.2 million. Profit attributable to shareholders jumped 27.8 per cent to S$4.3 million.

For Q3, sales grew 4% year-on-year to S$23.6 million. Profit attributable to shareholders rose 20.9% to S$1.5 million.

During that period:

* Sales of house-bred Dragon Fish and trading of ornamental fish contributed 50% to the top line.

* Manufacturing and distribution of aquarium and pets accessories contributed 36%

* The manufacturing of plastic bags contributed the remaining 14%.

Group operating margins expanded 1.6 percentage points to 11%.

This was due to better margins from sales of house-bred Dragon Fish and Qianhu's ornamental fish export business, plus a 29.6% drop in selling and distribution expenses.

Prices of Qian Hu's trademark Dragon Fish have risen steadily in the past decade that the group has bred the fish.

"The demand for Dragon Fish, which is an endangered species, is still higher than the supply," said Kenny. "Our sales are going up, especially in China."



"If you know how to brand it, and you have integrity in selling it, especially in developing countries, you build a reputation over the years. That's what Qian Hu has done. When people buy a red tail, they get a red tail, and not some cheaper variety. Integrity is important because when the fish are small, buyers cannot tell the difference."

International trade in Asian Arowana is controlled under the Convention on the International Trade in Endangered Species (CITES) of Wild Flora and Fauna, but Qian Hu is a stable supplier which has perfected breeding, quarantine and packing techniques.

Each Dragon Fish comes with an embedded chip containing a unique code. Using a scanner, a buyer can find out what the code is and check it against particulars on Qian Hu's website.

Kenny's strategy is to concentrate on breeding facilities for the Dragon Fish, a high-margin species. It sub-contracts the breeding of other species to fish farmers.

By doing so, its fish breeding and trading segment enjoys the highest operating margins --- 16.5% in 3Q08, compared to 9.5% for making aquarium and pet accessories, and 4.8% for producing plastic bags.

To further meet supply, the company purchased about S$1.8 million of brooder stock during the current quarter. Each brooder costs S$5,000 to S$10,000, and is purchased when it reaches reproductive age of 6 to 7 years.


Outperforming Malaysian peer

Qian Hu has outdone its KLSE-listed peer Xian Leng, whose revenues slid by half y-o-y to RM4.4 million (S$1.85 million) for its latest quarter ended 31 July.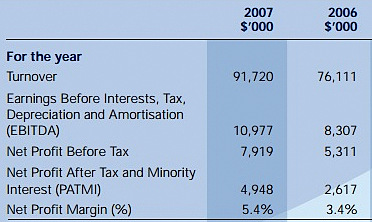 Qian Hu's strong financial performance.The Johor-based peer slipped into a pre-tax loss of RM4.9 million, citing fierce price competition plus impairment loss on plant, property and equipment.

In the past three years, Xian Leng has seen its sales and profit go down - in sharp contrast to Qian Hu whose sales and profit have climbed up.