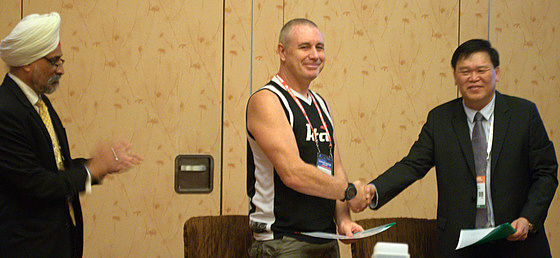 Signing ceremony at Marina Bay Sands (L-R): Gurcharan Singh (Trek 2000 CFO) | Neil Godbold (Founding director of KTA) | Vincent Leong (President, Operations & System Solutions, Trek 2000). Photo by Leong Chan Teik

Background: Cloudstringers is a cloud-based ecosystem where subscribers can store, view, share and -- most importantly -- buy and sell content, be it photos or video. Cloudstringers, which is 70% owned by Trek 2000, has Panasonic and Toshiba as 15% stakeholders too.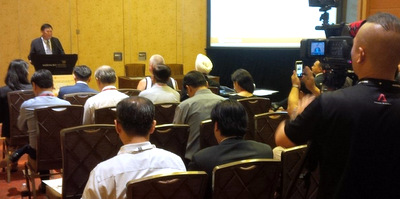 Vincent Leong (President, Operations & System Solutions, Trek 2000) speaking at the signing ceremony at Marina Bay Sands.
Photo by Tok Chong Yap.The news: Cloudstringers has become the official and exclusive channel for all digital content coverage (photos and videos) at all events of Kiteboard Tour Asia (KTA).

KTA is the official body in Asia of the International Kiteboarding Association, and guarantees a minimum of 150,000 users will sign up (for free) on Cloudstringers platform.

This will add on to the 50,000 subscribers that Cloudstringers already has. The target is 1 million subscribers by year 2016, said VP of sales, Wayne Tan.

Photos and videos of KTA events taken by professional users as well as social contributors will be uploaded onto Cloudstringers.

Parties (such as broadcasters) interested in viewing or purchasing professionally taken photos and videos can do so online in a section called Marketplace, and Cloudstringers will take a cut from the transacted price.


(Kiteboarding is an extreme sport -- see video above -- which, it has just been announced, will be included in the 2018 Youth Olympics, a precursor to its expected inclusion in the 2020 Olympic Games.)

In addition to taking a cut from the transaction revenue, Cloudstringers promotes the use of Trek's FluCard in digital cameras and video cameras. As the world's first wi-fi enabled SD card, the FluCard enables users to upload their digital content wirelessly to the Cloudstringers platform.

Mr Tan added that Cloudstringers is working with Toshiba to give FlashAir the capability to upload contents to Cloudstringers via a mobile app. FlashAir was co-developed by Toshiba and Trek.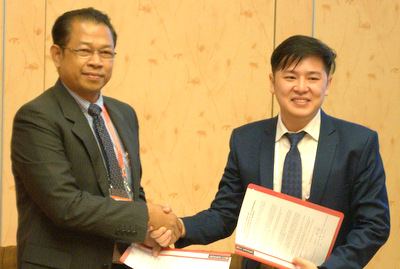 News Connect Thailand has also signed on to be a partner of Cloudstringers. Its MD, Nugoon Karnchanarat, is seen here with Wayne Tan (VP of sales, Cloudstringers).
Photo by Leong Chan TeikMr Tan said with the app in place, the number of users of Cloudstringers platform will soar.

Cloudstringers is also working with Panasonic, which has the largest share of the global market for electronic news gathering equipment, to target broadcast stations and professionals to sign up with Cloudstringers.

Cloudstringers has the support of IE Singapore which has been working with it to secure global partners such as KTA and News Connect Thailand. "We will continue to support home grown companies such as Trek in their push to create more synergistic global partnerships," said Jason Lim, Group Director for Technology Business, International Enterprise (IE) Singapore.