Excerpts from analyst's report


OSK-DMG analyst:Sarah Wong & Terence Wong, CFA

ISOTeam is acquiring four local companies in a cash-equity deal for c.SGD11m in total. Maintain BUY and SGD0.77 TP, a 54% upside. The company will fork out SGD4.945m (cash) and SGD5.845m (shares), assuming 11.69m shares are issued at SGD0.50 each. The acquisition should enable it to expand its current suite of services, complementing its core R&R and A&A expertise, and interior renovation business.

Acquiring new trades and skill sets. ISOTeam is acquiring four companies in cash-equity deals totalling SGD11m. They are:

i) Accom International Pte Ltd – a rental provider of more than 166 construction and renovation equipment that include boom and scissor construction lifts;
ii) Accom Pte Ltd – a repairs & redecoration (R&R) specialist in the private-commercial sector;
iii) Industrial Contracts Marketing (2001) Pte Ltd – an application specialist in special architecture coatings and structural protection systems to the building and construction industry; and,
iv) Rong Shun Landscape & Construction Pte Ltd – a high-value landscaping services provider whose portfolio includes green roofs, vertical gardens and wet land floating planting services.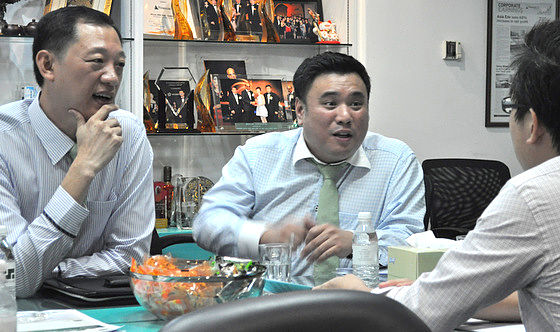 Anthony Koh (left), CEO of ISO Team, and the GM, Richard Chan, speaking with an analyst.
NextInsight file photoAn earnings accretive move.On a combined basis, the four local firms made SGD1.6m in net profits in the past financial year.

At a consideration price of SGD11m, the targets are being acquired at 6.8x P/E while ISOTeam trades at 9x FY14 P/E and 8.1x FY15F P/E.

This makes the acquisitions earnings accretive despite a potential c.10% dilution from the share base increase. We opine that the acquisitions, once completed, will impact ISOTeam's earnings positively.

This corporate exercise is likely to be completed by year-end or early next year, after which we will make adjustments to our earnings forecasts.

Maintain BUY and DCF-derived SGD0.77 TP. We view this earnings accretive move positively. We opine that the expansion of its skill sets and trades is a pivotal move, given its market leadership position in R&R and addition & alteration (A&A).

We continue to like ISOTeam's cash generation ability, low counterparty risks, generally inelastic demand in the R&R space for Housing Development Board projects and as a key beneficiary in Government-led initiatives in the public sector space.


Recent story: ISOTeam: Strong recurring income from Singapore's R&R and A&A needs