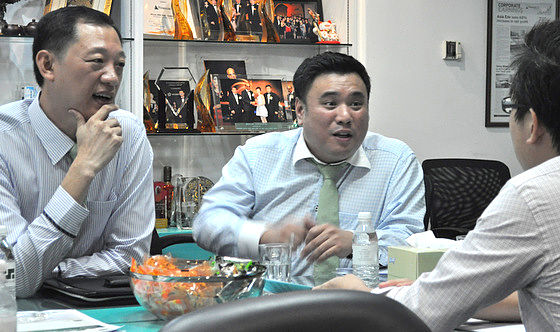 Anthony Koh (left), CEO of ISOTeam, and his GM, Richard Chan, speaking with an analyst. Photo: Leong Chan Teik

A NOTABLE aspect of ISOTeam's business is that it consistently wins contracts from open tenders of the 16 town councils in Singapore.

And its bids are successful even if sometimes they are not the lowest.

To questions raised regarding this, CEO Anthony Koh said an investors' briefing recently: "Price used to be the deciding factor for town councils. Increasingly, it is more than that. It's about PQM -- price, quality and management.

"If a contract to R&R (repair and redecorate) a hawker centre is to be completed in six weeks, then it has to be six weeks and not a day more. Otherwise, the hawkers' livelihood will be affected."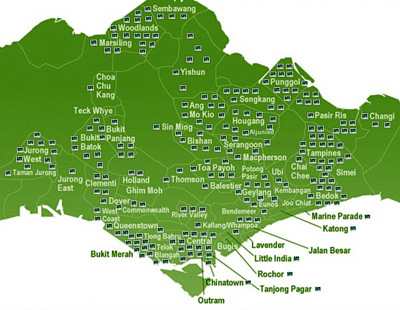 ISOTeam has completed 230 projects involving nearly 2,500 buildings all over Singapore.ISOTeam is in the business of R&R and A&A (additions & alterations). Its key source of revenue (about two-thirds) is R&R work for town councils.

R&R projects have slightly higher profit margins than A&A work.

Revenue from R&R projects ranges between $1 million and $9 million each while A&A, $4 million-30 million.

Because town councils require work to be completed on time and creating as little inconvenience to residents as possible, a service provider with a good track record such as ISOTeam is valued significantly.

On completion of each project, town councils will prepare assessment reports for the Building & Construction Authority -- and these are available to other town councils for future reference.

To a question on whether it ever had to pay liquidated damages to any client, Mr Koh said ISOTeam has a clean track record.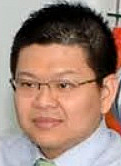 ISOTeam's CFO, Tan Wei.In addition to that, its bids are competitive in part through its exclusive long-established partnerships with Nippon Paint and SKK, which provide attractive pricing for paint.

And ISOTeam has economies of scale, especially in terms of equipment (it has 230 gondolas, for example), and incorporates green solutions in its projects.

These are reasons "out of 10 project tenders we secure, we are the lowest in 8. We are price-competitive."

ISOTeam sub-contracts work such as painting, carpentry, waterproofing, tiling, plumbing brick-laying, plastering services and landscaping. ISO Team provides the project management expertise for the work.

Which areas or town councils in Singapore is ISOTeam strong in? Mr Koh replied: "All areas -- even the opposition town council of Aljunied-Hougang. Our biggest ever R&R contract from a town council of S$10 million in fact was awarded by Aljunied-Hougang."



FY2013 (ended June 2013) saw a one-off gain of $4.2 million from the disposal of a leasehold property. But there was also a one-off IPO expenses of S$1.1 m.As at 24 Jan this year, ISOTeam's order book stood at S$84.6 million to be delivered over two years.

Subsequent to that date, the company won another S$18 million worth of contracts.

The recurring nature of its business puts ISOTeam in good stead. Central to that is a policy that the external facade of HDB blocks is to be repainted at 5-year intervals.

Other works, at various intervals, include re-roofing, re-wiring, upgrading of landscape and playgrounds, etc.

As more HDB flats are built and as existing estates age, the market for ISOTeam enlarges. As an illustration, Mr Koh said that the R&R market five years ago may have been around $100-120 million but last year, it had grown to around S$230 million.

ISOTeam is seeking to expand aggressively, using its $14.6 million cash hoard of which $5.3 million came from net proceeds of its IPO in July 2013 and $6.1 million from the disposal of a leasehold property in 2013.

Its listing status enables its shares to be offered as part consideration in any M&A activity too.

(Its stock price has gone up from 22 cents at IPO to 38 cents last week, translating into a market cap of S$45 million for the company).

ISOTeam is looking to acquire stakes in companies that offer complementary and ancillary services.

Another strategy for growth: Having focused on HDB buildings all these years, ISOTeam aims to offer its R&R and A&A services to other parts of the public sector such as education institutions and army camps, and the private sector (condominiums, private apartments, and industrial and commercial buildings).


Recent story: ISOTeam expected to report 62% jump in FY14 earnings -- UOB KH