COMFORT AND 'FEEL' -- yes, most people can appreciate these features of gloves. But few know of technical details such as how the use of zinc or sulphur in the manufacturing process can vary the characteristics of gloves.

That's why a question that is commonly asked at Riverstone Holdings' results briefings is: What differentiates your gloves from competitors'?

At this week's briefing, Riverstone CEO Wong Teek Soon cited as an example the fact that gloves typically have some chemical coating but Riverstone is able to exclude zinc and sulphur for more desirable outcomes.

"These can be tested. These are among the many small details which depend on your R&D, and they enable us to differentiate ourselves from competitors."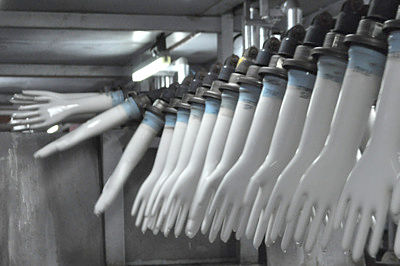 @ Riverstone's factory: Moulds for producing gloves for the healthcare and cleanroom sectors. NextInsight file photo.Mr Wong said Riverstone invests RM3-4 million a year in R&D, and more than 50% of its gloves are customised to customers' requirements.

For this, Riverstone charges a small premium.

Given such a competitive edge in a competitive industry, Riverstone has continued to report good results. Its 2Q revenue rose 7.1% to RM96.9 million while net profit rose 11.3% to RM16.1 million.

An interim dividend of 2.35 sen a share was declared.

Another topic of increasing investor interest is the timeline for the start of production at Riverstone's new factory in Taiping, and its future phases of expansion.

Commissioning of new production lines will start in September/October, and all six production lines at the new factory will be in operation by the end of this year.

Asked if there are already secured orders for gloves from the new factory, which has a capacity of 1.1 billion gloves a year, Mr Wong said the capacity is already booked till the end of the year.

The following are more questions and answers on the new capacity -- plus other highlights of the Q&A session. The answers came from Mr Wong:




Q: What will the increase in capacity in phase 1 be for primarily?

A: Our production lines are interchangeable but we foresee a higher increase in demand for healthcare gloves.

Q: Is the first phase catered to healthcare gloves? What are your plans for the later phases?

A: We give priority to cleanroom gloves but judging from the current trend, it seems that the growth in healthcare gloves outpaces the growth in cleanroom gloves. As such, we expect this trend to continue.

Q: Are there any technical issues faced with the new expansion lines?

A: We do not face many issues as we are experienced and design our own production lines. However we continue to monitor closely for the longer production lines that have a larger capacity output and operate at higher speed.

Q: Can you elaborate on the RM11 million worth of investment for next year?

A: This is part of the second phase of the expansion. RM11 million is only for the factory while the production lines will cost around RM40 million with a total CAPEX of about RM51 million.

Q: When will the increase in 1 billion capacity come in for the second phase?

A: End of 2015 and we expect to start selling at the start of 2016.

Q: Do you see a need for capital financing?

A: At present, we are only preparing for up to the second phase of the expansion.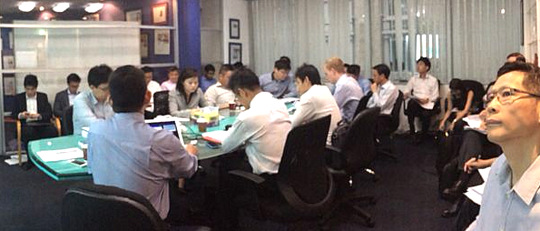 Large turnout at the 2Q results briefing. Photo by Gabriel Tan

Q: The recent ebola outbreak caused share price appreciation for many Malaysian glove firms. Do you foresee an increase in demand for healthcare gloves?

A: Our capacity is already at its maximum, hence we are unable to take up any more orders due to capacity constraints.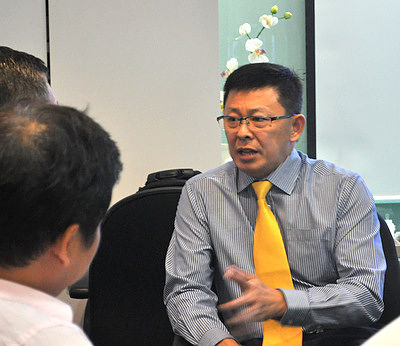 CFO Lim Sing Poew chats with analysts after the 2Q briefing.
Photo by Leong Chan Teik
Q: Are there any changes in the selling price levels following an increase in gas price in Malaysia?
A: We are not able to pass on 100% of the gas price increase as industry competition increases. We passed on the increase in costs in staggered phases -- 50% in June 2014 and 50% in July 2014. At present, we use 50% gas and 50% biomass and this forms about 10% of our total cost of production. The 20% increase in gas price led to a 1% impact on our average selling prices (ASPs).
Q: How was the price of raw materials like in 1H2014 and how is it going to be like going forward?
A: We see raw material prices to be relatively stable in the first half and expect it to be so going forward. There is a price adjustment of about US$30-50 per tonne or 3-5% in relative terms.
Q: What was the reason for your decrease in gross profit margin?
A: There are two main reasons, namely the decline in USD and increase in fuel costs --- both are macroeconomic factors. The US currency declined from about US$1 = RM3.30 to US$1 = RM3.20 during the period while we were also not able to pass on fully the increase in fuel costs to our customers.
Q: What was the contribution in revenue from cleanroom gloves for the mobile and tablet sector?
A: About 25-30% of the total revenue from cleanroom gloves.
Q: What was the contribution in revenue from cleanroom and healthcare gloves?
A: 70% healthcare and 30% cleanroom.
Q: What is the percentage of change in your customers base for cleanroom gloves?
A: It remains quite consistent. Since the start of 2014, we have been increasing our customer base and have not lost any customers.
Q: Are cleanroom gloves tied in as long term contracts?
A: Based on our experience, customers usually do not change their supplier sources.
Q: A lot of your competitors are ramping up production capacity. How are you keeping up?
A: It depends on the products and how we market our products. We only sold 1.7 billion healthcare gloves last year. Other glove manufacturers have a larger production base. Most of the distributors source from two to three suppliers. We are considered a minor supplier as we are constrained by our existing production capacity. We are therefore increasing market share as we support our current customers with an increase in supply of our products.

Q: Who are some of your end-users for healthcare gloves?
A: We supply mainly to Scandinavian countries and end users in these countries are usually the local hospitals. We also supply, to a lesser extent, to US, primarily for the dentistry industry and also to the food industries in Japan.
Q: What is your gross profit margin range for healthcare and cleanroom gloves?
A: Healthcare gloves command a gross profit margin in the range of 15-20% while cleanroom gloves is about 30-35%.
Q: Do you see margins for healthcare gloves to continue falling?
A: While the falling USD will affect our margin, the ASP for healthcare gloves is relatively stable, consistent to last quarter and last year.

Q: What is your growth in the cleanroom gloves for mobile and tablets and can you share on the penetration rate for this market?
A: The second quarter is generally slower for the mobile and tablets sector though this is expected to pick up in the second half of the year.
Q: As natural rubber gloves become increasingly cheap, do you see a shift from nitrile gloves to rubber gloves?
A: The improvement in comfort levels of the nitrile gloves as it becomes thinner has gradually replaced the use of natural rubber gloves. Also, with improved technology and the higher quality, users have accustomed to using nitrile gloves and is unlikely to switch back to using natural rubber gloves.
Q: Do you see other competitors entering the cleanroom gloves space?
A: There are but they offer different specifications. At present, some of our competitors are offering cleanroom compatible but that is a different grade and specs altogether.
Q: What is the contribution of cleanroom gloves for HDD sector?
A: About 50%. However, we recognize that the HDD sector is not growing as rapidly as before, therefore we diversify together with our customers such as HOYA into cleanroom gloves for other electronics such as semi-conductors which contribute another 25% in revenue.
Q: Which region do you supply your cleanroom gloves to?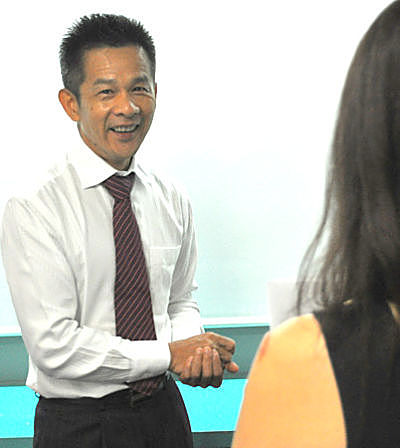 Wong Teek Son, executive chairman and CEO of Riverstone Holdings, owns a 47.51% direct stake in Riverstone (market cap: S$346 m). Photo by Leong Chan TeikA: We are Asia-Pacific focused and supply mainly to China and Thailand.

Q: What is the prevailing gap to manufacturing the perfect cleanroom glove for mobile and tablets?
A: It is still possible to identify fingerprint marks under microscope for the existing cleanroom gloves for mobiles and tablets as some are more sensitive. There are other variables such as the chemical used or the surface finishing of the gloves. The chemical treatment process is not perfect and this issue is faced industry wide. We expect our competitors to face even more issues than us.
We manufacture our gloves without the usual chlorination process and not removing chloride particles thereafter.
Q: Do you receive pricing pressure from your competitors?
A: Yes, that is why we cannot pass cost increase immediately to our customers and it had to be done in staggered phases. We usually have the cost plus model where we pass on the cost increase based on our own internal formula.
Q: For cleanroom gloves, you still have fingerprint problems; how far behind are your competitors in terms of time?
A: There are quite a number of manufacturers in China who are competing in this cleanroom market as the users are mainly from China. We are not too certain about their progress at this point in time.
Q: There was a decrease in levy reported in your financial announcement. Can you elaborate?
A: We previously had to pay a levy on top of the salary provided to our workers. We now have a different remuneration structure whereby the workers have to pay the levy, and this will be the model going forward.
Q: What is the increase in payroll expected?
A: About 150 workers for the new plant.

Q: Do you expect growth in your volume?
A: We are unlikely to do so at present as we are already producing close to full capacity. However, we will see growth in the fourth quarter as the new lines are commissioned.
Q: Since technology is a volatile industry, how much fluctuation can you stomach if it does not do well?
A: If you look at historical figures, it has always been quite consistent. To buffer the effect, we have a diverse customer base so we expect minimal impact. More importantly, no one customer contributes more than 5% of the Group's total revenue.
Q: Do you see the need for forex hedging?
A: We do not see the need for forex hedging because the market usually adjusts itself accordingly. If the impact to the ASPs of gloves is too large, manufacturers will automatically adjust their ASPs accordingly.


Tok Chong Yap contributed to this article.

Recent story: RIVERSTONE: 1Q Record Profit Of RM16.0 M, New Factory To Provide Boost