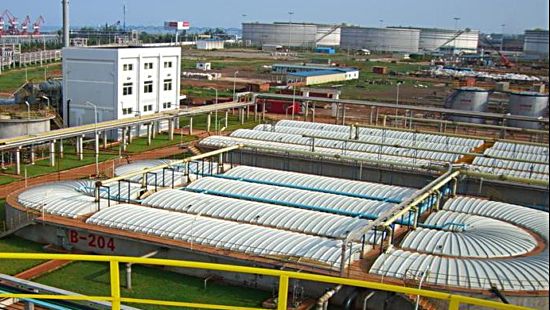 Memstar supplied the membrane modules in UEL's treatment plant for petrochemical giant Sinopec. Company photo
SPECIALIZED MEMBRANE products will be the next big thing for Memstar Pte Ltd, after its takeover by United Envirotech (UEL), according to Memstar founder, Dr Ge Hailin.

Dr Ge, who continues to helm Memstar post-takeover, was speaking at a NextInsight interview on Tuesday at the 2014 Singapore International Water Week Memstar exhibition booth.

Currently, more than half of Memstar's production output is for UEL's utilization.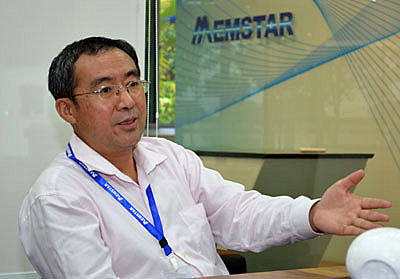 Dr Ge Hailin currently holds about 13 million UEL shares that have a 5-year moratorium from the April 2014 takeover date.
NextInsight file photoDr Ge is looking at doubling existing capacity over the next one to two years because there is now greater demand for Memstar membrane bio-reactor (MBR) modules.

Its plant in China is one of Asia's largest for the production of hollow fibre membranes, membrane modules and household water purifiers.

The plant currently has an annual capacity of 5 million square meters of PVDF MF/UF membranes and 200,000 units of household water purifiers.

Its membrane products have a wide range of applications.

They are currently used in wastewater treatment plants with applications ranging from municipal waste, to industrial waste, chemical waste and pharmaceutical waste.

Specialized membrane products to strengthen Memstar's overseas footprint

The company has been supplying specialized membrane products to original equipment manufacturers (OEM) for 2 years, with applications for drinking water, sea water desalination and municipal water treatment.

One potential application of membranes is the removal of viruses by pores that are tiny enough to filter off viruses.

This is one R&D project that Dr Ge wants to embark on. He figures that commercialization will take at least one to two years.

Among the large membrane manufacturers in the world today, less than 10 have the technology and capability for such specialized membrane products.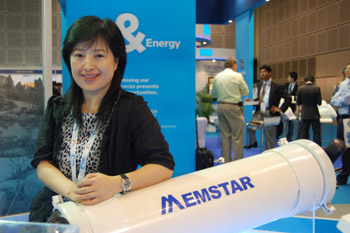 Former Memstar chairwoman Pan Shuhong (next to a membrane module) is now UEL's chief investment officer.
NextInsight file photo"I see the market potential for specialized membrane products to be as vast as for municipal wastewater treatment," he said.

"The F&B sector also holds great potential for specialized membrane applications," he added.

The company works with OEM players as it wants to focus on R&D and manufacturing, and rely on its partners for marketing and distribution.

"We are working closely with our OEM partners to increase the use of our membrane products in Southeast Asia, followed by Europe and North America," he said.

The sale of Memstar Pte Ltd to UEL (for S$293.4 million) was completed on 11 April 2014.

Memstar Pte Ltd, which posted revenue of Rmb 131.8 million and profit before tax of Rmb 48.3 million for the 9 months ended 31 March 2014, is expected to boost UEL's earnings significantly for FY2015.

Memstar's 9-month revenue is already more than half of UEL's full year revenue of Rmb 202 million for the year ended 31 March 2014.

Two thirds of Memstar's revenue was from the manufacture of membranes and the remaining one third was from service concession fees.

Memstar Technology is now a listed cash shell, after the disposal of the above key operating subsidiary to UEL.

Recent story: UTD ENVIROTECH In Strong Bids, CNMC GOLDMINE Has Strong Outlook