Excerpts from analysts' reports

UOB Kay Hian identifies potential winners from e-commerce trend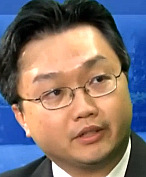 Analysts:

Andrew Chow, CFA (left),
Old vs New Economy. The proliferation of the trend of e-commerce will have significant impact on selected stocks and sectors in Singapore.

Negatively impacted could include traditional retailers such as FJ Benjamin and Courts Asia. Even retail landlords such as CMT could be adversely affected as up to 5% of rental income is linked to tenant sales.

Although this is modest, weak retail sales would eventually impact the ability of retailer
to pay higher rental imposed by S-REITs.

Conversely, potential winners include
Singapore Post as well as SIA.

SingPost a clear winner. E-commerce-related revenues accounted for approximately
26% of the group's revenue in FY14. Singapore Post (SingPost) has launched new
mobile apps, online tools and e-commerce platforms to enhance and accelerate the
growth of its end-to-end e-commerce solutions.

The group has doubled its e-commerce
portfolio to over 600 customers from only 300 in FY13, which includes global brands
such as Adidas, Canon, Philips and Toshiba.

We expect e-commerce-related
businesses to continue growing 10-15% annually.

We have also raised our target price
by 8% to S$1.73/share (previously S$1.60) to reflect a change in our assumption for its
stage 2 growth (from 4% previously to 5%).
---

DBS Vickers initiates coverage of POSH with $1.36 target

Analyst: Suvro SARKAR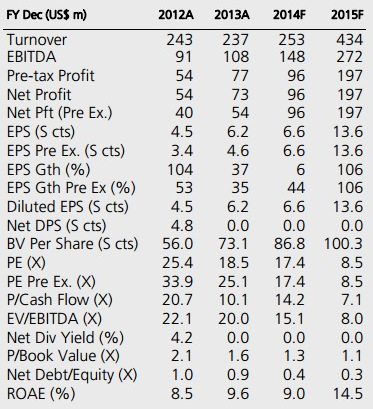 Source: DBS Vickers.• Largest Asia-based provider of offshore support vessels; youngest midwater/deepwater fleet of AHTS/PSV globally gives POSH the competitive edge

• Strategy to be market leader in several niches; focus on identifying emerging growth opportunities early

• Proverbial game changer in FY15 – with delivery of two semisubmersible accommodation vessels – which can more than double the Group's earnings base

• Potential to be long-term winner in the global OSV space; initiate with BUY and TP of S$1.36

Leading Asia-based operator of offshore support vessels. POSH is also arguably one of the top five globally, operating a combined fleet of 112 vessels (including JV vessels).

In a capital intensive industry, being part of the Kuok Group has its distinct advantages; ready access to affiliated shipyards and lower financing costs enable it to not only achieve lower costs of ownership and compete favourably in the charter market, but also to identify opportunities early and enjoy first mover advantage in key growth markets.

Deepwater offshore accommodation market the next big driver. POSH will enter this market with two newbuilds to be delivered by end-2014, which will make it a key semisub accommodation vessel (SSAV) provider in the large berthing capacity space.

Along with its non-semisub assets, POSH should actually emerge as one of the top four offshore accommodation players by capacity in the world by 2015. Superior returns can be expected from these semi-sub assets, given the tight market conditions, and lower ownership costs achieved by POSH, boosting margins and profits significantly from FY15 onwards.

POSH has already won a contract with attractive terms for the first SSAV from Petrobras.

Initiate coverage with BUY; TP of S$1.36. Our valuation peg of 10x FY15F earnings is in line with the average of regional peers, despite stronger growth potential on the back of a healthy balance sheet post-IPO.

Key near-term catalysts will be: i) Significant charter contract wins, including a contract for its second SSAV, which should provide very strong visibility for FY15 earnings; ii) Resolution of certain near-term issues at its Mexico JV, and iii) Better-than-expected quarterly earnings delivery.