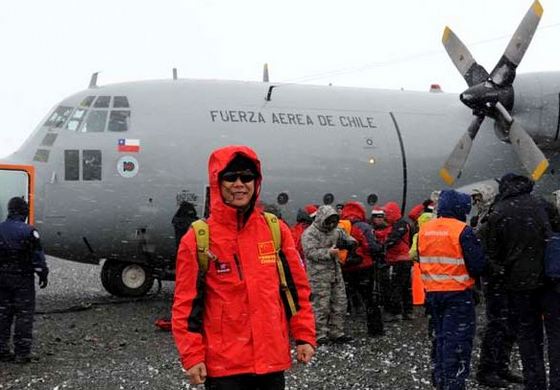 Mr. Sheng Faqiang, founder of outdoor products firm Beijing Toread, sports his brand's gear at the bottom of the world in Antarctica. Photo: Toread

BEIJING TOREAD (SZA: 300005) landed on the recently-released Forbes Asia 200 Best Under A Billion list, sporting a market value of nearly 700 million usd and 2012 sales of 177 million.

Founder Sheng Faqiang says his hiking gear firm enjoys unique advantages as China's sole listed outdoor products play.

The appearance on the Forbes list is only the latest achievement for A-share listed Beijing Toread.

The Forbes list is a selection of 200 leading companies from a universe of 15,000 public companies in the Asia Pacific region with annual revenue between US$5 million to US$1 billion.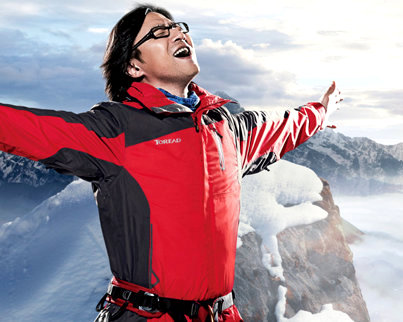 Beijing Toread spokesperson and rocker Wang Feng sings the praises of the adventure equipment firm. Photo: Beijing ToreadThe qualified firms are measured comparatively based on the following criteria: five-year average return on equity and pretax margin greater than 10%, positive sales and earnings per share growth for both the most recent fiscal one and three-year periods, debt less than 75% of shareholders' equity and a trading history of at least one year.

BlueFocus is one of six investor relations clients of Singapore's Financial PR which have made it into the Forbes list.

The other five are Beijing SJ Environmental Protection and New Material and Beijing Toread Outdoor Products listed on the Shenzhen Stock Exchange, PAX Global Technology listed on the Hong Kong Stock Exchange, and Dukang Distillers and Memstar Technology listed on the Singapore Stock Exchange.

After establishing the tent, hiking and outdoor trekking and adventure equipment maker in 1999, Mr. Sheng launched Toread's first branded store in Beijing four years later.

The firm's chairman, president and general manager decided to take the firm public in 2009 on the newly-launched ChiNext Board in Shenzhen, often called "China's Nasdaq."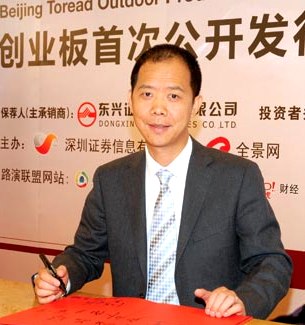 Beijing Toread founder Mr. Sheng Faqiang during the outdoor product play's listing on the ChiNext in 2009. Photo: eliteyouthThe board is for innovative firms with short histories and limited capital – but big dreams to grow up in a hurry.

Toread is the sole listed outdoor products brands among nearly 250 domestic competitors.

Since its ChiNext listing four years ago, the company's market value has skyrocketed to over four billion yuan today from the initial capital of just half a million yuan in 1999.

That doesn't mean Toread faced no domestic competition.

Unlisted local rivals like Snowwolf, OnePolar, Ozark Gear, Black Yak and Kailas are in the same proverbial boat as Toread in the PRC market as none pay the steep import duties levied on foreign products that can add 20% to landed costs.

However, Toread has managed to outperform its domestic peers, averaging a stunning 50% annual revenue rise for the bulk of its 14-year existence.

During its roadshow to drum up support for its IPO in late 2009, Mr. Sheng pledged that by 2014 the firm would sport annual revenue rises of 40%, which of course was a modest projection shy by some 10 percentage points.


Toread's A-shares are recently trading at 14.63 yuan with a 52-week range of 8.50-15.76. Source: Yahoo Finance

Mr. Sheng's pre-Toread history is a lesson in inspiration and perseverance.

Graduating from university in 1993, he landed a safe and rock-stable job as a geological prospector with the Ministry of Railways.

He often found himself calling tents pitched in the middle of nowhere his "office."

A year later, he called it quits.

"I simply didn't want to follow instructions from the upper level. I wanted to be my own boss," he said in a local media interview.

Having to lug his "office" around on his back for a year inspired a business idea which launched the concept for Toread.

Foldable, lightweight, compact one- and two-person tents were a godsend to weary geological prospectors who might be good at understanding the lay of the land but weren't necessarily burly outdoorsmen.

He admitted that in the early-to-mid-1990s, marketing tents to non-surveying types as recreational and outdoor adventure equipment was a tough sell at first given the absence of a leisure camping culture in Mainland China.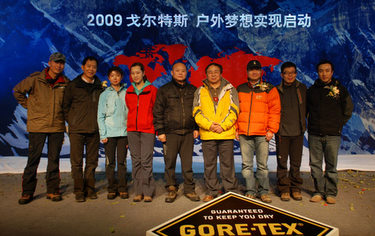 Beijing Toread's links with Gore-Tex help keep the cold and moisture at bay. Photo: ToreadHowever, the PRC's meteoric rise up the global GDP rankings soon put a lot more money – and time – into the hands of the rising middle class.

"We ran from exhibition to exhibition. We reached Harbin in the north and Shanghai in the east. You could even find us at exhibitions in northwest Urumqi and southwest Kunming. We were everywhere," he told China Daily of his mid-1990s tent sales pitches.

Using cash earned from his early tent business, Mr. Sheng founded his own firm in 1999.

And since 2003, with the opening of Toread's flagship store in China's capital city, the firm's products have grown in variety from tents to outdoor clothing, shoes, hiking gear, backpacks, sleeping bags and other equipment.

All this time, China was seeing the rise of a bigger and increasingly adventurous middle class.

Also, the ongoing urbanization of the PRC's population is producing a growing group of city dwellers that increasingly long to get away on weekends to the countryside and mountains.

These are all playing into Toread's long-term growth plans.

"We think family camping will be the mainstream of outdoor sports, and family camping has been the fastest developing outdoor sport during the last three years," Mr. Sheng said at the China Outdoors Industry Investment Forum.

---

See also:

BEIJING TOREAD A 'BUY'