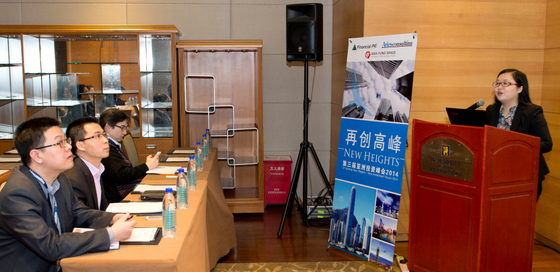 Beijing Miteno Vice President Ms. Wu Lannan (speaking) is upbeat on the communication tower play's prospects amid a growing 4G campaign. Photo: Aries Consulting

BEIJING MITENO Communication Technology (SZA: 300038) enjoyed double-digit top and bottom line interim growth on healthy sales of its communication towers across China.

And thanks to steady expansion of 4G and online users in the country, the A-share listed firm expects even loftier performance going forward.

"We stand out from our competitors by being a 'one-stop, soup-to-nuts' tower service provider, able to accommodate a range of communication platforms on each structure.

"We even offer an increasingly lucrative advertising service on our towers," said Beijing Miteno Vice President Ms. Wu Lannan.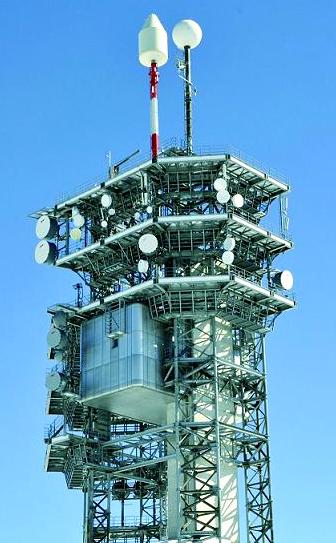 Beijing Miteno is chasing strong demand for telecom towers in China. Photo: MitenoSpeaking to investors and fund managers on Jan 10 in Shenzhen at the Aries Consulting-organized "3rd Scaling New Heights – Asia Investment Forum 2014," Ms. Wu said the Beijing-based firm benefitted greatly from its advantageous market status thanks to its advanced technological and engineering know-how – all required to meet both customer requirements and government regulations.

"Therefore there is a very high entry barrier to this industry as we cover several aspects of the sector, all of which helps us protect and grow our market share," she said.

Founded in September 2004, Miteno specializes in supplying total communication tower solutions, and is primarily engaged in the research, development, design, manufacturing, installation and maintenance of communication towers including landscape towers, single pole towers and angle iron towers.

Its communication towers are used as carriers for communication signal radiation, reception and transmission equipment and Miteno counts among its diverse client base China Mobile, China Unicom and China Telecom – the "Big Three" of the PRC telecommunication sector.

Diverse Clientele, Customized Service

Having a diverse client base with each needing individualized requirements was not a problem for Miteno.

"Our motto is 'Providing customers with customized products to meet any need', so we welcome the challenge of each contract," Ms. Wu said.

Its sales network extends across nearly 30 provinces, cities and autonomous regions, with contracts involving over 30 provincial-level telecommunications enterprises.

Revenue has been growing rapidly, helping Miteno become China's fastest-growing and most competitive firm in its sector.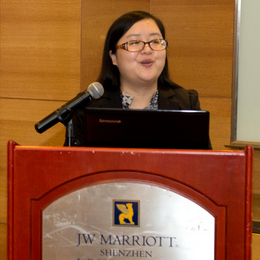 Beijing Miteno VP Ms. Wu Lannan.
Photo: Aries ConsultingFor the April-September 2013 period, revenue rose 10.8% year-on-year to 349 million yuan while net profit was 11.9% higher at 253 million.

"We are gaining a reputation in the industry as having taller, thinner and more aesthetically-pleasing towers which helps us stand out from our peers who rely more on thick, bulky traditional towers," Ms. Wu said.

She said Miteno adheres to both an organic and M&A-based expansion strategy with a goal of becoming the leading equipment supplying conglomerate in the mobile telecom age.

On the organic growth front, there is growing demand for 4G telecom towers to help expand service for the protocol, and Miteno expects orders for this technology to be a major sales driver going forward.

"Our high efficiency, tested systems and equipment give us a distinct advantage over our 20 or so domestic competitors," Mr. Wu added.

Miteno firmly believes that the latest 4G technology is still in an early stage of development and the firm is preparing to invest heavily in chasing 4G demand.

Positioned as a major supplier to the mobile and multimedia telecom sector, Miteno's products provide both the engineering products needed launch new telecom networks and also maintain and expand existing systems.

"We have grown to become the chief tower provider for China Telecom," she said.

Beginning in 2012, Miteno has been aggressively expanding its market reach across China into the high growth-potential telecommunications construction sectors.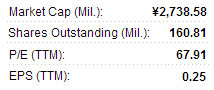 Beijing Miteno has a 52-week range of 7.65-21.95 yuan with a recent share price of 17.18 yuanRecent investments include Beijing Dingyuan, Juntong Communication and tower play Jinzhilu.

Ms. Wu said that going forward, Miteno will continue to focus on expansion -- both organically and via acquisitions -- while also expanding the scope and strength of its manufacturing and services.

"We will remain primarily a telecom infrastructure equipment, services and maintenance enterprise while striving to chase strong expected and sustainable demand in both Internet-of-Things technology and mobile telecommunications fields.

"We are also seeing strong demand potential for mobile payment technology solutions, all of which need towers to pass on signals," Ms. Wu added.


---

See also:

Six Surging China Shares To Maintain Momentum In Year Of The Horse?