Time & date: 10 am, 23 April 2013.
Venue: Pan Pacific Singapore.





TO MANY investors, Sino Grandness is vaguely a beverage manufacturer. The key thing, as I discovered at the AGM (rather belatedly), is that Sino Grandness is, to a large extent, about loquat juice.

Loquats, juice or fruit, are not entirely a familiar thing to many people in Singapore. It's a puzzle to investors in Singapore that Sino Grandness has been able to grow its beverage business from nothing to sizzling within 4 years -- and why its stock price is up 100% so far this year.

To the Chinese people in China and perhaps the older generation of Chinese in Hong Kong, Malaysia and Singapore, loquats have efficacy in alleviating certain ailments of the throat and lungs.

As I learnt only recently, loquat paste can be purchased from TCM stores and a drink made out of it by adding hot water. (See Wikipedia for more information on loquat).

I have never tasted loquat drink made in that manner nor the fruit itself -- but an article on the Internet says that depending on its variety, the taste of loquat can vary from subtle to honey-rich.

In Jan 2011, Sino Grandness created a niche in the market for itself by introducing loquat juice, making it as conveniently available in supermarkets as orange or apple juice.

"When we launched our loquat drink, there was no direct competitor. Even today, if you go to first- and second-tier cities in China, there is no loquat drink except from Garden Fresh," said Parry Ng, VP for investor relations, at the AGM.

Garden Fresh is the company's beverage division which is expected to apply for a listing on the Hong Kong stock exchange by October 2014. (But before that, Sino Grandness has to obtain the Singapore Exchange's blessings for Garden Fresh to list in Hong Kong.)

Loquat competitors there are, including Singapore-listed China Minzhong, but they have not broken into the markets in top-tier cities in China.



Based on its results announcement, China Minzhong sold less than RMB 44.8m in loquat juice in the six months ended Dec 2012.

Given its first-mover advantage, Sino Grandness' beverage sales in 2012 totalled RMB 873m, of which 60% were loquat juices, 25% hawthorn juice and the remainder 15%, mixed fruit/veggie juices.
With loquat as its core beverage, Sino Grandness' spending on A&P is on a different scale compared to competitors for whom loquat juice is one of many product offerings, said Parry.

Its niche offering has enabled Garden Fresh to be accepted by Wal-Mart, Carrefour, Tesco and 7-11 in a number of provinces in China.

Sino Grandness aims to push its beverages to the far reaches of the country.




Garden Fresh as the next Wang Lao Ji?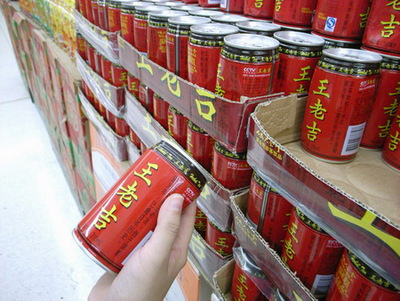 Wang Lao Ji (renamed Jiaduobao since last year) commands 70% of the herbal drink market that it created. Photo: China Daily.Sino Grandness envisions that its loquat juice offering -- which comes with variants with flavours such as mango added -- could even become a big winner in the mould of the herbal drink of Wang Lao Ji, which created a niche back some 10 years ago.

Sales in 2002 were RMB180 million. In 2003, sales surged to RMB600m and in 2011, sales reached RMB16 billion, exceeding sales of Coca Cola in China.

"We were on a roadshow in Hong Kong a few days ago and the fund managers asked my chairman, 'Are you happy with your success so far?' He replied: 'Although our sales grew more than 100% last year, we did RMB800+m while Wang Lao Ji achieved RMB16 billion (in 2011). So do you think I'm very satisfied?' "

Parry Ng added: "For the foreseeable future, we will be focusing on loquat drinks. We will have mixed juices with loquat as the main platform. We want to continue to be No.1 in the loquat drink market, just like Wang Lao Ji is No.1 in herbal drinks with a market share of 70%."

Sino Grandness is solidifying its stranglehold by establishing, in 1Q2012, a strategic research centre with China National Research Institute of Food & Fermentation Industries (CNIF), the largest and oldest F&B research institution in China.

The research centre will seek to establish national standards and specifications for loquat juices.

Asked about the supply of loquats, Sino Grandness chairman and CEO, Jack Huang, said he has decades of experience managing upstream supplies of agricultural products. Sino Grandness has developed a scientific system of managing the quality of the agriculture and factory processing of the loquats.

"In the next three years, we will have more than sufficient loquat supply for our business needs."

With the stock price up strongly and the future of the company looking good, a shareholder stood up to say: "I congratulate the management for the excellent results. I have invested in other S-chips and they have sunk into the deep blue sea. I'm grateful for Sino Grandness' results."
---
For a fuller picture of Sino Grandness, ask your broker for the initiation reports by Maybank Kim Eng and OSK-DMG.
Recent story: SINO GRANDNESS, FORTUNE REIT: What analysts now say