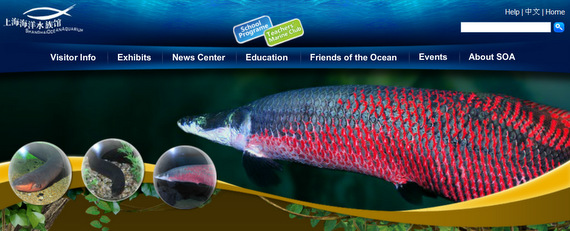 In 2012, Straco's high cashflow aquarium business has added further to its net cash, which now totals S$96 million. Above: Screenshot of Shanghai Ocean aquarium website www.sh-aquarium.com/en

The following was published today on www.nracapital.com and is reproduced with permission


Straco Corporation reported its full year FY2012 results yesterday. No major surprises at the operating level with the company delivering revenue and profit growth of about 20%.

I was however pleasantly surprised by the dividend which total 1.25 cents compared to 0.75 cents in 2011 comprising a final dividend of 0.75 cents and a special dividend of 0.5 cents.
a) revenue for 2012 rose 20% toS$55.2mn
b) net attributable profit rose 19% to S$19.73mn
c) balance sheet very healthy with net cash of S$95.9mn or about 11.3 cents per share
d) EPS for 2012 was 2.32 cents
e) NAV for 2012 was 15.6 cents
f) DPS for 2012 totaled 1.25 cents comprising a final dividend of 0.75 cents (same as 2011) and a special dividend of 0.5 cents
The company gave a very positive outlook for 2013 in its forward looking statement in item 10
"The National Bureau of Statistics reported that China's gross domestic product ("GDP") rose by 7.9% in the fourth quarter of 2012 from a year earlier, confirming that the Chinese economy had rebound after seven consecutive quarters of slowdown, due to a confluence of factors including slow down in Chinese exports and targeted government policies to control inflation and economic overheating.
"For the full year 2012, the China economy grew 7.8%, its slowest pace since 1999 and substantially down from 9.3% growth in 2011.

"Going forward, the Chinese government is expected to fine tune its policies with focus on stability and controlling financial and inflation risk rather than boosting growth. At the Group level, we expect our business to remain robust in view of the fast-growing domestic tourism market in China and the government's initiatives to boost the tourism industry."




Commentary
I am happy with the results and the better than expected dividend. Straco is a strong domestic China tourism play with very strong cashflow through its two aquariums and cable car businesses.

The organic growth in this business is usually about 10% and I am comforted by the management's positive forward looking statement of robust growth - It remains in My Stock Picks Yield list.

I have raised the fair value using my dcf and cash calculation but the stock like Cerebos is likely to see slow and steady gains supported by its reasonable yields and strong cash backing. Definitely worth keeping for the medium term.


---
Recent articles:

STRACO CORP: High free cashflow, net margin >35%

Kevin Scully: "Am adding STRACO CORP to my Yield Stock Picks"