The world's largest aquarium has just opened at Resorts World Sentosa --- but don't visit it just yet, unless you want to queue for 2 hours.

That was the duration that ushers told me to expect when my family and I went over one afternoon during a recent weekend. The sight of the queue reminded me of queues for newly-launched iPhones or some other must-see event.


With adults paying S$29 each and children S$20, tonnes of cash have poured into the coffers of the business.

Which leads me to the topic of Straco Corporation. It owns and operates two aquariums – one in Shanghai and another in Xiamen.

Straco's busines is not only very visible and easy to understand but, as a close look at its financial performance reveals, it also generates tremendous free cash flow.

As a result, Straco has no bank borrowings, and has amassed S$91 million cash in the bank (as at end-Sept 2012) versus its recent market cap of S$230 million.

And its business continues to thrive on net profit margins of over 35%, which is a rarity among listed companies.

Straco has some interesting background:
a. The ground breaking ceremonies of Straco's aquariums were graced by no less than Lee Kuan Yew (in Shanghai) and Goh Chok Tong (in Xiamen, for Phase 2) in their capacities as Singapore's Senior Ministers then.

b. Straco is 54%-owned by its Singaporean chairman-cum-CEO, Wu Hsioh Kwang.

An investment-oriented Chinese state-owned enterprise, the China Poly Group Corporation, owns 22%, and its powerful chairman, Chen Hong Sheng, sits on the Straco board as a non-executive director.

The high standing of the China Poly Group can be gleaned from the fact that its honorary chairman is He Ping, the son-in-law of the late Chinese leader, Deng Xiaoping.

To learn more about Straco, we recently met up with CFO Amos Ng at his office in International Plaza.

Here are key takeaways: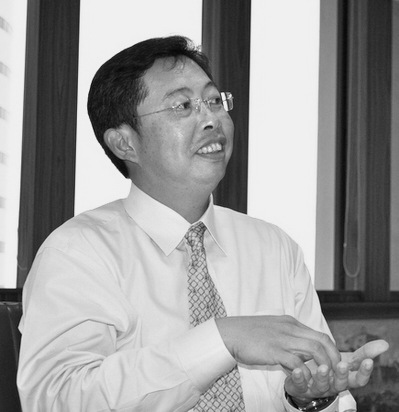 Amos Ng is CFO of Straco Corp and its Senior VP of Finance & Administration. He joined the company in Sept 2000. Photo by Leong Chan Teik
Background & financial traits:

1. Nine years ago, in Feb 2004, Straco was listed on the Singapore Exchange at 26 cents. Then, it was almost completely dependent on its only asset, the Shanghai Ocean Aquarium. Recently, the stock price was still at the 26-cent level.

There is no need to adjust the IPO price for corporate actions such as rights issues, bonus issues or placement of new shares since Straco has never carried out any of these exercises.

Its high free cash flow has ensured that it didn't need to ask shareholders for money -- free cash flow being the cash that a company has after paying for the maintenance of its assets.

While its recent stock price is almost unchanged from its IPO price, Straco's earnings have soared over the years -- from S$7.7 million in 2002 to S$16.5 million in 2011.

For 9M2012, net profit was $16.58 million and the full-year figure is certainly going to surpass the FY2011 figure.

2. Straco's revenue contributors now are the Shanghai Ocean Aquarium (about 2/3), Xiamen Underwater World (1/3) and the Lintong Cable Car business (small contribution) in Xi'an.

3. Straco has had no bank borrowings since 2008 after it paid off a small loan. Unlike its Shanghai asset, which it developed from scratch (for USD$55 million), the Xiamen Underwater World was bought over by Straco from its previous owner in 2007 (for S$12.5 million).

These assets are carried on Straco's books at historical cost. By Amos Ng's estimates, these aquariums would cost around US$100 million and US$30 million, respectively, to develop today.

Pricing power

1. Until 4-5 years ago, Straco had to seek permission from the relevant government body for approval to raise admission prices to its 3 attractions.

Since then, Straco just needs to give public notice of its intent to raise prices and the reasons for doing so, such as rising labour costs and inflation.

Unless objections are received by the relevant authority, Straco is free to proceed to raise admission prices.

2. The Shanghai Ocean Aquarium admission tickets for walk-in adults have been raised from the initial RMB110 to RMB120 to RMB135 and to its current RMB160.

3. Ticket price increases (and competition from another aquarium, Shanghai Changfeng Ocean World, on the outskirts of Shanghai, which charges lower entry fees) have not dampened visitor arrivals because they are mostly first-time visitors and China has become more affluent.

About 95% of visitors are domestic tourists from all over China where travel has been facilitated by the development of transport infrastructure for inter-city and inter-province travel. It's reasonable to deduce that anyone who can afford to visit Shanghai for leisure probably won't feel the pinch from paying the admission ticket price to the Shanghai Ocean Aquarium.

Combined, the total visitorship for Xiamen and Shanghai aquariums is about 2.4 million. The numbers are about evenly split between the two assets.

4. Of the 4 quarters in a year, Straco's earnings are greatest in 3Q when schools close in July- August for holidays. The fourth quarter is the weakest.

Cash management

Most of Straco's cash pile sits in RMB fixed deposits earning about 4% p.a. in various China banks – China Construction Bank, Bank of Shanghai and branches of United Overseas Bank in cities where Straco operates.

The banks send direct confirmation of the balances to Straco's CFO on a quarterly basis.

Straco's auditors go to the bank branches and verify the balances from the bank system, and there is bank confirmation that the money is not pledged.

What to look forward to

1. Dividends: In the last 3 years, the company has paid 40-50% of net earnings as dividends. It's a high payout ratio made possible by its high free cashflow. However, given the steady run-up in its stock price to 26.5 cent recently, the historical dividend yield is not exactly sizzling at about 2.8%. It could improve if Straco decides to pay more in its upcoming final dividend for FY12.

2. Capex: Aside from regular maintenance, Straco does not forsee any immediate investment in major capital expenditure.

But there is a project which has been long deferred because of land acquisition issues, and whose development is about to take off. It will require US$8 million in investment, and is expected to be completed by 2015/2016.

This is the Chao Yuan Ge project which is accessible by Straco's cable car in Xi'an. There, Straco will restore the grand "Hua Qing Palace" to showcase the culture and unique architectural features from the Tang Dynasty through reconstructed replicas of its major buildings.

3. Xiamen Underwater World: Visitor arrivals have jumped more than 50% since it was bought by Straco. But there is some concern that future growth may be crimped if the Gulangyu Island -- on which the aquarium is located and which is currently applying to be accredited as a UNESCO Heritage Site -- starts to restrict tourist numbers to prevent overcrowding. However, no official stand has been taken on this proposal.

The aquarium may well be able to deal with this challenge as it is located just 100 m from the jetty and is air-conditioned, making it a preferred attraction of tourists on the island.

4. M&A: Straco's earnings could be boosted if it does earnings-accretive M&A and/or develops a large-scale tourism attraction. The company is currently evaluating several opportunities and will be looking to utilise its war chest in the forseeable future.

In the meantime, organic visitor growth (at about 10% in past years) continues to be the cornerstone of Straco's robust returns. This in itself is excellent -- Straco's businesses have proven to be resilient and profitable, and generates a lot of free cashflow.

Consider that on S$44 million revenue in 9M2012, Straco earned a whopping pre-tax $25 million – and that's after charging $3.6 million for depreciation (which is non-cash in nature) of its assets!
---

Recent stories:
Kevin Scully: "Am adding STRACO CORP to my Yield Stock Picks"

Insider buying @ SERIAL SYSTEM, STRACO CORP