JEP Holdings seems to be a nice catch that a group of "fishermen" are in no hurry to reel in but they seem surely to want it all.

It's a prolonged outing that began a few years ago and continues to current times.

JEP's executive chairman-CEO, Andy Luong, continues to buy JEP stock from the open market as recently as last week. (He is better known as executive chairman-CEO of UMS Holdings).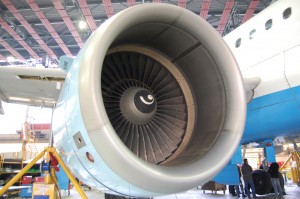 JEP produces casings of aircraft engines. Photo: InternetUMS itself now has a 73.85% stake in JEP while Andy Luong, a 0.7% direct stake. He has a deemed 74.55% stake in JEP due to his 15.9% ownership of UMS.

It's not illogical that their large combined catch will one day lead to a privatisation of JEP -- but, of course, no one knows for sure.

Intriguingly, UMS has, not once but twice, made mandatory offers over the past 4 years to buy the remaining JEP shares it didn't own (more on this below).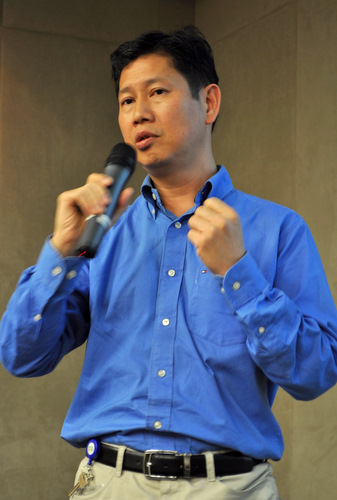 Andy Luong, who is concurrently executive chairman-CEO of both UMS and JEP. NextInsight file photo.Let's backtrack the story a bit to Jan 2018, when UMS had accumulated its initial 7.8% stake in JEP from the open market at 5.2 Singapore cents a share on average.

JEP wasn't exactly a highly profitable business (S$0.8 m net profit on S$86 m revenue in 2017) but it obviously had capabilities that attracted UMS. And potential synergies with UMS.

UMS, whose key client is US giant Applied Materials (market cap in excess of US$100 billion), manufactures high precision front-end semiconductor components and perform complex electromechanical assembly and final testing services.

JEP, on the other hand, offers precision machining and engineering services, with a primary focus on the aerospace industry then (but has since diversified its revenue streams).


On a visit to JEP's factory in Changi South back in 2013, some of us were struck by how this micro-cap company was the biggest supplier of engine casings for Boeing's B737 and A320 planes (JEP: Flying higher on orders from aerospace and oil & gas clients).

In Feb 2018, Andy Luong was appointed executive chairman of JEP.

In June 2018, he also took on the role of acting CEO of JEP (and, months later, CEO), in order to drive the reorganisation of the company.

In an interview with The Edge Singapore, he said: "(In) the last six months, (we have been trying) to understand the root cause of why the company isn't making money. We are basically (attempting) to rightsize the management and operations."

He was also looking for UMS to have greater ownership. So UMS embarked on open market share buybacks of JEP and, more crucially, buying out existing large shareholders.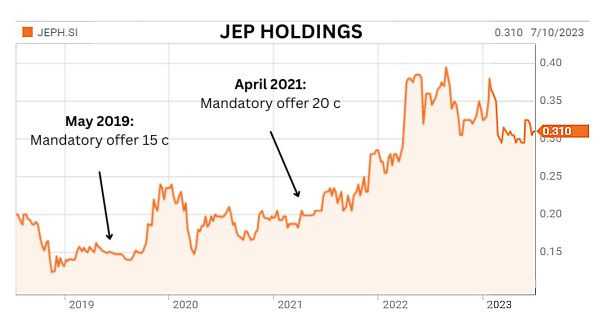 Fast forward to May 2019. UMS had 27.9% of JEP. From here, its ownership would rapidly escalate via 2 key events:

• It made a deal to acquire another 10.9% owned by SGX-listed Ellipsiz at 15 cents a share.

Concurrently, it made a mandatory conditional cash offer to acquire all the remaining shares of JEP for 15 cents a share.



• By

April 2021, UMS had another deal to buy a 13.1% stake off JEP founder-director Zee Hoong Huay at 20 cents apiece.

Alongside that, UMS made a mandatory unconditional cash offer at 20 cents for the remaining shares it didn't own.

At the close of the offer, UMS and its concert parties had their stake raised to 71.66%.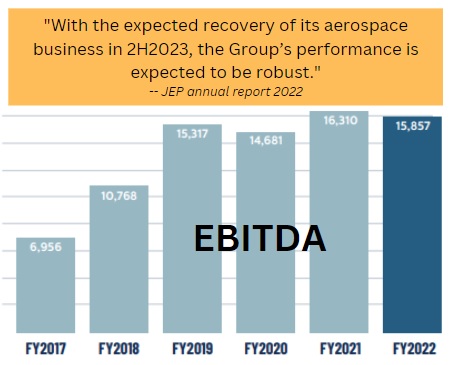 JEP is currently a $128-million market cap company after navigating through the Covid-19 pandemic.

On its FY2022 profit of S$7.6 million, it is trading at about 17X earnings with no dividend payout. Its balance sheet looks healthy but it is not exactly laden with net cash.

On paper, the stock is not what you would call a bargain.

Its net asset value is 18.2 cents per share versus its share price of 31 cents currently.



In its FY22 results release,

JEP's commentary on its near-term outlook was pretty positive:
"Riding on the industry's robust rebound, the Group expects more noticeable recovery of its aerospace business in the second half of 2023, supported by volume production of new complex and high value-added parts from its strategic customers. The near-term outlook for the overall semiconductor industry remains soft with revenue expected to decline."

The question remains: Will UMS (current market cap: S$700 million) ultimately completely take over JEP, not unlike how AEM Holdings bought out CEI Ltd?