Excerpts from UOB KH report


Alpha Picks: Adding SIE, CSE And REXI While Removing MLT
Our Alpha Picks portfolio continued its market-beating run in Jun 23, beating the STI by 2.9ppt on an equal-weighted basis, helped by industrial stocks.

Our portfolio's performance on a qoq basis was even better, bettering the STI by 8.8ppt.

For Jul 23, we add SIE and CSE due to favourable tailwinds while also including REXI as a SELL call.

Our Alpha Picks portfolio has now beaten the STI in 15 out of the past 16 months.

WHAT'S NEW
• Market review. Global markets were generally higher in early-Jun 23 as investors piled into mega-cap technology stocks, driven by continued bullish investor sentiment about Artificial Intelligence.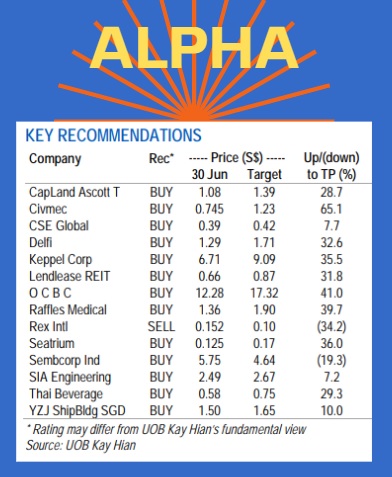 Furthermore, rising expectations of a pause in US interest rate hikes along with strong economic data pushed the US market into a bull market by mid-Jun 23, with the STI up by around 3.2%.

Despite the US Fed pausing interest rate hikes in Jun 23, its hawkish comments indicated two additional rate hikes by end-23, taking the froth off markets. The STI nevertheless ended up 1.5% higher on a mom basis.

• Unbeaten in 2023. Our Alpha Picks portfolio had yet another solid showing in Jun 23, increasing 4.4% mom on an equal-weighted basis and beating the STI by 2.9ppt, making it six consecutive months that our portfolio has beaten the STI. Additionally, our Alpha Picks handily outperformed the STI by 8.8ppt in 2Q23.

• Top performers driven by industrial stocks, primarily Yangzijiang Shipbuilding (YZJ, +22.0% mom) which announced another set of record-breaking orders while Sembcorp Industries (SCI, +14.3% mom) continues to see interest due to its transition to renewables.

We highlight that SCI's share price has nearly doubled since its inclusion into our Alpha Picks portfolio. Our underperformers include Delfi (-3.0% mom) which took a breather after a recent surge in May 23, and Mapletree Logistics (-2.4% mom) which was negatively affected by general market weakness in REITS.


• For Jul 23, we make several changes to our portfolio, adding SIA Engineering and CSE Global given that both companies have strong revenue visibility coupled with healthy margin expansion on our estimates.

We add REX as a SELL into our Alpha Picks portfolio as we believe that disappointing oil production at its key asset and poor corporate governance would lead to underperformance. We also take profit on Mapletree Logistics.

Full report here