There are gloves and there are gloves.

Riverstone Holdings produces two types -- for use in cleanrooms of principally semiconductor and electronic companies, and for use in healthcare settings such as hospitals.

They couldn't be further apart in economic metrics and performance, as reflected by Riverstone's response to questions from shareholders in advance of its AGM this week.



• ASP: Cleanroom gloves' average selling price (ASP) is higher than pre-pandemic levels while healthcare glove ASP is still below pre-pandemic levels.


Stock price

59 c

52-wk range

50.5 c – $1.02

PE

9.8

Market cap

$875 m

Shares outstanding

1.48 b

Dividend
yield (ttm)

27.5%

1-yr return

-38%

P/B

1.7
"We foresee healthcare glove ASP will take some time to recover and move closer to pre-pandemic levels."

• Profit margin: Cleanroom glove profit margin has been improving and it is now higher than the pre-pandemic levels.
Healthcare gloves? Riverstone didn't say but it may well be at just break-even.

To what extent does Riverstone have pricing power, especially with regards to passing on increases in material costs?

Riverstone: "Cleanroom gloves are a highly customised product which requires certain technology, experience and technical know-how. Selling price is adjustable in line with any significant cost increase upon agreement with customers."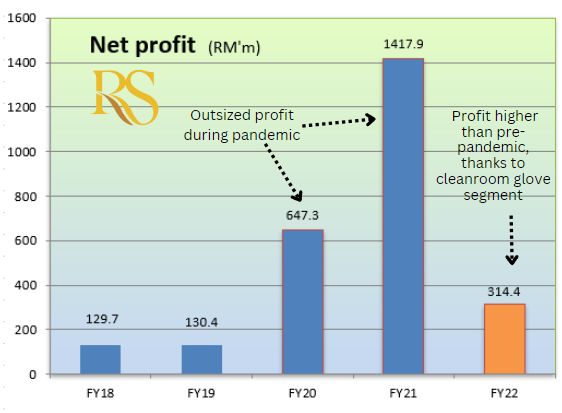 High barrier

"Manufacturing of cleanroom glove requires 3 processes i.e., dipping, chlorination and cleanroom laundry. It is difficult for ordinary healthcare glove manufacturers to incorporate these 3 processes."

-- Riverstone Holdings
• Market share: Riverstone says it has an astonishing 40% worldwide share for high-end cleanroom nitrile gloves and <2% worldwide for healthcare gloves.

For healthcare gloves, the company focuses on producing customised products to differentiate itself from competitors. "We reduce our output for standard products to avoid making losses."

• Orderbook: "Our cleanroom glove business orders are slightly higher compared to pre-pandemic levels.

"Healthcare glove order is about 60% of pre-pandemic levels. Overall utilisation rate is expected to be in the range of 65% to 70%."

As the industry works through an oversupply in healthcare glove production capacity, Riverstone has cleanroom gloves to anchor its profitability, albeit at reduced levels compared to the pandemic years.


The full Q&A can be found here.