• Rex International encountered oil production issues last year but said it has since put them to rest.
• Then recently it got some flak for interested party transactions (so UOB KH called for a sell on the stock and a 10-c target price (whoa!) and an investor sending an angry critical open letter to Business Times).
•

Rex

has since picked itself up after putting matters into some perspective. (See: REX: Charges by investor and company's response)..
• What's new? Check out its recently-released 2022 annual report (here) which talks about the way forward:
For 2023, our target is to build up and start getting production from three areas; namely, Oman, Norway and Malaysia.

From January 2023, another production well has been added in Oman, and LPA will be receiving 10 per cent of production from the newly acquired Yme Field in Norway, on top of its 33.8434 per cent interest in the Brage Field production.


Picking up steam in 2023

Oman

Additional production well (new total: 4 wells)

Norway

Maiden contribution from Yme Field (in addition to Brage Field)

Malaysia

Potential maiden contribution
As at February 2023, production in the Yumna Field, Oman was at gross 5,515 stock tank barrels per day (stb/d) while production in the Brage and Yme fields was at 3,907.6 barrels per day net to LPA.

As of 31 December 2022, the Yumna Field had produced 7.1 MMstb.

The Summary QPR dated 2 March 2023 estimates remaining 2P gross reserves in the Yumna Field to have increased to 8.7 MMstb, making a total of 15.8 MMstb.

This means production will be able to continue for longer in Oman than previously envisaged.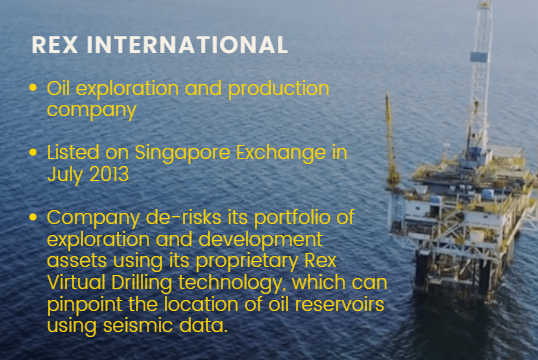 The Group's long-term target to get to 20,000 boepd remains but in 2023, this will be dependent on the availability of rigs and other equipment, particularly for Oman and Malaysia.

In addition, we will continue to look for investment and development opportunities to bolster our production.


Unicorn potential
"Given Rex's limited resources, a more sustainable long term business diversification strategy would be to invest in low-risk projects that have unicorn business potential that do not materially change the Company's business and risk profile, rather than compete with big energy firms on current renewable energy options like solar, wind and nuclear, which are capital intensive."

-- Rex
The International Energy Agency (IEA), in its report produced in cooperation with the World Economic Forum (WEF) presented at WEF's Annual Meeting in Davos on 21 January 2023, opined that oil and gas companies are facing a critical challenge as the world increasingly shifts towards clean energy transitions.

Fossil fuels drive the companies' near term returns, but failure to address growing calls to reduce greenhouse gas emissions could threaten their long-term social acceptability and profitability.

However, investment in oil and gas projects will still be needed, even in rapid clean energy transitions. Meanwhile, banks have been under pressure from investors and climate activists, and many are cutting fossil-fuel financing.

Against this backdrop, Rex is committed to operate its core business in oil exploration and production in accordance to strict environmental, social and governance (ESG) rules in the respective jurisdictions where it has a presence and will continue to explore carbon capture opportunities.

Given Rex's limited resources, a more sustainable long term business diversification strategy would be to invest in low-risk projects that have unicorn business potential that do not materially change the Company's business and risk profile, rather than compete with big energy firms on current renewable energy options like solar, wind and nuclear, which are capital intensive.

The Management and Board will continue to be highly selective of other new business diversification projects going forward.

Dan Broström
Executive Chairman

Måns Lidgren
Chief Executive Officer