ISDN's first hydropower plant to come into commercialisation was recently projected by CGS-CIMB to add 10% to the company's net earnings in

2023-2024

.

That figure now looks pretty understated.

ISDN, in an investor briefing last Friday, said it would be a whopping 18.5% based on

annualised 2022 earnings

.

(That percentage would, of course, turn out to be lower if ISDN's core industrial automation business achieves higher profit in 2023 and 2024 compared to 2022.)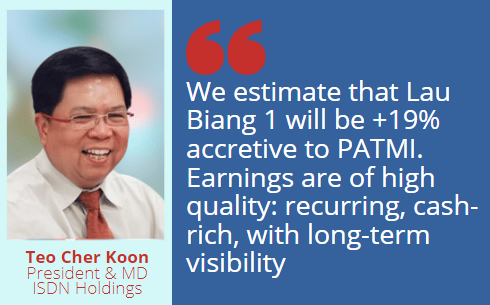 Located in North Sumatra, Indonesia, the hydropower plant, Lau Biang 1, obtained COD (commercial date of operation) on 31 Dec 2022.

It is the first of 3 hydropower plants that ISDN has completed and commissioned after several years of work punctuated by delays caused by Covid-19 lockdowns and supply chain disruptions.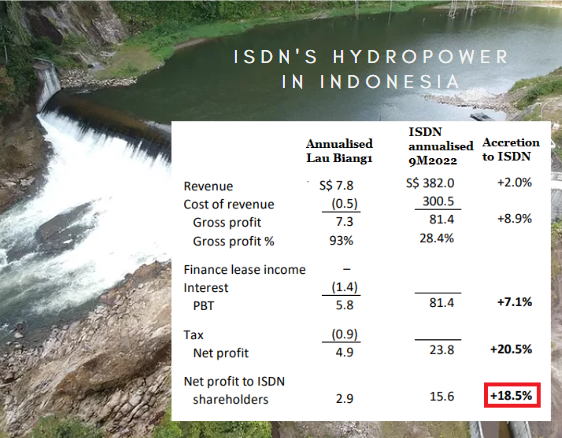 Adapted from ISDN presentation slide. Lau Biang 1 figures based on ISDN estimates (S$m). The electricity is sold to the Indonesian state electricity company PLN, which can be adequate for roughly 12,000 homes.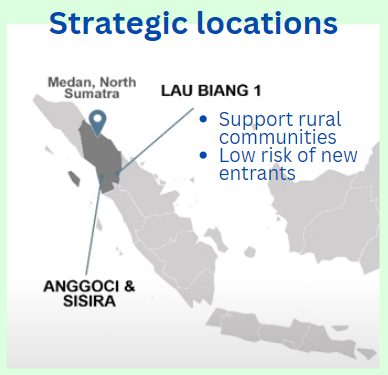 The remaining 2 hydropower plants are several hours drive away from Lau Biang 1. They are Anggoci (10MW capacity, similar to Lau Biang 1) and Sisira (4.6 MW) -- and are expected to achieve COD in 1Q2023.

In total, the incremental addition to ISDN's earnings is expected to exceed 40% (compared to annualised 2022 earnings), with details to be revealed by ISDN when the projects achieve COD soon.

The large boost to earnings will see analysts and investors revising upwards their earnings forecasts for ISDN for the next few years.

Meanwhile, the stock price rose 5.6% to close at 56.5 cents last Friday, which is up 24% year-to-date.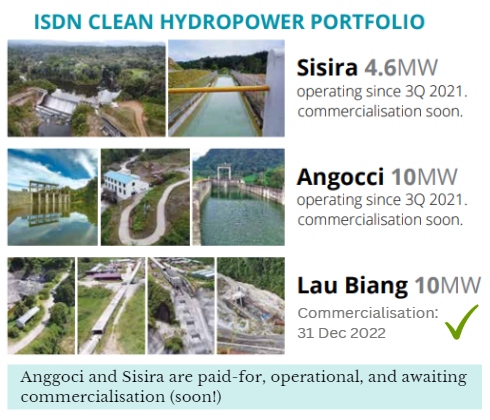 Stock price

56.5 c

52-week range

36 – 71.5 c

PE (ttm)

9.4

Market cap

S$248 m

Shares outstanding

438.6 m

Dividend
yield (ttm)

2.7%

One-year return

-18%

Source: Yahoo!
As the hydropower business takes off, if the stock price doesn't recognise the value of the new business segment, the company has the option of spinning it off in an IPO or selling some/all of its energy portfolio to realise returns, said ISDN President CK Teo.

On the other hand, if the stock price rises to reflect the renewable energy value, ISDN's options are:

• keep the energy business with high quality earnings contribution, and raise dividends
• reinvest to realise strong added return on equity

Responding to comments and questions, non-executive director Keith Toh gave investors a perspective on the 2 business segments' dynamics within the ISDN group: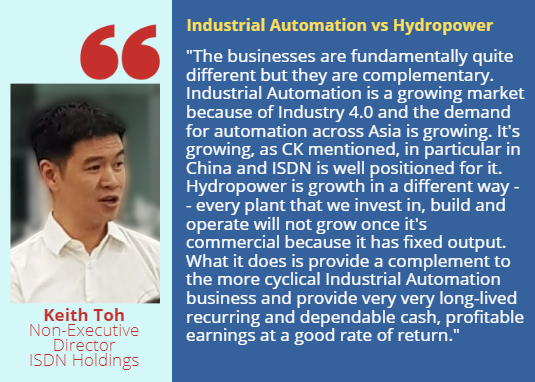 The Powerpoint deck shared at the investor briefing is here.