The Trendlines Group is an Israel- and Singapore-based company focused on building value through innovation-based medical and agrifood technologies.


For the past 7 years since its IPO on the Singapore Exchange, The Trendlines Group operated a business model of incubating start-ups with much progress made.


Stock price

9.3 c

52-week
range

8.1 – 11.3 cts

PE (ttm)

9.3

Market cap

S$81 m

Shares outstanding

876 m

Dividend
yield (ttm)

--

1-year return

-15%

Source: Yahoo!
But successful exits did not happen often enough to excite the market.

The years of effort in growing the start-ups have now led to a build-up of many exit opportunities.

After a strategic review of its operations, the investment company has now announced it would shift its focus to

"developing its existing and substantially mature portfolio to maximize exit proceeds."

Trendlines said it has reorganized its operating activities, reduced staff associated with developing new investments, and significantly reduced expenses.

The anticipated reduction in operating expenses in 2023 will amount to US$2 million as compared to 2021, the last full year for which operating expenses were reported, net of consolidated portfolio company expenses and grants.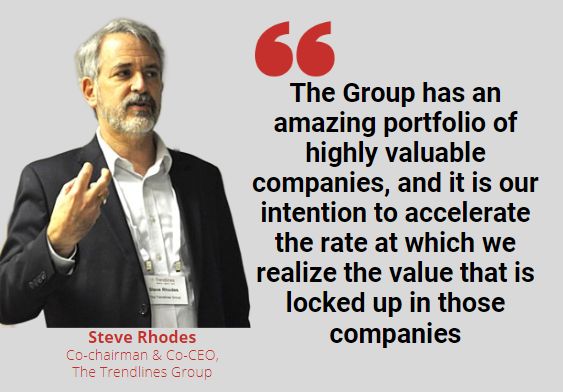 Perhaps recognising the reward ahead vis-a-vis the current stock undervaluation, a number of "highly sophisticated" investors have joined the shareholder register of Trendlines, including Librae Holdings (which subsequently became the controlling shareholder of Trendlines) and 3 US-based funds FEA Innovations LLC, Palm Tree IV, LLC and Avztim LLC.

Singapore-based funds which have emerged in the Top 20 shareholder list of the 2021 annual report include Asdew Acquisitions (18.35 million shares) and Morph Investment (16.55 million shares).


In a recent business update over Zoom, Trendlines' management fielded questions from investors.

Q: Why now? What made the change this year in terms of deciding on not investing in new companies from next year?
Steve Rhodes: Our portfolio today is more mature than it's ever been. If you go back three or four years ago, in a given year, our portfolio companies as a whole were raising 20 or $30 million in follow-on capital.

In 2020, we raised $43 million. In 2021, we raised $77 million. This year, so far our companies have raised $80 million and I expect them to get to close to $100 million by the end of the year. That increased raise size indicates that the companies are more advanced. They're bigger, they're more mature, and they're getting closer to exit. We think it's a good time for us to get engaged with helping the companies push to those exits, complete those races and create value for our shareholders.

Q: How many new companies has Trendlines invested or incubated in 2022 so far, and how does that compare to the average of previous years?

Steve Rhodes: We will have started 5 new companies in 2022, which is a fairly typical year for us in terms of new starts. We enjoy starting new companies, we believe that over time it creates an important pipeline for us and builds a lot of value. When we start those companies, we get big stakes in them for very small investments.

Recently, in some cases we have strategic investors in those companies from day one. Just several weeks ago, we issued an announcement that we had started a new company called Celleste Bio together with Mondelez, the global food and chocolate giant.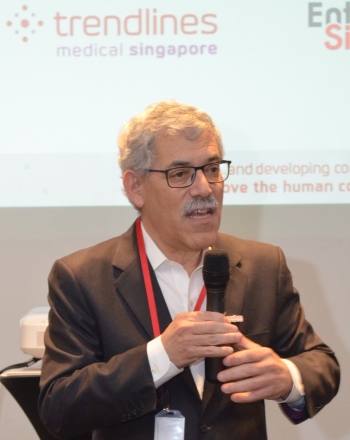 Todd Dollinger.C0-Chair and Co-CEO Todd Dollinger: We are very engaged with our portfolio companies. They are located in our offices in Israel or Singapore for at least their first two to three years, often for much longer periods of time.

Our business development staff, our finance staff staff, are deeply engaged with the companies. We aren't simply showing up for board meetings, but are involved in active decision making, in negotiations for raises and for exits. The question as to why today and not previously, I think it's fair to say we see this as a bit of an evolution. It's a conversation that we've been engaged in with the board for some time, and it's a decision now that's taken and we move forward with this focus on the current portfolio.


Note: The Q&A content has been edited for brevity and clarity. The full business update and Q&A can be viewed below: