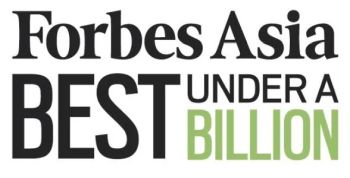 Nordic Group, a SGX-Mainboard listed company, was chosen to be among 200 public listed companies in the Forbes Asia 2022's "Best Under A Billion" list, which identified excellent companies with annual revenues under US$1 billion. Nordic provides system integration solutions, repair and overhaul (MRO), precision engineering, scaffolding and insulation services, petrochemical and environmental engineering services and cleanroom, air and water engineering services. And there is Starburst (description below).


It's been a year since Nordic Group's first announcement in Nov 2021 of its takeover offer for Starburst Holdings, and anyone looking out for news of new contracts clinched by Starburst would have come up empty-handed -- until now.

Starburst has a very specialised business which has typically been lumpy.

Its orderbook a year ago stood at around S$90 million.

This comprised capital projects and maintenance contracts for the design, fabrication, installation and maintenance of anti-ricochet ballistic protection systems used in shooting ranges and tactical training mock-ups for the security industry in Singapore and Middle East.

Paying $59 million cash for 100% of Starburst, Nordic made the biggest of its 6 M&A acquisitions of the past 12 years since its IPO and, potentially, the most impactful.

Now, finally, a maiden contract has been clinched, valued at S$9.7 million.

Starburst orderbook
(end-Sept 2022)

Project

S$19 m

Maintenance

S$61 m

Total

S$80 m
In Nordic's 9M2022 business update last week, the maiden contract was parked under "Specialist Structural Engineering Services division" and Starburst was not mentioned by name.

For 9M2022, that division -- ie Starburst -- contributed S$20.5 million in revenue, about S$10 million short of Starburst's 9M2021 figure.

Mr Astro Chang, who took over the helm of Starburst post-acquisition, said $10 million of work has been delayed and will be executed in 2023 after the completion of civil works by a main contractor.

He added that $130 million worth of fresh tenders submitted by Starburst are awaiting decisions by clients, mainly in Singapore.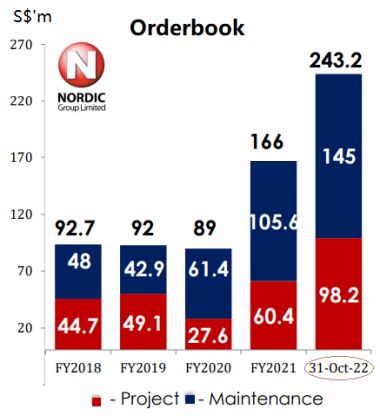 Depending on the success rate of the tenders and the timeline of award, Starburst potentially could cause a spike in Nordic's orderbook in 2023.

Meanwhile, last week Nordic announced the group's latest batch of contracts worth S$76.5 million clinched by all the divisions of the group, including Starburst.

This brings the outstanding orderbook, including a maiden addition of S$8.4 million from newly-acquired Eratech, to a record S$243.2 million as of end-Oct 2022 (see chart).

This lays a foundation for continued earnings growth next year, especially from subsidiary Envipure with its bulging orderbook from the semiconductor industry.

And this year? In all likelihood, it will be a year of record profit, and here's why: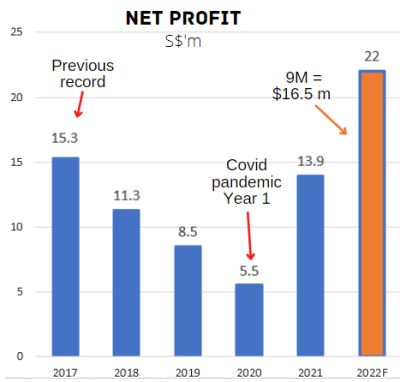 • As of 9M2022, Nordic had achieved S$16.5 million net profit, which already exceeded the record of $15.3 million achieved in 2017.

• With just 6 weeks to go to 31 Dec 2022, Nordic explicitly stated in its 9M2022 presentation deck (page 14) an expected 2.2 cent/share total dividend -- another record -- for 2022.

This was based on its policy of a 40% dividend payout and based on its annualisng of the 9M earnings (ie S$16.5 m divided by 9 x12).

In short, Nordic's net earnings, on annualising, comes in at S$22 million for 2022, despite it being a year when Nordic faced higher foreign worker costs in Singapore and lower profits from its China precision engineering business impacted by Covid-19 lockdowns.

Stock price

46 c

52-week range

37.5 – 58 c

PE (ttm)

9.2

Market cap

S$184 m

Shares outstanding

399.7 m

Dividend
yield (FY22F)

4.8%

1-year change

15%

Source: Yahoo!
Year-to-date, Nordic's cashflow, a S$5-million sale of treasury shares and a S$3 million sale of an industrial property have led to a sharp fall in net debt.

Net debt has fallen from S$38.3 million as at end-1Q2022 (due to S$59 million of borrowings to fund the Starburst acquisition), to just S$20.4 million as of 14 Nov 2022.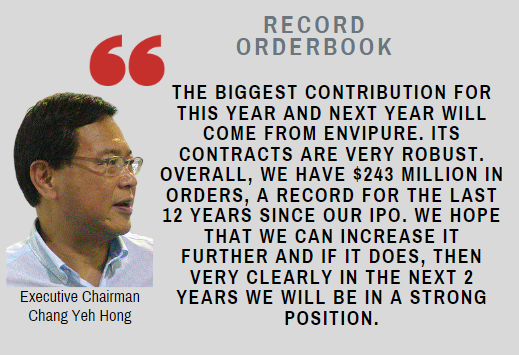 The 9M2022 presentation deck is here.