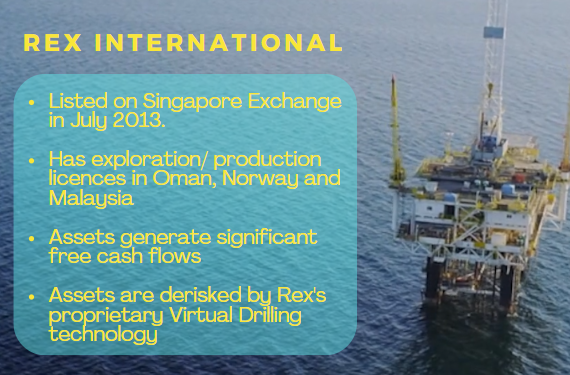 Rex International's share price rose almost 10% yesterday following an analyst report setting a 50-cent target price.

The stock closed at 28 cents (+2.5 cents).
Rex

Share price:
28 c

Target:
50 c
SP Angel, a London corporate broker with a non-independent research arm, said: "Rex's current share price offers investors a compelling entry point into a technically adept explorer that has successfully transitioned the Company's strategy from Explorer to Producer over the last two years."



Rex is an oil and gas company headquartered and listed in Singapore, and its industry is enjoying bumper profits on high oil prices.

Rex's main activity is in offshore oil exploration and production on assets located in Oman, Norway, and Malaysia.

Restoring investor confidence
Rex's 1H2022 results were impacted by production stoppages in its Oman asset.

Net profit attributable to shareholders fell 80% y-o-y to US$4.8 million (or US$6.0 million before minority interests).

Rex said the drop was mainly due to:

• the addition of production costs in the Brage Field, off Norway, which was acquired in 2021.


•

continuing production costs despite production stoppages in the Yumna Field off Oman, and
• tax expenses of US$12.83 million mainly from an increase in deferred tax liabilities arising from the increase in oil and gas properties, as well as exploration and evaluation assets in Norway, which was partially offset by tax refunds of exploration costs incurred in Norway.
The production issues in the Yumna Field -- the key revenue generator in 2021 -- are behind it now.

Yumna Field saw production stoppages for planned major change-outs and upgrades made to the production facilities from February 2022 to April 2022 and unforeseen operational issues in June 2022, according to Rex.

SP Angel estimated that from a FY21 average gross production of ~10kb/d, the Yumna Field produced just over 3kb/d in 1H22, and is expected to average ~5kb/d for the full year 2022. That implies 7kb/d in 1H2022.


Flush with cash
• As at 30 June 2022, the Group's cash and cash equivalents and quoted investments totalled
US$103.73 million (31 Dec 2021: US$86.91 million).

• Rex to start paying 0.5 Singapore cent/share dividend every quarter.
Production has been restored in Yumna Field which "will be able to handle increased production from future new producing wells planned," said Rex.

"In our view, the Company now needs to restore investor confidence in the production base as it focuses on paying a quarterly dividend and sets a near-term production target of 20kboe/day," said SP Angel.


Rex is paying a final dividend for FY21 of 0.5 cent/share, payable in 4Q22.

Starting from 1Q23, Rex plans to pay a regular cash dividend at the target level of 0.5 cent/share per quarter (7.1% implied yield based on 28 cent share price).




But it needs to balance that with financing obligations of Rex's subsidiaries Lime Petroleum in Norway and Pantai Rhu Energy in Malaysia.

"While the Group remains in a strong cash position, Lime Petroleum has raised a senior secured bond of NOK950 million and Pantai Rhu Energy is looking to raise third-party financing to fund their respective acquisition and activities, to progress their self-sufficiency aspirations."Mr Dan Broström, the executive chairman, said Rex strives to maintain "strategic and sensible capital management" and to create shareholders returns.

Rex's 1H2022 financial statement is here.