Riverstone Holdings' healthcare gloves sold for about US$28 per carton of 1,000 pieces in 2Q2022.


Stock price

71 c

52-wk range

57 c – $1.23

PE

5.8

Market cap

$1.05 b

Shares outstanding

1.48 b

Dividend
yield (ttm)*

21%

1-yr return

-33%

P/B

1.7

* FY2021 dividend: 48 sen/share

Its cleanroom gloves, in contrast, sold for about US$100-US$110 per carton.

In 2Q2022, cleanroom gloves accounted for 43% of the Singapore-listed group's revenue but 64% of the gross profit.

Thus, cleanroom gloves -- for use in cleanrooms of high-tech companies -- are a higher margin product. But its total market size is nowhere as big as that for healthcare gloves.

The resilience in the pricing of cleanroom gloves has helped cushion Riverstone's overall profitability from the sort of steep fall that struck its Malaysian peers which are heavily dependent on healthcare gloves.

Take for example Top Glove, Malaysia's (and the world's) largest glove producer: Its 3QFY22 (March-May) profit went into free fall to RM29 million from RM2 billion a year earlier.


Malaysia-based Riverstone's 2Q22 net profit fell to RM100 million (-8% qoq, -81% yoy).

1H2022 profit was down 80% yoy to RM209 million -- that's a respectable S$65 million equivalent.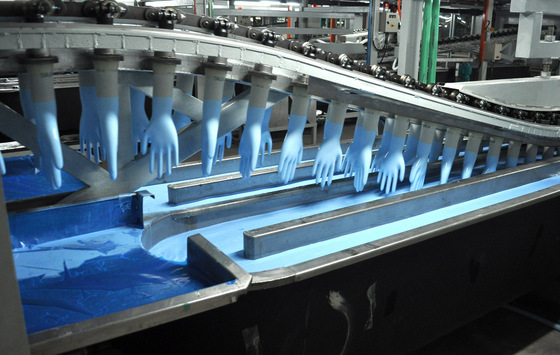 Riverstone generated net operating cash flows of RM228.5 million in 1H2022 -- which is significant even though it's 78.7% lower y-o-y.
With the easing of the pandemic, prices of healthcare gloves are normalising. Industrywide, there is oversupply from extensive investment in production capacity for these gloves, a problem that could last into next year.

But not for cleanroom gloves.

Healthcare gloves are used in myriad places (such as F&B) aside from healthcare facilities such as hospitals.


"We are the leader in the cleanroom glove industry, and our product is benchmarked by the users. So anyone who wants to replace us, they must be able to make gloves at least as good as ours and (for a) lower selling price, because otherwise the user will not take (the) risk to change the source because it's very risky for them."

-- CEO Wong Teek Son, in Business Times interview (March 2022)
But cleanroom gloves are solely used in cleanrooms in high-end electronics and semiconductor industries, and in certain pharmaceutical settings.

Cleanroom gloves are manufactured to meet exacting cleanroom standards for particle and static control in order to protect highly sensitive electronic components from contamination.

Reportedly the No.1 producer in the world, Riverstone sells cleanroom gloves directly to customers unlike its healthcare gloves which go through distributors (with some loss of profit margin, of course).

Riverstone has been manufacturing cleanroom gloves for more than 30 years.

"Over the years, we have developed deep technical knowledge in formulation and process techniques. We are able to customise gloves to meet our customers' unique requirements for all classes of cleanrooms."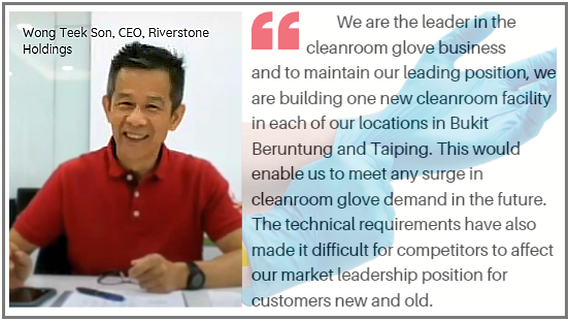 3Q2022 is expected to see dampened demand for cleanroom gloves owing to Covid lockdowns in China hampering operations of electronics-related manufacturers.

Healthcare gloves, meanwhile, are expected to face further price pressure from tough competition, including that from Chinese players who have set up shop during the pandemic.

Riverstone offers customisation for its healthcare gloves and so should continue to achieve some premium pricing.

CGS-CIMB has a 'hold' call on Riverstone's stock (click here for the report) as does UOB KH (click here),


For long-term investors, a positive is that Riverstone has declared an interim dividend of 10 sen a share (1H2021: 10 sen), despite the sharp year-on-year profit fall.

That's made possible by an operating cashflow that's still large: Riverstone held RM1.2 billion in cash as at end-June 2022.

Management continues to signal its intent to distribute excess cash as dividends after setting aside working capital and sums for capex to expand its production capacity estimated at RM100m per year for the next 3 years.

Stay tuned for some backloaded dividends six months away.