Higher food prices helped lift Russian agricultural company Don Agro International's revenue in 1H2022 by S$8.7 million (

91.6% year-on-year)

to S$18.1 million.


| | | | |
| --- | --- | --- | --- |
| (SGD '000) | 1H22 | 1H21 | % change |
| Revenue | 18,059 | 9,427 | 91.6 |
| Cost of Sales | (17,091) | (8,087) | 111.3 |
| Gain from change in fair value - biological assets and agricultural produce | 3,588 | 4,910 | (26.9) |
| Gross Profit | 4,556 | 6,250 | (27.1) |
| Gross Profit Margin (%) | 25.2 | 66.3 | (41.1) ppts |
| Net Profit | 3,834 | 4,767 | (19.6) |
Notably there was increased sales of winter wheat and sunflower harvested in 2021 and sold in early 2022 when the prices of agricultural produce were higher.

But the cost of sales (in the form of machinery spare parts and fertilizers) also rose, reaching S$17.1 million (+111% y-o-y).

Don Agro, listed on the Singapore Exchange, is primarily engaged in the farming of winter wheat, sunflower, and corn.

Grown in the Rostov and Volgograd regions in southern Russia, the crops are sold to traders.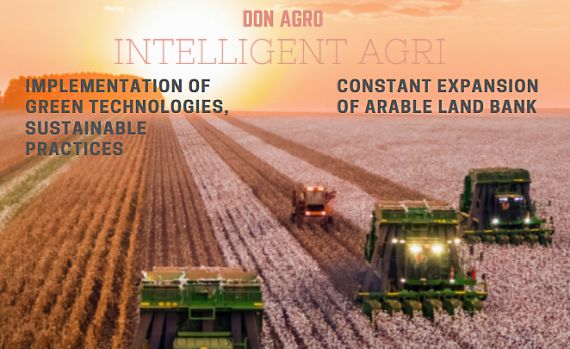 Stock price

26 c

52-wk range

24 – 40 cts

PE

4

Market cap

S$39 m

1-year return

-28%

Shares outstanding

150.3 m

Dividend
yield

3.28%

P/B

0.4

Source: Bloomberg
For 1H2022, the gain from change in fair value of biological assets and agricultural produce dropped to S$3.6 million from S$4.9 million.

This is mainly due a decrease in the gain from change in fair value of crops by S$1.0 million due to decrease in prices of agricultural produce as a result of higher harvest in Russia and agreement reached on Ukrainian grain shipments.


" The Group does not have any difficulties in collecting its receivables, and continues selling goods on prepayment basis."
Gross profit margin decreased to 25.2% from 66.3% for HY2021 with the lower gross profit and higher revenue experienced in HY2022.

The Group reported a net profit of S$3.8 million which is down from S$4.8 million for HY2021. The result comparable to last year was achieved despite the increased costs incurred for HY2022 on growing crops which were S$14.8 million as compared to S$7.5 million for HY2021.


"Food security is in the focus of attention of the international community, as food is not only a commodity, but a basic human right. Therefore, there is an unconditional consensus that agricultural production will never be affected by the conjuncture of relations between countries.

"The performance of Don Agro this year is the result of the creative approach and hard work of the entire large team of our company, as well as the implementation of the most advanced innovative technologies. We will do our best to find new solutions to make our business operations more efficient and sustainable, providing more quality food for the world."

-- Evgeny Tugolukov

Don Agro said it is contributing to food security by increasing planted acreage of winter wheat by 4.7% from 24,032 hectares for 2021 to 25,157 hectares for 2022. The planted acreage for sunflower had also increased by 7.8% yoy from 10,168 hectares to 10,958 hectares.

By adopting clean energy, including solar, Don Agro estimates that it carbon dioxide emission savings amount to 20.7 tonnes a year.