Excerpts from CGS-CIMB report

Analyst: William Tng, CFA

ISDN Holdings Ltd
China reopening beneficiary

■ We hosted ISDN for a post-1Q22 business update call on Monday, 20 June 2022. The 1Q22 update was released on 10 June 2022.


ISDN

Share price:
48 c

Target:
70 c
■ Management believes the worst of the Covid-19 lockdowns in China is over.

■ Reiterate Add and TP of S$0.70 as business activity resumes with the lifting of the Covid-19 lockdowns in China.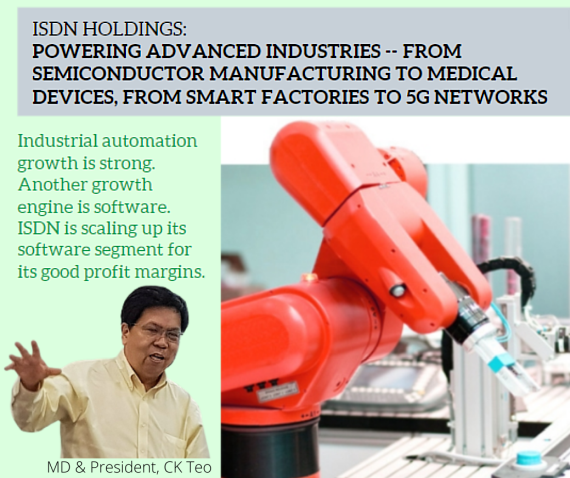 Key highlights from post-results call

● ISDN has 3 mini-hydropow er projects in Indonesia. Of these, Sisira and Angocci (according to ISDN) have been in operation since Sep 21. How ever, ISDN has not been able to bill the customer for the electricity supplied from these power plants as there are certain permits required that are still outstanding, which the company is working to resolve.


"Customer inquiries have returned as the lockdown situation improves."

-- William Tng, CFA,
CIMB analyst
● Management guided that its third plant (Lau Biang) does not face the permits issue affecting Sisira and Angocci. However, Lau Biang's construction progress has been delayed by China's recent Covid-19 lockdown.

We think possible issues include delivery delays for equipment required for the operation of the mini-hydropower plant as a result of China's recent port lockdowns. ISDN hopes that construction of the Lau Biang plant can be completed by end Sep-22.

● With its strength in the hardware part of industrial automation (via its product partners), ISDN is now looking to increase its efforts on the software side of the automation process via offering cloud solutions that provide a comprehensive view of the data that its customers are able to collect though their automation efforts.

Reflecting this commitment, ISDN appointed Mr. Tay Geok Kee as its Group Chief Technology Officer on 1 Jan 2022. Mr. Tay brings over 30 years of industrial automation experience to ISDN, including building automation and softw are cloud solutions for some of the largest industrial companies in Asia.

● ISDN noted that some customers who had urgent orders to fulfill in 1Q22 had to turn to alternative products during the recent lockdown in China. How ever, customer inquiries have returned as the lockdown situation improves.


Reiterate Add
● We reiterate our Add call on ISDN and TP of S$0.70. This is based on a 10.1x P/E multiple (1 s.d. above the Jan 17 to May 22 forw ard P/E multiple) on our FY23F EPS forecast.

● Potential re-rating catalysts include earlier profit contribution from its hydropower segment.

● Downside risks include a prolonged Covid-19 outbreak, leading to travel restrictions that could affect ISDN's ability to service its customers.

Full report here.