Excerpts from RHB report

Analyst: Jarick Seet


Turnaround On Track; Keep BUY
 Maintain BUY and a DCF-backed TP of SGD0.04, 33% upside. Marco Polo Marine's 1HFY22 (Sep) revenue surged 30.9% YoY.


Marco Polo

Share price:
3.0 c

Target:
4.0 c
Its adjusted NPAT (excluding one-offs) pointed to a turnaround from 1H21's loss of SGD0.3m – and it booked a SGD1.2m profit.

Its GPM and EBITDA margin also improved. As the outlook on the O&G industry improves in tandem with the increase in oil prices, we expect charter rates to continue growing by another 10-20% this year.

Also, MPM's utilisation rate should pick up to around 80% in FY22, which would further boost its profitability.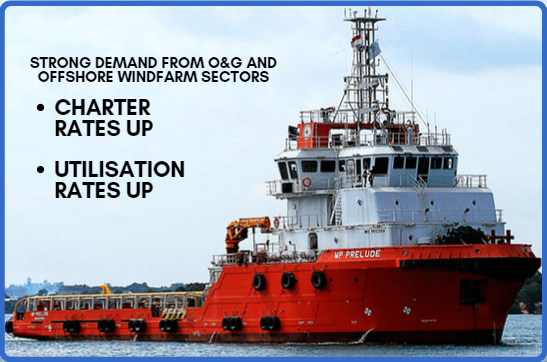 RHB expects Marco Polo's charter fleet to see a rise in utilisation rates to 70-80% (from 60% currently) by the end of this year.
 Turnaround on track – better performance to come. As of 1HFY22, its utilisation rate has recovered to pre-pandemic levels and risen YoY, driven by strong demand from both the O&G and offshore windfarm sectors.

We expect utilisation rates to pick up to 70-80% (from 60% currently) by the end of this year. In addition, charter rates have also picked up by 15-20% YoY in the same period, due to stronger demand as well as the reflagging of one vessel to service the Taiwan offshore windfarm market.

We expect charter rates to rise by a further 10-20% over the new few months, due to limited supply and strong demand.

The company's GPM widened from 23.8% in 1HFY21 to 29.6% in 1HFY22, and its net cash position improved from SGD16.1m to SGD27.9m in the corresponding periods.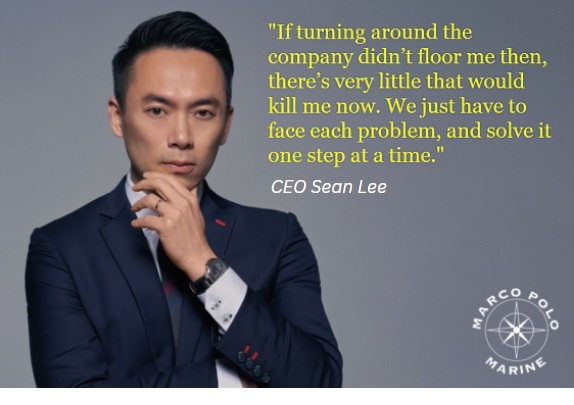 CEO Sean Lee in "MARCO POLO MARINE: Turns Tide, Steers into New Chapter"

 Green energy will be the future. Management has been actively diversifying and expanding MPM's activities beyond the O&G industry.

As of 1H22, 40% of its utilised vessels are working on offshore windfarm projects in Taiwan. We believe that MPM will expand its operations in Taiwan, and will likely look to increase its chartering fleet in this space and have at least 50% of its fleet servicing the renewable energy sector by 2Q23.

The acquisition of Taiwan-based PKR Offshore will add two OSVs to the group's fleet – taking its total size to 13 OSVs, of which five are servicing the windfarm sector in Taiwan.


 Positive outlook will likely cause a stronger turnaround. The WTI crude price has been recovering strongly. As such, MPM has also seen an uptick in ship charter utilisation rates and its shipyard operations.

In addition, with the COVID-19 situation in Taiwan improving, this will likely speed up the progress of it winning new renewable energy projects. We also believe that the continued recovery will be positive for MPM's profitability.

This, together with the catalyst of more new renewable energy contracts, leads us to maintain our BUY recommendation.

 ESG. Using our in-house proprietary methodology, we derive an ESG score of 3.0, which is on par with the country median. As a result, we apply a 0% discount or premium to our TP.

Full report here.