"small-caps aficionado" contributed this article to NextInsight

Brook Crompton is a Singapore-listed provider of energy efficient electric motors, known for delivering quality and innovation for over a century.


Stock price

62 c

52-week range

60.5 – 71 cts

Market cap

S$22 m

PE (trailing)

8.3

Dividend yield (trailing)

3.2%

1-year return

-1.6%

Shares outstanding

35.5 m

Source: Yahoo!
Driven by technology and innovation, Brook Crompton distributes a comprehensive range of low, medium & high voltage motors for safe & hazardous duty designed to provide cost effective, energy-saving solutions across a range of industrial processes.

Its drives packages can provide assured efficiency and reliability in a user-friendly variable speed drive system.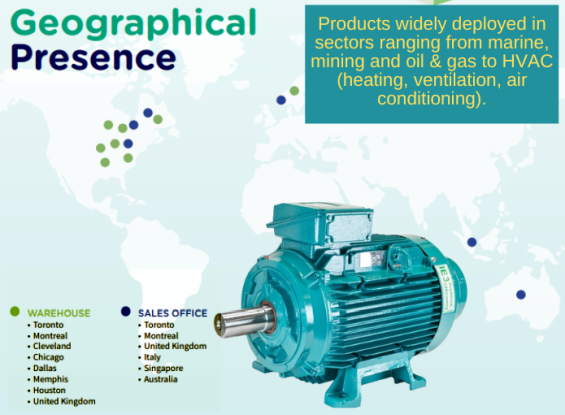 The major shareholders -- ATB Austria Antriebstechnik AG and Wolong Electric Group -- are both significant manufacturers of electric motors. As strategic supply partners to Brook Crompton, they enable the company to offer a wide range of motor products.

ATB is a controlling shareholder of Brook Crompton, holding a 66.10% stake. ATB is an indirect wholly-owned subsidiary of Wolong Electric Group, which is listed on the Shanghai Stock Exchange.



(1) Cheap valuation by Price/Book, Price/Earnings metrics

P /B = 63.5 cents / 111 = 0.57
PE = 63.5 cents / 7.5 cents = 8.47

(2) Cash generative from 2017 to 2021

Result: Cash stands at $21.2m or 59.8 cents per share, which is 96% of its current market cap.

(3) In the right industry now
Brook Crompton's electric motors are used in
a) HVAC
b) Marine
c) Mining
d) Oil and Gas

It is noted that with booming commodities prices, Mining and O&G sectors are benefitting from increasing CAPEX spent. Probably marine as well.

(4) Company is expanding its geographical footprint operationally

From 2021 AR, the following are reported:

i. The Company finished the year with all 4 trading regions showing increased order books compared with the prior 12 months. In Canada, the UK and Asia Pacific the order bank was approaching 100% higher than at the end of 2020, and in the USA up approximately 12%.

ii. A strong position in inventory in Canada, the UK and the USA has allowed the business to support its key customers throughout the year. Furthermore, due to current supply chain issues, the Company has to keep more stocks to meet the demand of customers.

iii. The Company has the aim in 2022 to continue its expansion into new business areas, with a view to develop further its Australian operation following the model of the UK and North America, and establishing warehousing within the EU to enable it to effectively trade within the European Economic Union

iv. 2022 will see new products arriving in the UK business.

v. The Company will continue to work on the North African market, supported by the Wolong Group in some cases.

vi. Investment is expected in some of the former Soviet republics which are key oil and gas players, and the Company will seek to develop those through its network of partners.

vii. A shortage of product on the shelves of its competitors is expected to leave the Company in a positive position due to its inventory in hand.

viii. In 2022, the Company intends to use the support of the Wolong Group production unit in Vietnam and "close to the market" production in able to grow its business with local partners in Singapore, Malaysia and Thailand.

The Company will establish warehousing in Australia to support partners in Australia and New Zealand and will introduce products to allow it to pursue project work in the Australian water, mining and steel industries.


(5) What then is Brook Crompton worth?

a) NAV is 111 cents
b) Cash + 5x PE = 59 cents + 5 x 7.5 = 96.5 cents

(6) Negatives

a) Controlled and dependent on products sourced from parent Wolong (i.e. Brook Crompton's role is as a distributor of motors made by Wolong)
b) No clear dividend policy
c) Illiquid stock trading

See also 7 pages of Q&A with shareholders here.