On the Singapore Exchange, oil & gas producers Rex International and RH Petrogas are beneficiaries of the current supply-demand dynamics for oil whose outlook is described by DBS Research below. Brent crude oil climbed above US$80 a barrel this week, the highest in 3 years. Goldman Sachs has just upped its call for the price to hit US$90 by the end of the year. (See CNN's 27 Sept report: Here comes $90 oil)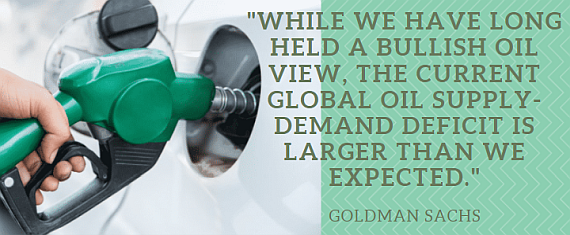 Excerpts from DBS Research report:
We raise our oil price forecasts for next few quarters as the winter months could see higher oil demand owing to the switch from gas for heating purposes


Revised 2021 and 2022 Brent crude oil average price forecasts to US$67-72/bbl and US$70-75/bbl respectively


Gas crisis in Europe shows the dangers of "overgreening"; investments in fossil fuels need to be sustained along with renewables to ensure energy supply stability in the future



Energy plays should fare better than other commodity counterparts amid ongoing China demand uncertainty; buy oil proxies

Natural gas/ LNG prices have soared to dizzying heights, and even coal is not far behind. Considering the higher gas prices and potential oil demand boost of 0.5-1.0mmbpd in the near term from fuel switching requirements, we revise up our oil price forecasts for the next few quarters.

Thus, our 2021 average Brent crude oil price forecast now stands at US$67-72/bbl (vs. US$65-70/bbl earlier) and our 2022 Brent crude oil average price forecast is raised to US$70-75/bbl (vs. US$67-72/bbl earlier).
Unlike other commodity markets like metals, oil markets looking well beyond China concerns. China oil imports will likely be weaker than expected in 2H21, owing to the Delta variant outbreak-related lockdowns and Evergrande contagion, but the oil market remains well supported by demand from other parts of the world, with global oil inventories well below five-year average levels and persistently falling month-on-month.

Supply side poses limited concerns as internal disagreements within OPEC have been sorted out, and hurricane-linked supply outages from the US Gulf of Mexico provides further support in the near term.
Oil proxies should remain in favour
. Oil & gas upstream plays have lagged the oil price recovery and stock prices are generally still lower than early 2020 highs despite a rosier oil price outlook currently. CNOOC was especially hit by a selloff for stocks in the US military blacklist. Our top picks for oil proxies are CNOOC and PTTEP.

See also: REX: Pure play on higher oil prices, 33-cent target