Excerpts from KGI report

Analyst: Chen Guangzhi, CFA
• Sunsine's improving profit margins were in line with the buoyant rubber chemicals sector.


China Sunsine

Share price:
52 c

Target:
68 c
• Average selling price (ASP) could fall in 2H21 as macro conditions will not be as favourable as in 1H21.
• Capacity ramp-up in insoluble sulphur and anti-oxidant with a respective 30,000 tonnes each will offset the selling price correction.
• We maintain OUTPERFORM with an unchanged TP of $0.68 as we expect the increase in sales volume in FY22 and FY23 to offset the downswing in ASPs.

KGI forecasts earnings per share for 2021 is 58.7 Rmb cents, translating into a PE of 4.4.

1H21 performance. Most commodity prices reached their peaks in April/May and have corrected moderately. Prices of feedstocks such as aluminium and coal continued to edge up to new highs, while iron ore entered the bear cycle.

However, most of the raw materials remained elevated, and rubber chemicals are one of them.

As of July 2021, rubber chemicals prices have kept the upward momentum with growth of 30% to 40% YoY, extending the surge in 2Q21.

Both strong demand and abundant monetary liquidity upheld the price appreciation.

1H21 GPM and NPM regained the levels above 30% and 15% respectively, which was last seen in 2Q19.

The jump in both average selling price and sales volumes were in line with the buoyant rubber chemicals market.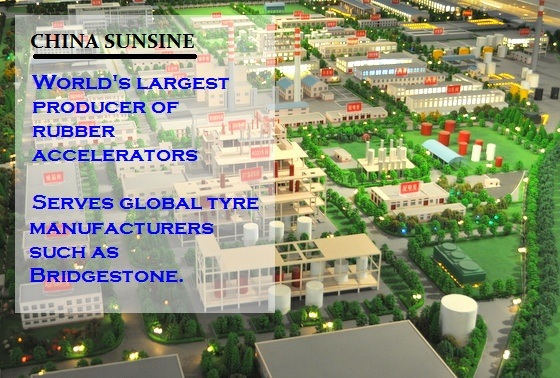 China Susnine listed on the Singapore Exchange in 2007.

Valuation & Action:
We maintain our OUTPERFORM rating with a higher target price of $$0.68 as we expect the increase in sales volume in FY22 and FY23 to offset the downswing in ASPs.

Risks: We expect the macro environment in 2H21 to be not as favourable as in 1H21.

China has tightened credit facilities since 4Q20, while the US could start tapering QE later this year.

Therefore, the commodity bull cycle could peak in 3Q/4Q21.

Meanwhile, the 2022 Beijing Winter Olympics will be held in early February.

Investors should be familiar with the seasonal winter haze in the northern part of China. It is highly likely that authorities will release a suspension work order similar to what it did before and during 2008 Beijing Summer Olympics to plants located in Shandong and Heibei province.

Therefore, it is unknown whether 4Q21 production will be affected.


New capacity will buffer the price drawdown. 30,000 tonnes insoluble sulphur and 30,000 tonnes anti-oxidant TMQ are expected to commence commercial operation in 2H21.

To quantify, theoretical production volume of insoluble sulphur is expected to increase by 100% YoY in 2H21 and 50% YoY in FY21; production volume of anti-oxidant is expected to increase by 66.7% YoY in 2H21 and 33% YoY in FY21.

Meanwhile, we believe the ASP in 2H21 will be comparable to 1H21 on a conservative assumption.

In a nutshell, Sunsine will deliver a better performance in FY21.

Prepare for eventful 2H21. The COVID-19 pandemic is expected to last longer than expected as virus variants could grow rapidly and develop into new wave of outbreaks, especially during the upcoming winter season.

Meanwhile, the tension between China and the US has neither escalated nor has been mitigated, but the confrontation between the two will continue.

Since July 2021, China has taken aggressive actions on regulating and controlling the economic development and transformation. Anti-trust and deleveraging are the two main themes.

In the US, with the consistent job market recovery, the Federal Reserve could start tapering as soon as 4Q21.

The implication for the rubber chemicals sector and for China Sunsine is that the upswing cycle could come to an end by the end of 2021 or early 2022 as monetary liquidity contracts.

Meanwhile, the authorities in China have shown its hardball approach to rein in inflation. There are more administrative and accommodative measures for the government to cool down material prices..

Full report here.