Excerpts from KGI report

Analysts: Joel Ng & Chen Guangzhi, CFA
• Maturing into a producer. Rex International Holding (Rex) is a pure-play oil & gas exploration and production company (Independent). It owns and operates an oil producing field in Oman and has a portfolio of exploration licenses in Norway.


Rex

Share price:
21 c

Target:
32 c
Its recent acquisition of the Norwegian Brage oil field will add another production asset to its portfolio. This is an accomplishment from its early days when it listed on the SGX as a pure-play explorer.

• Record free cash flows. Free cash flow generated by oil and gas companies are expected to break records this year with oil currently trading above US$70 per barrel. For Rex, the windfall will continue to strengthen its already strong balance sheet and give it opportunities to diversify.

• We initiate with an Outperform recommendation and a DCF-backed target price of S$0.32.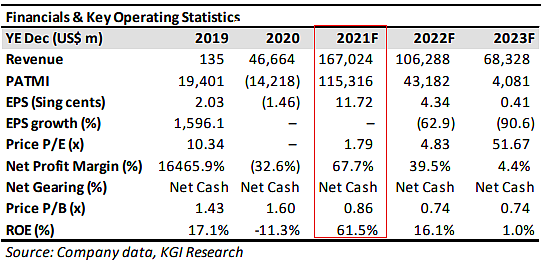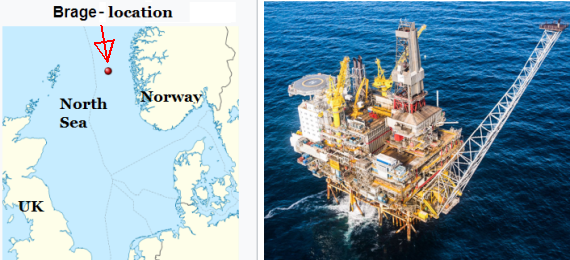 Rex subsidiary Lime Petroleum is acquiring a 33.8% stake in the oil producing Brage Field. The field operates in water depth of 140 metres and currently produces around 3.5k barrels of oil equivalent per day.

Rex International Holding was listed on SGX's Catalist Board on 31 July 2013. The company de-risks its portfolio of exploration and development assets using its proprietary liquid hydrocarbon indicator Rex Virtual Drilling technology (RVD), which can pinpoint the location of oil reservoirs in the sub-surface using seismic data.

Since the company's listing in July 2013, the group has achieved four offshore discoveries, one in Oman and three in Norway. The group also offers RVD screening services to other oil exploration companies as an additional tool to increase the success rate of finding oil.

Neglected sector... The oil and gas industry has been out of favour among investors since 2014, first when oil prices collapsed under the weight of overproduction from US shale, and recently from the pivot towards clean energy. The consensus is that wind and solar technologies will take market share over time.

…but where opportunities abound. Rystad Energy, an energy consultancy firm, projects that with oil trading above US$70 per barrel, the world's publicly traded exploration and production (E&P) companies are set to generate record breaking free cash flows in 2021.

Their combined free cash flows is expected to surge to US$348bn in 2021, from a previous high of US$311bn back in 2008, as per Rystad's estimates.

The coming of age. Rex's value creation strategy is to leverage on technology to identify and acquire assets that are near to relevant infrastructure.

While it now has a portfolio of more than 10 licenses, including 3 discovery assets with commercial development potential, the group is currently in an excellent position to generate record free cash flows from its producing assets.

Based on US$65 oil price, we forecast Rex's net cash position to surge to US$107mn by FY2022F. This is equivalent to S$144mn or 54% of the group's current market capitalisation. Bear markets are the authors of bull markets.

Capital expenditure (CapEx) in the O&G sector has been in a structural decline since 2015 due to low oil prices. On the demand side, optimistic assumptions on the pivot towards alternative forms of energy may cause markets to underestimate the challenges of phasing out oil and gas use.

Thus, we are of the view that this is setting up a tighter supply demand dynamic than what consensus is assuming, and a likely bull market for the sector in the years ahead.


Valuation & Action: We initiate with an Outperform recommendation and a TP of S$0.32, based on discounted cash flow, taking into account a WACC of 11.0% and terminal growth rate of 3.0%.

Rex's strong balance sheet, free cash flow generation and access to capital, differentiates it from many other E&P companies.

Rex is the only game in town (at least on the SGX) for investors looking for direct exposure to the neglected O&G sector.

Risks: The direction of oil price is the biggest driving factor of profits. U.S. shale production represents the largest supply variable. However, we expect U.S.shale production growth to remain controlled after last year's market share war.

Full report here.