From oil explorer to explorer-cum-producer.

Rex International's 90% subsidiary, Lime Petroleum AS, has further cemented the group's transformation with its purchase of an interest in an established oil field on the Norwegian Continental Shelf.

The

post-tax consideration is US$42.6 million

.

The oil field will raise by nearly a third Rex's total oil production which currently is centred on Oman.

The acquisition will date back to be effective from 1 January 2021 upon completion, which is expected to be in 4Q2021.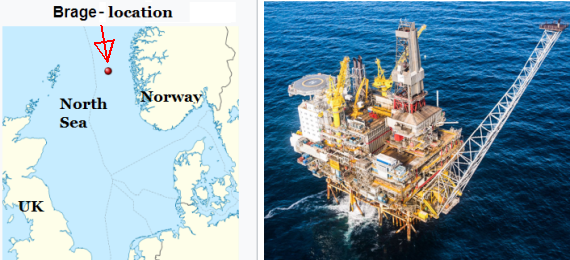 On 15 June 2021, Lime Petroleum entered into a conditional sale and purchase agreement with Repsol Norge AS ("Repsol"), to acquire target assets comprising:


• Repsol's 33.8434 per cent interests in the oil, gas and natural gas liquids (NGL) producing Brage field.



• T

he five licences on the Norwegian Continental Shelf over which the Brage field straddles.

Rex said the "transformational acquisition" of the Brage Field will establish recurring cash flow, as well as develop and drive further value in Lime Petroleum's existing portfolio.


Stock price

19 c

52-week range

13 – 20 c

PE

--

Market cap

S$247 m

30 Day Avg Volume

10.7 m

Shares outstanding

1.3 b

Dividend
yield

--

1-year return

4.4%

Source: Bloomberg
Brage is a field in the northern part of the North Sea, 10 kilometres east of the Oseberg Field. The water depth is 140 metres.

Brage was discovered in 1980, and production started in 1993.

In 2020, about 1.38 mmboe or 3,800 barrels of oil equivalent per day (boepd) were produced from the Brage Field, net to Repsol's 33.8434 per cent working interest. The Target Assets' unaudited pro forma net profit before tax for FY2020 was US$21,046,000.

The Brage Field will add an estimated 3,440 boepd (net) (the working interest for March 2021) to Rex's current oil production of 12,210 barrels of oil per day (gross) (Masirah Oil's1 working interest before government take as at April 2021) in Oman.

1 Rex holds a majority interest (86.37%) in Masirah Oil which holds 100% of Block 50 concession in Oman.

Although the Brage Field has been producing for a long time, work is still ongoing to find new ways of increasing recovery from the field, said Rex.

According to the Norwegian Petroleum Directorate, there are 3.42 million Sm3 (standard cubic metre) of oil equivalent or 21.52 mmboe of remaining reserves in the Brage Field.

Accordingly, said Rex, net 2P Reserves of about 7.3 mmboe from the Brage Field will be added to Lime Petroleum's current 2C Contingent Resources of 27.7mmboe.

Lime Petroleum intends to commission a summary qualified person's report on the Brage Field upon completion of the Acquisition.

The Company believes that the economics from the current production reserve base in the Brage Field are robust, and there is further upside from future in-fill drilling for production and exploration drilling of high value near-field prospects that are expected to add further production to the Brage Field.


Mr Dan Broström, Executive Chairman of Rex International Holding, said, "We are pleased that Repsol has chosen Lime Petroleum to acquire its quality assets in the oil prolific Norwegian Continental Shelf following a robust bidding exercise. Not only does it transform Lime Petroleum from being solely an exploration company to being an exploration and production company starting from 1 January 2021, it also gives the Group a second production field following our success in Oman and adds to the Group's reserves and contingent resources."



He added, "The Acquisition is also in line with the Group's strategies to increase production now when the oil price is over US$70 and to get a second production unit to minimise production risk. Additionally, the transaction consideration of US$42.6 million includes deferred tax assets which are recoverable for Lime Petroleum."

Nordic independent investment bank ABG Sundal Collier ASA has been appointed as financial adviser for a contemplated 2.5-year senior secured bond issue of up to NOK 500 million (approximately US$60.05 million) for Lime Petroleum.

Funds raised from the bond issue would also be used to finance exploration and capital expenditure.

For more, see Rex's announcement here.