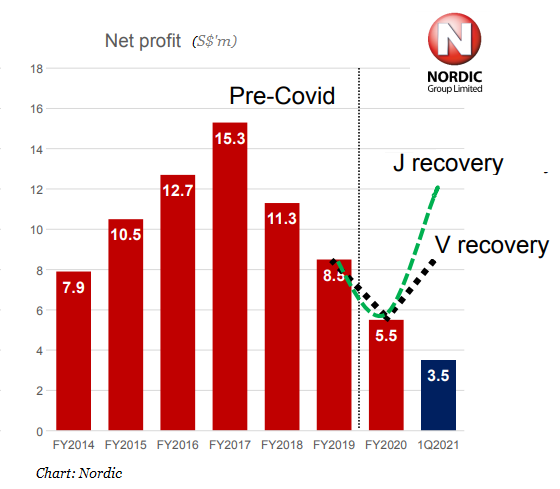 This chart in Nordic Group's 1Q2021 business update clearly points to a recovery in profitability this year, even as the country is currently experiencing tightened Covid-19 measures in the community.

Not just any recovery for Nordic but a V-shaped one, and possibly even a J-shaped one, it said.

Another slide in the presentation deck spells out in bold: "The worst is behind us and we look forward to better performance, back to pre- Covid-19 levels."

Nordic provides a slew of services to multiple industries, particularly oil & gas, marine and semiconductor. It's a wide spectrum of services: Scaffolding, Insulation, Precision Engineering, System Integration, Petrochemical & Environmental Engineering and Cleanroom, Air and Water Engineering Solutions.

One may marvel at executive chairman Chang Yeh Hong's bold message to the market. He is telling it as it is, so investors get the reality, and they invest (ie, buy or sell) on the basis of reliable and current information.

Already almost half-way into the year and with an order book, management's clarity on how 2021 business profitability is shaping up can be expected to be significant.

Mr Chang described how 2020 was an unpredecented disruption at the ground level at Nordic.

He recalled that as the pandemic struck, all 1,000 workers of Nordic in Singapore were sent to government quarantine facilities.


Stock price

31 c

52-week range

19.8 – 31.5 c

PE (ttm)

22

Market cap

S$120 m

Shares outstanding

388.4 m

Dividend
yield (ttm)

2.0%

1-year return

22%

Source: Yahoo!
Nordic sank into an operating loss in 2Q2020, which was mitigated by a S$1.5 million forex gain. Net profit for 1H2020: S$1.9 million.

With the government's implementation of a slew of measures to stamp out Covid in the dormitories, workers were released from quarantine in July/August, and work ramped up.

Nordic reported S$3.6 million net profit for 2H2020.

Work momentum was sustained into 1Q2021, while Nordic applied for and brought in hundreds of new workers (at a cost of about S$3,000 each for testing and quarantine) to replace those that had returned to their countries.

1Q2021 saw a S$3.5 millon profit, which was almost the same as in 2H2020.

So far this year, Nordic continued to win contracts, with an aggregate value $86.5 million as announced.

Its outstanding orderbook as at 24 May 2021 was $122.7 million.


"Why we say that we are able to achieve a V recovery is because 50% of our revenues are recurring from our maintenance contracts, and we have ad-hoc jobs and some projects running."


-- Executive Chairman Chang Yeh Hong

Again assuming no major disruptions to worksite activities from Covid outbreaks, which are unlikely given the government's measures including fortnightly swab tests of all workers, Nordic's recovery could be even greater -- a J-shaped one, Mr Chang added.

And this is owing to a catalyst in the form of EnviPure, a company that Nordic acquired in Nov 2019.

EnviPure's contribution was impacted in 2020 by worksite disruptions but this year would be very different.

Historically, EnviPure has achieved net profit of $2-6 million a year, according to CFO Chia Meng Ru. (See also: NORDIC GROUP: Acquires Envipure, one heck of a deal)


Dividends? It's 40% payout ratio, rest assured
If the profit outlook is promising, how about dividend payouts?


Guessing dividend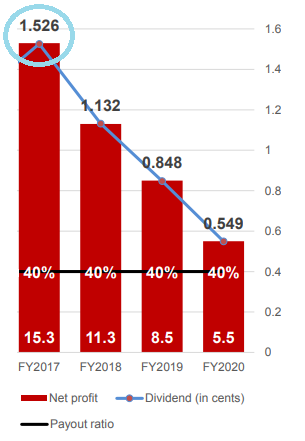 Given a 40% payout of profit and assuming an optimistic business outlook, what could this year's dividend turn out to be?
Take the highest profit and dividend paid, in 2017, and

then scale it back to whatever level you choose to speculate 2021 will be

.
The highest dividend was 1.526 cents a share. That's a fat 4.9% yield (based on 31-cent stock price) if this year's profit matches the record of 2017.
Replying to the investor question, Mr Chang said Nordic had consistently paid dividends twice a year, and would continue to do so.

In 2015, when it declared its policy to pay out 40% of profit as dividend, it has adhered to it, even in Covid-hit 2020.

"If you look at our cash reserves currently of $40 over million plus net cash of $11.4 million, we are in a good position to pay dividends," said Mr Chang.

"More so with our business recovery in the first quarter and also the expected recovery this year, I don't see why we would not be able to generate the cash flow and EBITDA and profits to pay dividends."

For more about Nordic's 1Q2021 business update and its manpower situation, etc, see the presentation material here.