Leader Environmental's share price has sprung to life as the company's transformation takes shape. This is a S-chip.

S-chips are a broad category of Chinese stocks listed in Singapore, many of which -- ie not all -- investors have become wary of after many accounting and corporate governance issues over the years.

In past years, while Leader Environmental did not have red flags all over it, it was a business that was ho-hum.

The spark that has lit up the stock is the new leader at the helm, Dr Lin Yucheng, 58, an Imperial College doctorate holder who is best known for founding and leading United Envirotech (which was subsequently bought over by a consortium including private equity, and privatised in January 2020).
Through share placements and a rights issue, Dr Lin has become the No.1 shareholder of Leader with a 14.92% stake.
Dr Lin also has done well a few years back investing in Sunpower Group -- another successful S-chip -- as it underwent its own business transformation.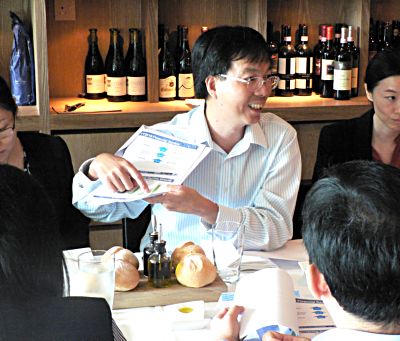 Dr Lin Yucheng, executive chairman and CEO of Leader Environmental. NextInsight file photoA peek at Leader Environmental's recently-released 2020 annual report gives investors a clear message that the company is all about cutting-edge technologies, and is moving quickly to prove its capabilities.

The target areas of business are extensions of familiar territory (water treatment) for Dr Lin and his team: sludge treatment, industrial wastewater treatment and membrane technologies.

Here are excerpts from Dr Lin's letter to shareholders in the annual report (with our emphasis):

On the investment front, the Group has acquired Bituo Environmental Technologies (Tianjin) Co., Ltd., an environmental technology company specialising in municipal sludge treatment with nine patents covering different technologies and processes.

The technologies can improve overall energy recovery of the sludge treatment process and bring significant cost savings to the customers which will provide us with a competitive edge when we bid for sludge treatment projects.

In addition, the Company has entered into a 60:40 joint venture investment with Nanosun Pte. Ltd. to develop and produce high performance Nano-Ti membranes which are widely applied in the pharmaceutical, life science and medical industries in addition to water treatment.

The strategic investment is expected to augment our position as an integrated solution provider of membrane based treatment technologies.

... the Group has developed proprietary technologies focusing on addressing pressing environmental issues and new capabilities in sludge management, industrial wastewater treatment and membrane technology.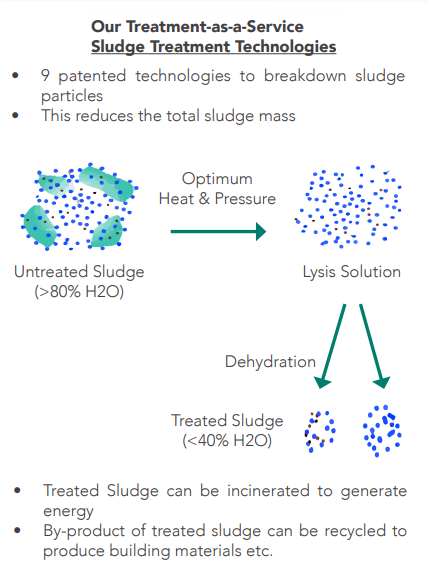 Municipal sludge is a by-product of wastewater treatment process.

Currently at its nascent stage, the sludge treatment and disposal industry in China is expected to become a multi-billion dollar industry due to the sheer volume produced and a lack of proven suppliers of the treatment solutions.

The Group has developed integrated solutions with proprietary technologies for treatment and efficient energy recovery system to achieve the objectives of zero waste discharge and resource recovery.

With the increased demand for higher discharge standards imposed by the local authorities and the demand for recycled water for industrial use in China, the industrial wastewater treatment segment has a greater potential of growth and a higher barrier to entry as compared to municipal wastewater treatment.

The Group has equipped itself with the advanced membrane technologies to tackle the treatment and recycling of the highly pollutive industrial wastewater.

These are new business opportunities, which can shape our portfolio and become good revenue streams for the Company.

The successful implementation and transformation in the past months to a high-tech oriented business focusing on the opportunities in resolving key environmental concern segments gives the Group a differentiated advantage and demonstrates the capabilities and strengths of the Group.