Much of Nordic Group's business is done by migrant workers in Singapore, and that community was affected badly by Covid-19 last year.





The recovery was evident in the 2H20 results of Nordic (see graphic).

Nordic, which provides a slew of services to multiple industries, particularly oil & gas, marine and semiconductor, said business operations improved to near pre-Covid levels.

Full-year revenue dipped 5% y-o-y. This marginal change was aided by the first full-year contribution from Envipure which was acquired in November 2019.

(Still, Envipure's contribution would have been higher if it was not impacted by Covid-prevention measures.)

Group net profit fell 35% to $5.5 million.
Following a huge and effective effort by the authorities, the situation was brought under control, enabling the workers to gradually resume work.
Stock price

24 c

52-week range

19.8 – 27.5 c

PE (ttm)

17

Market cap

S$94 m

Shares outstanding

391 m

Dividend
yield (ttm)

2.3%

1-year return

- 6%

Source: Yahoo!
Notable in the financial results is that after 3 years of being in a net debt position owing to 2 M&A deals and a factory purchase, Nordic turned net cash (S$11.6 million) as at end-2020.

This sum rose further to $14.4 million as at end-February owing to successful collection of receivables.

Collection continues to be unproblematic as most of Nordic's customers are blue chips or government agencies, and any doubtful debt from smaller clients has already been provided for in Nordic's books, said Executive Chairman Chang Yeh Hong at an investors' briefing this week.

The cashpile puts it in a position to take further M&A action.

It also enables Nordic to keep its historical 40% dividend payout ratio. For FY20, it is proposing to pay 0.362 cent a share as the final dividend on top of its interim dividend of 0.187 cent.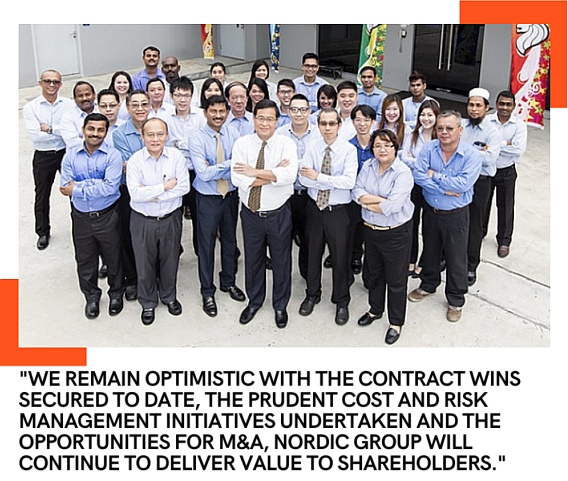 Covid-19 created a labour crunch throughout Singapore as potential new migrant workers and workers on home leave faced travel restrictions into Singapore.

The challenge remains for Nordic: From 1,000 workers pre-Covid, its workforce has shrunk to about 700.

But with lots of work going a-begging, Nordic decided to make its move.

"We have taken the big decision to bring in workers despite the hefty cost of more than $2,000 per worker (related to Covid tests and measures)." said Mr Chang. "We have gotten approval for about 300 workers to come in but this has to be over several months."

There is plenty of work waiting as projects have lagged behind schedule and weaker peers in industries that Nordic competes in have bowed out.

"There's a huge consolidation going on right now in the oil & gas space, in particular the scaffolding business. There is pent-up demand. Whoever has the workers right now will get the job," said Mr Chang.


S$62.3 million new contracts
Nordic has just announced contracts with a total value of S$62.3 million.

They cover the spectrum of its services: Scaffolding, Insulation, Precision Engineering, System Integration, Petrochemical & Environmental Engineering and Cleanroom, Air and Water Engineering Solutions.

The contracts are with repeat customers – comprising of multinational companies and companies in the marine, oil & gas, petrochemical, infrastructure and semiconductor industries.

The total outstanding orderbook stood at S$99 million as at end-Feb 2021.

See: Press release on contracts.
Also, FY20 Powerpoint presentation material.