Novo Tellus is a Singapore private equity firm which not only invested successfully in AEM and ISDN but also helped chart their operational resurgence.

The latest news is that Novo Tellus has entered into an agreement to buy a stake in Grand Venture Technology (GVT) for S$23.6 million.


GVT will issue 71,527,000 new shares at 33 cents in a placement that will give Novo Tellus a 23.4% stake in the enlarged share capital of GVT.

Concurrently, Novo Tellus is in talks with Metalbank (which owns 57% of existing share capital of GVT) to acquire 19,000,000 GVT shares at 33 cents.

That will take its stake up to 29.6%, just shy of the 30% level where it has to make a mandatory takeover offer.

So who is GVT, which listed on the Catalist in January 2019?

We excerpt a Dec 2020 SGX article:

Company Overview

Stock price

45 c

52-week range

19–48 c

PE (ttm)

33.6

Market cap

S$105 m

Shares outstanding

234.3 m

Dividend
yield (ttm)

--

1-year return

69.8%

Source: Bloomberg
Grand Venture Technology ("GVT") is a manufacturing solutions and service provider for the semiconductor, analytical life sciences, electronics and other industries, with operations in Singapore, Malaysia (Penang) and the People's Republic of China (Suzhou).

The Group serves some of the largest Original Equipment Manufacturers ("OEMs") by providing a range of engineering, assembly, testing and product lifecycle management services for the manufacture of complex precision machining and sheet metal components and modules.

Link to StockFacts company page


Describe GVT's financial performance over the past few years. What strategies have you put in place to maintain or accelerate this growth trajectory?

• GVT has enjoyed rapid growth over the past few years. With our products progressing from incubation stage to mass production, revenue in FY2019 more than doubled and net assets grew nearly 10x (if exclude share issuances, net assets grew approximately 5x) since FY2016.

• Our focus will continue to be on

(i) enlargement of our customer base in both existing and new markets, by leveraging on our capabilities and technological know-how,
(ii) investment in our operational and engineering capabilities and
(iii) expansion via merger and acquisition (M&A), joint ventures and partnerships.
• The above strategies have helped to mitigate against the headwinds in FY2019 as trade tensions between US and China intensified, which exerted downward pressures on our Semiconductor segment.

This was, however, offset by growth driven by our Life Sciences segment.

The Group recorded strong performance in 1H FY2020, which we expect such growth to continue for the rest of FY2020.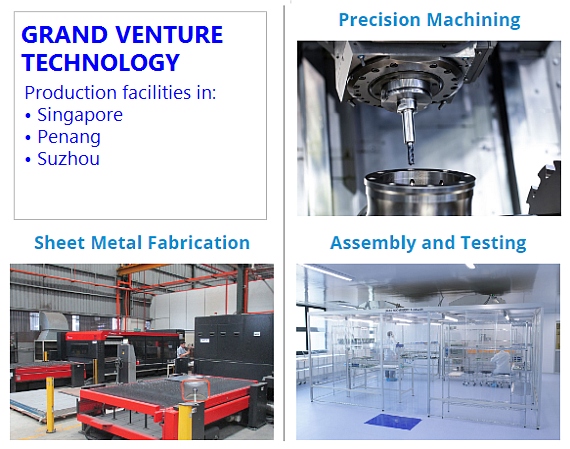 GVT is adding factory capacity in the Penang facility. Can you provide an update on the expansion of your operations in Malaysia?

• The new factory acquired is under renovation and would be operational during the fourth quarter of 2020 as originally planned. We believe that this acquisition is timely as we are seeing increased demand and volume at our Penang facility to serve the Semiconductor segment.

As part of GVT's digital transformation to a "Smart Factory", it has leveraged Industrial 4.0 to improve business and operational efficiency. Can you elaborate on the measures you have adopted?

• We are running a high-mix, low-volume business. Hence, we believe that our precision manufacturing process could produce an infinite combination and permutation of parts, process and specifications.

As our business continues to grow and expand, the capabilities behind managing and executing such complex manufacturing works will have to be enhanced too. Technology is our answer.

• Going forward, we believe Industrial 4.0 (i4.0) would form the fundamentals of our manufacturing processes.

Automation, Artificial Intelligence (AI), Robotics, Virtual Reality (VR) are tools to enable higher efficiency, accuracy and capabilities as we engage in more complex and advanced manufacturing works.

• For instance, the ecosystem of i4.0 would enable real-time assessment of our machine's efficiency and stock level, enabling our engineers to analyse, plan and make decisions based on data. This could reduce uncertainties and enhance operational efficiencies.

Automation of mundane works such as changing of tools, loading of parts, manual recording of data will enable our workers to take on more high value-adding works.

Such deployment of technology will improve our manufacturing processes, resulting in higher quality products.

• Most importantly, we will be able to enhance customers' satisfaction. Our team can access data on-the-fly and be able to respond to customers' concerns as well as requests with faster turn-around time.


What is GVT's value proposition to its shareholders and potential investors?

• We believe that there remain significant growth potential in our business as we stay true to our course in converting underlying potential to tangible results.

• GVT is run by seasoned veterans in the industry. The Management team has clear, practical and achievable business plan which is already evident in the Group's rapid and sustained growth since 2015.

Our current growth is purely organic and we have yet to tap into potential synergies as we look to also expand via M&As and partnerships in the near term.

• Backed by strong corporate governance, the Group deploys its resources in optimising Return of Investment (ROI) for our shareholders.

We believe our business model is future-proof as we focus on i4.0 initiatives and build capabilities in advance precision manufacturing and advance materials (including quartz, ceramics, plastics).

At the same time, the Group will continue to diversify revenue streams in Semiconductor, Life Sciences, Medical, Electronic and others to cushion against cyclical and structural challenges.

The full SGX article is here.