MAYBANK KIM ENG

MAYBANK KIM ENG

Ascott Residence Trust (ART SP)

Long On Long-stays

Slow RevPAU recovery, undemanding valuations ART's 3Q20 RevPAU fell 70% YoY but rose 27% QoQ to SGD47 as portfolio occupancy improved to 40% (from 30% in 2Q20), with 93% of its 88 properties operational, up from 76% in 2Q20. Demand from government contracts and long-stays cushioned its NPI, while domestic demand has gained pace (especially in China) and should support RevPAU recovery in FY21. We like its diversified portfolio, concentrated long-stay assets, and SGD180m in residual divestment gains to lift capital distributions amid slower DPU growth. Valuations are undemanding at 0.8x P/B. Our DDMbased TP stays at SGD1.05 (COE 6.7%, LTG 2.0%). BUY.

Far East Hospitality Trust (FEHT SP)

Transient Support

Master lease cushion, undemanding valuations

FEHT's Singapore-focused operations in 3Q20 continued to be bolstered by transient demand originating from travel and border restrictions, with occupancies for its hotels and serviced residences (SRs) high at 87-97%. RevPARs/ RevPAUs were weak but declined less than its peers, with 9M20 distributable income down 31.9% YoY to 72% of our full-year estimates. The high proportion of minimum fixed rent from its master lease offers downside support amid a slow recovery in 2021. We have maintained forecasts and DDM-based SGD0.60 TP (COE: 7.8%, LTG: 2.0%). Valuation is undemanding at 0.6x FY20E P/B. Maintain BUY.

PHILLIP SECURITIES

PHILLIP SECURITIES

Micro-Mechanics (Holdings) Ltd

Record revenue and profits

SINGAPORE | TECHNOLOGY | 1Q21 RESULTS

 1Q21 revenue and net profit exceeded our expectations by 10% due to better-thanexpected sales.

 Revenue rose 18% YoY to S$18.1mn. PATMI was up 42% YoY to S$4.7mn. Both were record highs.

 We raise FY21e earnings by 9% and TP to S$2.93 from S$2.50. Our TP remains based on 18x FY21e PE (ex-cash). There are no direct comparables to MMH. We benchmarked our valuations to the average PE for global back-end semiconductor equipment companies. Growth to be underpinned by an upswing in the semiconductor cycle and new customers in the U.S. That said, downgrade to ACCUMULATE from BUY as we believe some of the positives have been priced in after its recent rally.

Ascendas REIT

Standing steady

SINGAPORE | REAL ESTATE (REIT) | 3Q20 UPDATE

 Portfolio reversion of -2.3% in 3Q20 but occupancy inched up from 91.5% to 91.9%. Low-single-digit positive reversions for FY20e still achievable owing to stronger leasing in 1H20, in line with our rental reversion forecasts.

 Weaker industrial outlook mitigated by scale and diversified tenant mix. No preterminations except for SG portfolio: nine tenants accounting for 1,800sqm of NLA.

 Upgrade to BUY with lower DDM TP of S$3.61, down from S$3.63, mainly due to higher debt and perpetual securities. Estimates tweaked for recent acquisition of MQX4. Recent pullback in share price presents better entry price, and total returns of 31.5% to our TP – upgrade to BUY.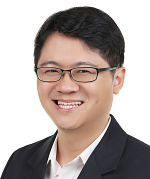 Check out our compilation of Target Prices