Excerpts from SAC Capital research report

Analyst: Lam Wang Kwan
A Russian Agriculture Play
A leading agriculture business in Russia. Don Agro International Limited and its subsidiaries are one of the largest agricultural companies in the Rostov region in Russia that focus on crops and milk production.


Stock price

31 c

52-week range

20 – 38 c

Market cap

S$47 m

PE (ttm)

7.4x

Dividend yield

2.2%

1-year return

--

Shares outstanding

150.27 m

Source: Bloomberg
The Group operates a controlled land bank of over 53,000 hectares (approximately 41,000 hectares are arable land).

Of this landbank, more than 15,000 hectares are owned. It also owns more than 4,000 heads of dairy cattle (approximately 2,000 are milking cows) across 3 production divisions.

Strategically located in one of the most fertile regions of Russia and situated in close proximity to major international ports, Don Agro is able to produce quality and better yielding agricultural products and milk while achieving cost advantage through lower transportation costs.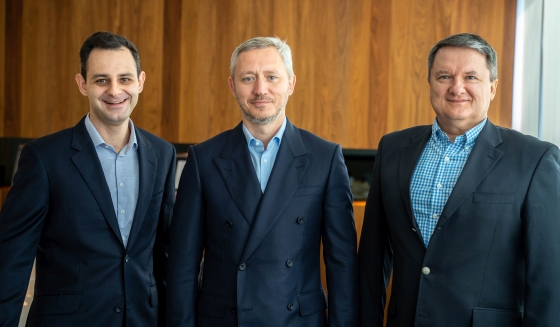 L-R: Artur Nazaryan, CFO | Evgeny Tugolukov, Executive Chairman | Marat Devlet-Kildeyev, CEO. (Mr Tugolukov will own 78.2% of Don Agro immediately post-listing). Photo by Wei Bin
Rising importance of the agricultural sector in Russia. The agriculture sector is paramount to the Russian economy.

According to the Russian Ministry of Agriculture, a long-term grain industry development program was adopted in 2019.

Russia is expected to be harvesting an average of 140 million tons of grain per year until 2035.

The Ministry also announced that approximately 281 billion rubles or US$4.3 billion will be invested into various infrastructure projects to improve logistics in the Russian grain and feed industries.

The anticipated grain production increase is expected to drive the Russian agricultural exports value to US$45 billion in 2030.

Strong and growing demand for Don Agro's products. According to a report by the US Department of Agriculture (USDA) in 2019, demand for wheat is experiencing major growth.

In particular, Southeast Asia has become the world's top wheat importing region as a result of a shift in consumption habit to wheat as diets diversify.

The lack of domestic production of wheat (less than 1% of demand requirements) and the growth in consumption has led directly to higher import demand for wheat.

Don Agro is well-positioned to capture the growth of the market. Domestically, demand for Don Agro's products remains high owing to the import ban on EU food and agriculture produce and cheaper local goods relative to imported goods, as a result of a depreciation of Russian Ruble.

Key risks: Crops and livestock are vulnerable to biological disasters and unfavourable climate conditions. Effects of exchange rate fluctuations.


Future Plans and Growth Strategy
Since IPO, Don Agro had invested to increase its overall storage facilities from 65,000 tonnes to 95,000 tonnes.

The Group has plans to store more agriculture produce, particularly winter wheat and sunflower, for longer periods in order to sell more during periods where market prices for the crops increase.

Additionally, the Group had also invested in the latest John DeereR4023 Self-Propelled Sprayer to boost its farming productivity and efficiency.

According to the management, Don Agro is continuously working towards its growth plans as stated in its IPO Offer Document which include:

Expansion of arable land bank
Don Agro plans to expand its arable land bank through the acquisition of other agricultural companies and/or the direct acquisition of arable land.

The Group will focus on acquiring land which is near to the current area of operations and/or nearer the ports in the Rostov region.

The Group will acquire land through different methods such as distressed assets sale, land brokers and personal connections.

Acquisition of new equipment and machinery
To improve efficiency, productivity and crops yield, the Group will periodically acquire new equipment and machinery to replace older machines.

The Group may also acquire new equipment as it expands its operations. Some examples of such equipment and machinery include seeders, tractors and harvesters.


Expansion outside of Rostov region
The Group is planning to expand both domestically and internationally beyond the current area of operations.

Domestically, Don Agro is intending to expand into other high growth regional markets including other districts within the Rostov region as well as the Krasnodar region.

Internationally, the Group is looking for new trade opportunities in Southeast Asia and the Middle East.

These expansion plans will be executed through mergers and acquisitions, joint ventures and strategic alliances with domestic and foreign partners.

Full report here.